1998
K2 DMC


Ride BMX UK august 1998:

Here's the new Dennis McCoy designed bike for his new sponsor K2 Bikes. It's pretty simple and shares the same low-slung chainstays and unique fork design as the old DMC from Mongoose, but aside from that, it's quite different: new front end, reinforced headtube, revised geometry, simpler rear end, thumbwheel chain-tensioners, Gyro-cable lugs, and BB wishbone. John



Ride BMX UK august 1998:

Parker's Gambler frame will be released soon, the new DMC will be available in the next few months, and both models will be available as a frameset or complete bike. The other frame in the pro line-up also include the Maintime, a 7005 aluminium frame for racing and trails. Other bikes in K2's range will be the Pick and the Shovel, both dirt/street bikes.

John Parker's frame


John Parker, www.notfreestylin.com:

I had "everything" to do with it. There are a few more changes I will make due to time and money concerns. You can't do every little thing to do 'cause that frame would be like $500 or something. I pretty much told them what I wanted and got it. Like this bike if you wanted to compare it to my old GT. Longer wheel base, top tube still 20". Angles still the same but I dropped the bottom bracket super low, to like 11 inches, Lower than most bikes. Mostly because it feels good. On vert it helps you get a better pump. My friend Jason Davies did that with his bike with KHE, the Beater. People loved it, I rode it. I was like"this is a good bike". I stole it (the design) from Jason, but I asked him first so it was cool.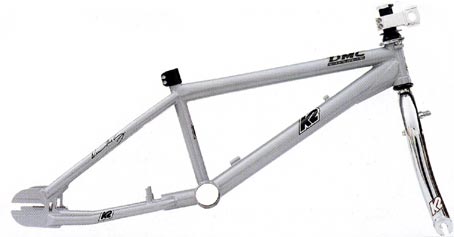 K2 DMC.
2004
www.k2bikes.com:

For '04, the K2B line has been updated with frames that are lighter, components that are tougher and wheels that are stronger. Built for the dirt, street, ramp and rail, K2B Bikes are up to any trick that you are tough enough to throw at them.