1994
Ride BMX UK, august 1994:

Imitation is the sincerest form of flattery: anyone who has seen the new Haro forks which look identical to King Designs forks will agree "Have you seen the new Haro forks with the milled tube at the bottom and the curved dropout? Maybe I should ask them for a job," - Stuart King. Here's some more new stuff (which will probably be copied soon enough):
The pegs are 4 1/4 inches long by 1 3/8 inch diameter and machined with horizontal grooves. They are available in regular flat face, or with the raised notch which slots into the dropout preventing pegs from turning - King invented this feature and it's now popping up on other manu's pegs. What's more, the notch is available with a built-in chain tensioner keeping everything tight and adjusted perfectly. Acurate machining quality plating, tough steel. What more could you want?
The axles are extremely tough and remain straight in hard situations: anyone who's seen Stuart King do airs to icepick on vert will back this up. They're made from EN16MT which is rated at around 60 tonnes (10/20 tonnes stronger than previously used machine grade T45) Hard as nails. They come in all popular axle sizes, including Super Pros and Suzue sealed 36 hole hubs. Good price too.
The washers are uniquely shaped to prevent axles bending, dropouts flaring, and they work- fit a pair for more durable axles.
... all made in the UK.

December, tons happening over at King Designs. They have just started to manufacture everything over in America. Texas to be exact, and company owner Stuart King, is also looking to grow pretty big pretty soon in the States as well, with a large team planned.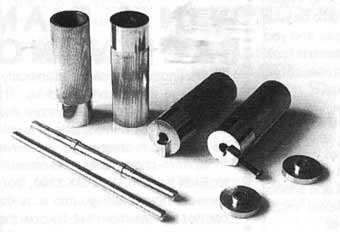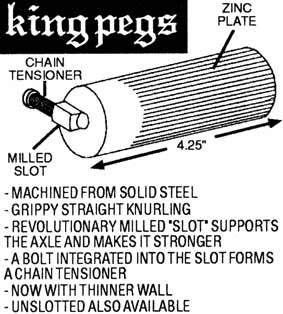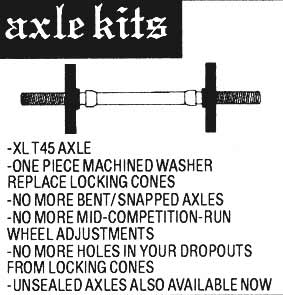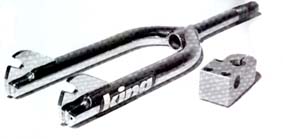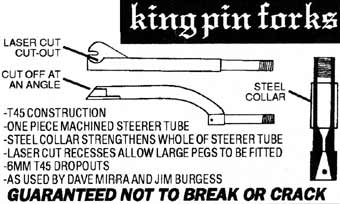 1997
King Liberty frameset.


Paul Roberts, Ride BMX UK february 1997:

I consider Stuart King one of my close friends. I would love his bikes to be good, in fact the better they are the more stoked I would be. Saying this, you as a reader [ranging from Jason Beginner to Jamie Bestwick] deserve the truth and the facts.I guess if you find my Vans surrounded by burnt floor with no visible remains, I got struck down. Stuart King's Liberty frameset is out. After one and a half years of planning and prototypes it's a reality and three facts stand out above all others: It's expensive, it's heavy and it's strong. The frame retails for £340 and the fork/stem combo sells for £169. That's a fact, that's the truth and shit that's expensive, but is it comparatively expensive? Well, the King frame is in competition with a Standard Lengthy/STA which kicks in at £480 f&f which is around £40 less than the King f&f, so it's not super-expensive for what it is. You can slap my wrists as I don't know exactly what it weighs, but the frame weighs everso slightly less than an S&M Sabbath and the forks weigh slightly more than an S&M Widowmaker, but King products have always been made with a refusal to let strength go down in any department, so it's not super-heavy for what it is. What it is, is ultimate strength. All tubes are seamless 4130. All tubing is .049 except the seattube with is .058 and the headtube and bottom bracket shell which are nuff. The frames are made by Boss, who also make the S&M Sabbath, and if you remember Boss cranks you'll know the high level of quality we're dealing with. For me to say this frame is unbreakable would not be a fact or the truth, only time will tell how close to unbreakable it can possibly be. A few nice facts are that this bike will hold its value and will still be super strong when you may no longer be strong enough to go riding, and when you venture into this price range it is nice to know that your wedge may not be gone forever. Also, you are safe in the knowledge that you are paying that sort of money for one of the strongest and most durable frames of its kind on the market. I talked to Stuart about the bike and he said he was 'ecstactically' pleased about it and I think he's got a right to be. He also said he didn't think the frame was perfect but I know it must be close, for him to be as pleased as he is. He also said that a slightly longer version [possibly called the 'Justice'] would be out soon.


Jerry Galley, Ride BMX UK february 1997:

I've been riding the frame & fork set-up for a while now and it's held up exactly like I expected it to. The diameter and thickness of the tubing and the build quality make it hard to break. All frames need a certain amount of flex in them and this is something I've found difficult to get used to in the King frame. It's very rigid, maybe too rigid - if you can have such a quality in a frame. Brake lug position is good on the frame but on the forks I find my lugs are too far apart. The brakes still work really well, so I'm not sure this is much of a problem.



King sort un cadre de sol semblable au Dyno de Ruben Castillo dessiné par Dylan Worsley.

KING Bike Co stopped making frames in 1997, just after the first batch of Liberty frames were sold to shops around the world.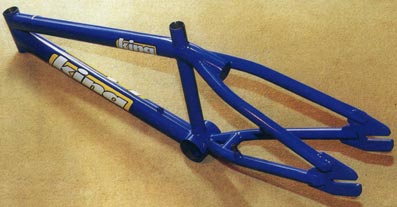 King Liberty.