BURNING BIKE festival
Date: november 14-15, 1998
Place: 15 miles east of Phoenix, AriZona

Saturday night, when the contest ended, Ron's Cellophane Solution and New York's Orange Nine Millimeter played a concert and the giant bike was burned to the ground. The burning bike was a 15 feet high BMX frame that went up in flames.
$15.000 pro purse.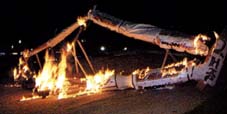 FLATLAND


Art Thomason, www.theflatlander.com:

The flat finals went down right after street. Good (aka beginner) Flatland happened first. 9th went to Johnny "old school" Lopez. He deserves his name as he pulled out everything from back wheel hops to tailwhip front wheel hops. Doug Farnsworth was wearing some nice CHiPs shades and did a freak squeak Seth Weber to funky chicken for 8th. 7th went to Steven Halverson who did an original lard yard move. Brian Krause did two footed squeakers all the way to 6th place. 5th went to the kid in the Hawaiian shirt, Johnny Vanderhoven, who pulled a crossfooted stick bitch. Chris Doran took home 4th with mcCircles and mega spins. 3rd place went to Seth Weber, who did some really hard stuff. He pulled steam rollers to hitchhikers and a backwards wheelie to lard yard. 2nd place went to Tommy Bedoya who did a lot of cool squeaker variations. Mark Blayney spun into crossfooted lard yards and busted crossfoot johndoenuts for the win.
In Great Flatland, Colorado boy Aaron Frost did some nice junkyards on the pedals for 7th. Touches are the only thing that kept him from placing higher. Sean Parker (who also rode street) did gliding lard yards and stick bitches for 6th. Touches were his enemy also. Jeff Hoefs, a Pro Impact Stunt Team rider, took 5th by throwing out some pro level front wheel links and doing a crossfooted stick bitch with both hands behind his back. 4th went to Eric Stefano who did some nice back wheel spins and elephant whips. Wayne Seigmund did some rad spinning pedal-roni's for 3rd place. There was a tie for 1st. David McDaniel was busting out some very hard front wheel links. He did a 360 body varial (steam roller to funky chicken) and a nice cross footed wheelie to lard yard to crossfooted stick bitch. The other winner was Pro Impact Stunt Team rider, Brett Crowther. He pulled a flawless first run which included a death truck to dump truck and a one-handed smith out of pinky squeaks.
Ross Smith Pro Flatland was next. It was the largest flatland class with 16 people. 10th place went to Andrew Arroyo of Drew's Mail order fame. He did a couple of tricks on the mini ramp before doing some whiplashes on the pedals and a cool inside gliding crossfooted stick bitch. Sean McKinney also decided to start out on the mini ramp. Once he started riding flat, he did a one handed hang nothing holding the cross bar. He also did some smooth front wheel links and made them even harder by riding with no front breaks. He got 9th. 8th went Art Thomason. He did some 180 bar/180 body spin tricks and a spinning hiker to pinky squeaks. A few touches kept him from placing higher. Ruben Castillo pinky squeaked and mcCircled his way to 7th, throwing in some cool new links. He was BMXican! 6th was taken by Ross Smith. He did some awesome around the bike moves, but his coolest tricks were double rollaids and triple rolling walkovers! Can you believe ESPN wouldn't let him ride pro?
Steve Cerra took home 5th place. This guy gets better every time I see him. He hit a Karl Kruzer to 360 bar flip and tons of other nice front wheel moves. He finished up with an inside spinning stick bitch. Gabe Weed and Phil Dolan tied for 3rd place. Gabe had two flawless runs filled with high speed mega spins and clinched victory fists after every trick. Phil's run was filled with his signature quick foot work and switches. He did a lot of front wheel tricks on the frame and ankle death type moves. Steve Cerra Although he didn't do it in the comp, Phil was coming close to pulling hitchhikers to crossfooted backwards backpackers to hikers in practice. 2nd went to Trevor Meyer. Trevor would have been unbelievable if he were anyone else, but for Trevor he touched a lot. He did a 60 second link that included his backwards funky chicken, but ended up on his back. In his second run he pulled the raddest save I have ever seen. He was doing a side yard and jumped over the frame to go into a john doenut on the pedal, but he missed the pedal. However, instead of touching he did this crazy no footed karl kruzer where he was running in the air and pulled it! He also pulled a forward to backwards coasting wheel chair. The man of the day was Day (pun intended). Day Smith hit his upside down decade (on the seat) perfectly. He put together two pretty clean runs filled with his powerful, quick front and back wheel links. He also came really close to hitting a crossfooted jump to regular footed hitchhiker.
When the results were announced, most people were pretty pleased with the outcome. The judges were Nate Hanson, Dylan Worsley, and Shawn Burnham, all pro flatlanders. You couldn't ask for a more knowledgeable panel.
PRO FLAT 1.Day Smith 2.Trevor Meyer 3.Gabe Weed (tie) 3.Phil Dolan (tie) 5.Stephen Cerra 6.Ross Smith 7.Ruben Castillo 8.Arthur Thomason
PRO STREET
The street course (which was built by Joe Tecca, asphalt and all) was the only paved surface in miles.
Josh Heino did an alley-oop grind on the death rail and took the win.
Dave Voelker was right behind Josh and did the highest jumps ever seen over a box jump.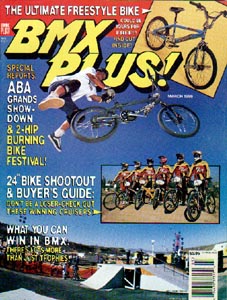 Reuel Erickson

PRO STREET 1.Josh Heino 2.Dave Voelker 3.Mike Parenti 4.Kevin Gutierrez 5.Chad Kagy 6.Cameron Birwell(tie) 6.Mike Ardelean(tie) 8.Ruben Alcantara
PRO DIRT
First place belonged to Cory Nastazio. He was flipping the first set of the quads and then stretching every one of his variations like crazy over the big set.
Chris Duncan pulled a triple truckdriver.
PRO DIRT 1.Cory Nastazio 2.Chris Duncan 3.Cameron Birdwell 4.Reuel Erickson 5.Shaun Butler 6.Matt Beringer 7.Chad Kagy 8.Josh Stricker
EXPERT DIRT 1.Rob Darden 2.Mike Aitken 3.Adam Munoz 4.Richard Davison 5.Mike Grosse