Andy Zalan Go december 1990:

I was pretty much just living my rather anonymous life when a few strategically placed phone calls came into the picture. The next thing I know, I'm in a rented auto with Gregg Hansen, Ruben Castillo, and Craig Grasso, its well past midnight, and I'm on my way to cover 2-Hip's second annual Meet The Street contest in New York for GO. I was getting more famous by the minute.
It was a heinous hour of the morning and we were looking for Emmy's bike store on the west side when we saw a man with a sixfoot-long snake draped over his shoulders. We knew we were close. The city was kind enough to donate the use of an entire street, and after the ramps arrived and were constructed (Greg Sousa, Fred McDonald, and the rest of the Eastern Ramp Association have to be thanked for hauling said plywood from their New England homes), practice was initiated.
Practice evolved into a ludicrous display of jumping aptitude as obstacles such as the long grind box, ten-foot wall, and spine ramp were all but forgotten.
"This is not even a contest. It's typical New York and the ramps are gonna feel it." -Mark Eaton.
Standouts in practice were Vic Murphy and newcomer Greg Melaney, both hovering at six feet plus over the stonehenge-type ramp. Kevin Martin was seen pulling countless 360 lookbacks as his proud parents glowed with pride from the sidelines. Kevin has more raw talent than the average circus performer.
Amateur qualifications started out with 24 lucky hopefuls, but after a couple of hours and a very serious crash (remember the Pro Choice article in the April '90 issue of GO? This guy didn't.), it was whittled away to eight. Filtered clean out of the picture was M.I.P. Ruben Castillo... that's how tough the competition was.
Eighth place went to GO's March '90 cover boy, Trent Chavez, who unleashed high fakies on the spine, stretched nothings, and his patented nofooted X-ups. Dave Fox and local homepiece Eddie Rioz tied for sixth place, as rumors circulated that both have Hungarian grandmothers. BMX man Dave Clymer showed up sporting a beard and dreadlocks, which he wore to his impressive fifth place finish. Taking a break from the Lazy Wives Tour ("I have no idea what that means."), Mark Kirunchyk pulled out wall ride variations as if they were blades on a swiss army knife and proved he could jump with the best of them. Fourth. The aforementioned Greg Melaney scored third place honors as he aired well above Mark Eaton doing track stands on the stonehenge deck, and showed off variations like no-hander no-footers and no-footed can cans. Sean Leslie reportedly makes 250 dollars every time the new Kudos commercial is aired. In the commercial, Sean is seen munching on the candy snack and flatlanding with Kevin Jones. Sean pulled mean aerial variations and pretty sano wall ride action as he proved himself more than just a flatlander. That left first place, doled out to "Lungmustard" Mark Eaton, who on this day was the Hood who could. Mark impressed the judges with smooth manuals, high airs, multiple nosepick variations, and his ever-present Pennsylvania originality. However, in addition to first place spoils, Mark took the beauty of a black eye-courtesy of 25th Street-home with him too.
The Ams are getting better and better, but you can still tell them apart from the Pros. Not surprisingly, the day's best riding happened in this class. Alphabetically, here is how it happened: FIFTH: Pete Augustin, Dino DeLuca, and Jess Dyrenforth made up the trio of fifth place finishers. Pete arrived with a brand new Medusa tattoo on his shoulder and did most of his dirty work on the hip of the stonehenge with fastplants, fakie transfers, backside bonelesses, and on the wall with high kick-turns and alley-oops. Dino DeLuca found himself a hotel room right above Emmy's and proved that not only was he a whiz at making reservations, but he could bust the proverbial move as well. Footplants atop the wall and long distance grindage were his main claims to fame. Jess Dyrenforth is from England and can dance very well. In his run, he abandoned all common sense and hurled himself high and far abusing the stonehenge coping with grinds, picks, and plants. EIGHTH: Craig "Irie" Grasso was seen riding for Trend Bike Source and JAH. Unfortunately, Craig neglected his body (he drove all night before the contest) and rode well under par. It was obvious that the gods were frowning down on him. With undeniable logic, Craig figured that if it were apparent that he was not going to win, he was going to "shoot for last". That is exactly what he got. SECOND: Bob Kohl entered the contest not being known for his street riding and proceeded to school everybody. In practice he got everyone's attention with a 360 bar spinner, and in his final run he blew everyone away by cleanly pulling a 360 air over the stonehenge while throwing in a 180 bar spinner for good measure. And if that weren't enough, he went on to carve across the wall with his bars still backwards. Good golly Miss Molly is right. FIRST: Since landing his sponsorship with Mongoose, Dennis McCoy has been on a tear, and this contest was no exception; he won his third straight major street contest. Besides riding smooth as vanilla yogurt, pulling nose manuals over everything, and being the only rider to wear full safety gear (including a full-face helmet), Dennis threw the crowd into a frenzy with the trick of the day, a perfectly executed 720. THIRD: Steadily working towards those frequent flyer benefits, Vic Murphy flew in from California for the day's street festivities. After teasing the crowd with sevenfoot seat grabbers, kick outs, and anarchic spine abuse, Vic demonstrated old school style with new school innovativeness by spinning rad 540 foot plants off the wall. I'm sure he flew home stoked. FOURTH: Six-foot Superman airs over the stonehenge, foot plants on top of the wall, and peg grinds the length of the grind box were all in Ron Wilkerson's arsenal. It was and is obvious that Ron and 2-Hip are both here to stay, and if it weren't for him there would not be any cool freestyle contests keeping our sport alive.
Slowly the crowd went home, psychologically spent after being exposed to such radical riding as happened that day on 25th Street. Gregg, Craig, Ruben, and I all filed into the car with the prospect of yet another sleepless night in our immediate future. The next morning I found myself home once again engulfed in my rather anonymous life, waiting patiently for fame to bash down my door.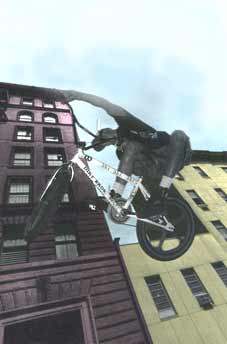 Vic Murphy. Photo: Andy Zalan.

GOOD results:
1.Mark Eaton 2.Sean Leslie 3.Greg Melaney 4.Mark Kirunchyk 5.Dave Clymer 6.(tie)Dave Fox 6.(tie)Eddie Rioz 8.Trebt Chavez

GREAT results:
1.Dennis McCoy 2.Bob Kohl 3.Vic Murphy 4.Ron Wilkerson 5.(tie)Pete Augustin 5.(tie)Dino DeLuca 5.(tie)Jess Dyrenforth 8.Craig Grasso