Date: 1989
Place: Fountain Valley, Los Angeles, California.
Organisation: AFA, Bob Morales.
Flatland only contest.



www.bmxtrix.com:

It was a very disappointing contest, that last Masters event. Maybe 50 riders total turned out and the weather was cool... the riding was at an all time high, but the sport itself was at an all time low.



Lew, Go#5 march 1990:

When I first came to California in 1985, freestyle had a very distinct energy level. Just going to a contest made you amped, and when the contest day was almost over and you were checking out the Pro finals. . . it was intense. The Pros at that time were the untouchables -nobody was capable of their level of riding. Of course, back then there was a lot of hype too. The big salaries, the dialed bikes, the factory uniforms, and bright colors. It all added to the show.
«Now the only difference between Pros and Ams are the Pros pay more money to enter contests." .Ron Wilkerson.
As the standards for flatland freestyle continue to rise, the standards of competition have been going in the opposite direction. Lack of participation, media coverage, sponsorship, and overall attention put into the AFA Masters Series in 1989 made for a dry year. Which is a bad thing, considering that the majority of freestyle riders are flatlanders.
I recently had the opportunity to witness the AFA Masters Finals, held at Mile Square Park in Fountain Valley, California.
With the introduction of Kevin Jones and his vast assortment of tricks to freestyle, combined with the eagerness to learn anything and everything new, most of the current followers of the AFA Masters Series are not to be caught dead without being able to pull flawless hitchhikers, backpackers, death trucks, dump trucks, rope-a-ronis, and the like. We are at the stage in the game now where the biggest breakthroughs are subtile variations in standard moves or new connections of old tricks.
The facility for this contests was a parking lot roped off in Mile Square Park. Approximately 200 people were gathered to wonder, watch, or ride. The parking lot next to the contest site flowed with tricks -not from jam circles but instead jam strips. Riders lining the sides, gaping and memorizing as Eric Emerson or Perry Mervar rolled through a particularly sweet display of linkage. Practice was definitely the high point of the day.
Pinpointing the solution to the problem is not easy. I attended the 2-Hip Meet The Street Finals only a couple of weeks after the AFA Masters Finals and the turnout as far as spectators and riders was almost identical. But the difference in enthusiasm was night and day And the 2-Hip MTS Finals rated particularily low on the fun scale-compared to most 2-Hip events. It's not like the AFA isn't capable of doing a great contest -some of the best freestyle events ever put on have been AFA Masters contests. Everyone I talked to at the AFA Finals was bummed out or felt foolish for even being there.
It's definitely not because flatland riding is boring. No way. Rolling tricks may get redundant after watching them for eight hours straight, but the same holds true with any type of riding. Everyone is so close in difficulty levels now, though. The 14-15 intermediate riders are pulling or attempting just as many psychotic moves as some of the Pros.
Maybe the sport is growing faster than the AFA can keep up with. Competent judging has always been a problem and will probably never be perfect. Lack of volunteers or worthy judges warrant the use of anyone who's willing to take the job-and it often turns out that these generous individuals who donate their time and efforts just don't know enough about freestyle to give fair and accurate scores. During the Pro finals, for instance, it was dark out. Not just low lighting or dusk, but pitch dark. No lights in the parking lot made it hard enough for the Pros to ride-so hard, in fact, that camera flashes were prohibited for fear of flash blinding the entrants. This didn't stop one of the judges from wearing sunglasses through all this. Hmmm.
Upon inspecting the contest flyer with a fine tooth comb, a rather odd rule was discovered. It stated "Wearing shorts and t-shirts will affect showmanship and appearance score. Shorts are not recommended." It was also rumored that the AFA was giving riders wearing uniforms $5.00 off their entry fees. An attempt to bring back some the good old days of glamour and glitz ?
The small-but-hardcore group of riders who follow the Masters Series contests do so out of loyalty to their sport. Wth the proposed 8 Masters contests scheduled for 1990, this is going to make it pretty difficult to hit all of them. Especially since solid factary sponsorships are hard to come by these days. A smaller series, maybe 4 contests long, would make it a lot easier to go to them all, Not to mention make winning a Masters contest more impressive if more people were to show up at them.
It was debated over whether this contest even warranted coverage. Perhaps we should have covered the jam strip instead ... even being so bold as to judge the practice session, determining who the best riders were with the help of riders and friends and running our own results to the AFA Masters Finals. But we didn't. We understand that this article has the potential to upset a few people. With any luck it will call attention to the need for a flatland contest series that is enjoyable for those involved. Freestyle is never going to die... if nobody lets it, that is. What do you say ?

Pro class: 1.Dennis McCoy 2.Jeff Rugg 3.Danny Meng 4.Perry Mervar 5.Bill Neuman 6.Eric Emerson

Master class: 1.Shane Keena 2.Andy Mulcahy 3.Craig LePage 4.Ron Bergenholtz 5.Pete Kearney

18 and over expert: 1.Pete Brandt 2.Darryl Johnson 3.Jim Johnson 4.Chris Hogg 5.Jesse Puente

16-17 expert: 1.Josh Marsele 2.Day Smith 3.Shane Keena 4.Craig LePage 5.Johnny Lee Cate

14-15 expert 1.Jamie West 2.Jason Hughes 3.Brian Vowell 4.Rene Moreno 5.Josh Williams

13 and under expert: 1.Brent Clawson 2.Matt Smith

18 and over intermediate: 1.Paul Ferraro 2.Paul Vail 3.Gary Clark

16-17 intermediate: 1.Jesse Leyva 2.Adam Fleetwood

14-15 intermediate 1.Ryan Clawson 2.Gabe Weed 3.Andrew Arroyo 4.Paul Cruz

Novice class: 1.Christopher Kurtz 2.Kevin Davis 3.Josh Mathews 4.Dustin Kleinschmidt 5.Danny Scott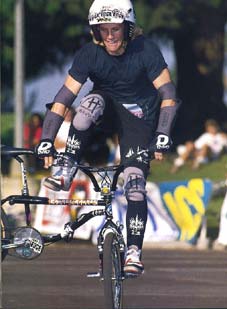 Dennis McCoy whiplash.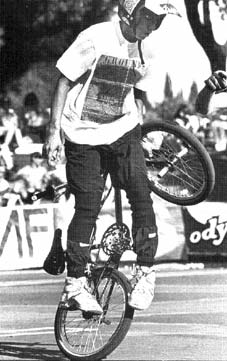 Jesse Puente stick b.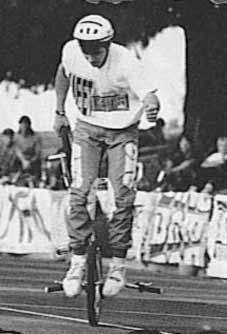 Josh Marsele backpacker.