Story by Greg Neal, Freestylin' magazine:

In an attempt to better the old system of the time consuming qualifying heats, the AFA has decided to let each rider have three 30 second "jam circle" type runs.
Roberto Moreno cruised to a victory in the 13 Expert flatland class, and Jaimie West, of Georgia, nudged out Rene Moreno for a win in the 14-15 group.
After watching these guys, it's safe to say the younger crop of riders will be just as impressive as today's top riders. Ruben Castillo, Trend Bike employee and Austin local easily won his class (16-17 Expert flatland) by topping Conneticuttians Josh Marsele and Brandon Cole. Ruben debuted his new rolling peg decade type trick, the "fajita", as well as difficult combinations that helped with last year's national title.
The big guys in the 18 and over class yielded some difficult competition. As proof, Brett Hernandez and Jason Geoffrey did NOT qualify. Plywood Hood/Erasure fan John Huddleston linked so much weird stuff you needed a translator to understand it. His 4th place finish was not worthy of his talent. He was linking tricks together like a madman (see Dorkin III) and ended up going partially up the quarter pipe linking his tricks. James McGraw had a difficult, yet consistent run and captured 3rd place. The real showdown, though, was between Perry Mervar and Texas rider James Sheppard. After Jame's grip scraping Karl Kruzers and Perry's peg hop to bar ride, the frenzied judges needed a run off to decide. Perry took the gold.
The competition still left room for action outside the contest environment. Darryl Johnson was pulling backward rolling decades in jam circle.
Unfortunately, no flatland pros showed, leaving Kevin Jones without a class. After he refused to demo at the contest, many were left disappointed. Later, he unveiled the hyped hitchiker and backpacker across the street from Trend Bike Source. As fair warning to anyone considering entering Pro flatland, these tricks are more impressive than a doctorate degree in biochemistry from Harward (they're good).
Texas AFA ringleader Scott Paterson decided Sunday's ramp competition would be local, but talent was not absent. Joel Alamo, Eben Krackau, Greg Guillotte and Kevin Gutierrez all had impressive and promising runs. Because of a small turnout, there were only three expert classes.

Pro flatland: 1.

Master flatland: 1.

18 and over expert flatland:1.

16-17 expert flatland: 1.Ruben Castillo 2.Josh Marsele 3.Brandon Cole

14-15 expert flatland: 1.James West

13 and under expert flatland: 1.



Josh Marsele, 2nd place:

Reuben didn't "easily" top me that day. In qualifying runs, I did 3 touchless routines with tough tricks and flair. Ruben touch 4 times in qualifiers and still qualified 1st, right ahead of me. We were in Austin, in famous Reubens own house, and I was an unknown yankee -.no way I was winning. Everyone in the audience knew Reuben. The crowd would have screamed themselves hoarse if he did wheel balances. Crowd response always influenced judges that didn't know much about freestyling, which often was the case with the AFA. That, and the fact that GT/DYNO sponsored the AFA Masters events (and Reuben) has on occassion (not necessarily on this occasion, but everyone knew/knows it happens) put the whole subjective scoring situation in a state of 'conflict of interests'. As for the comment in Freestylin', Reuben was freinds with the writers/photographers/editors of the magazine...not to mention that GT/DYNO was also cutting their paychecks. Not the sport itself, but the industry was a symbiotic and exclusive arrangement in many ways between the bike companies and the magazines. I came to understand there was quite a political side of the sport as I got more and more involved. Everytime I bring this up, though, I feel compelled to assure everyone that I've never been bitter about it...it's life.
To be fair, we bothed touched 3 times in our final run...and Rueben did this AWESOME 25 second link that went REALLY well with a breakdown in his house-mixed version of Nenah Cherrie's "Buffalo Stance". I rode to Big Daddy Kane's "Raw". I got 'spoken to' after my run because it had a few profanities in it (I'm not new to this/I'm true to this/Nothin' you can do to this/F around with Kane and come out black and blue with this). The Texas crowd really loved rap music. I did stuff like a Landspeeder across the floor(forwards sideglide layed down flat), a 1/2 lash to forward smoothie to macaroni to a smith decade, a hang five to fwds sideglide to steamroller to coasting funkychicken to spastic locomotive (with this real neat way of riding out: grab the bars w/both hands and jump your right foot to the toptube near the seatclamp, left foot over the handlebars, me rolling backwards) to swivel to grand-slam (I invented the grand-slam: decade to landing directly on the pedal w/ your right foot.) In the end, I was just really happy to place 2nd, rather than 33rd, at a Masters.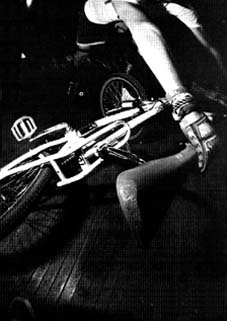 Perry Mervar,
photo: Spike Jonze.




990Adjustments, www.vimeo.com:

Perry Mervar - AFA Austin, TX 1989 .