Date: july 12-13,1997.
Place: Hastings, UK.
Organisation: Stu Dawkins



Paul Roberts, Ride BMX UK october 1997:

There's something about Hastings. It's not one specific thing, maybe just more of a feeling. I'd imagine the locale are numb to it and take it for granted but whenever I'm there I get a high off of the sea breeze, the riding scene and the laid back party lifestyle. During Summer the place is rammed with foreign students (much to your average rider's delight) and for the later part of one week a year equally jam packed with MXers. The 'MX entourage that arrives (ranging from Tuesday night to first thing Saturday morning) are hyped. Memories of the past fuel anticipation for the weekend's riding. Fuzzy's jump off with Canning in 1992. Chris Moeller going off over the '93 Chasm and the emergence of a certain someone called Stuart King. Clymer's flip in '94 and the emergence of Fids to the masses. Also in '94 was the vert comp with John Parker attempting almost every trick in the book and pushing Jamie Bestwick from top slot. 1995 saw Fids come back from the States and blow minds for the win in dirt and Hoffman doing 540s and flips on a soaking wet vert ramp. Last year saw Kris Bennett arrive from Titusville and stick everything for the win as well as Bessie hold out for the win over Dave Osato in vert. It's not surprising that people head to Hastings with high expectations. 1997 was not a disappointment. In recent years Stuart Dawkins has paid for top US riders to make the journey. The Jam now has such a worldwide reputation that the US is sending its boys in truckloads with so expense to McYard. This year saw no less than 12 top Americans hit up the Jam as well as a host of Europeans. Add this to the UK's top dirt jumpers and about a third of its top vert riders and (as long as the weather is air friendly) you really have got the ingredients for some quite delectable Jam. Alright, I'm gonna get the moans out of the way before I get into the report.
1. The jump was tough. Now a section that takes skills to get through is cool. Unfortunately the section was tough to get through because it was soft. The set-up doubles followed by the mass style set were built pretty late and didn't have time to pack. It wasn't helped by the B and C group mashers intent on destroying everything in their path (sorry about that) and because of it a lot of A groupers weren't able to hit all their tricks. I know it was the same for everybody but, you know, we were hyped on seeing everyone there and we wanted to see everybody do their stuff.
2. Taj didn't make it. Because of all the Hoffman goings-on, general bad luck and despite every effort from Stuart and Ian. Taj just wasn't on his plane. For those of us who rate Mr Mihelich to the highest level it was disappointing, but there again we did get to see a host of Americans never seen before in the UK.
3. The Kook on the microphone blew his voice out on Saturday but there again who needs Peter Stringfellow commentating anyway (thanks to Will E for that one)? John Barnett, DJ from Southsea and Steve Swope stepped in for announcing duties, thank gawd.
4. Saturday night, This is the real moan. Now I wasn't there so I don't know how much of this is rumour and hearsay and how much is detail and fact, but take it as you like. On Sunday there was a rumour that a gang rape had taken place.
Now that's sick even from the lowest standpoint: but as it turned out it wasn't really the case as some girls were putting on shows at the Jam (and I don't mean your county fair riding exhibition either). Seeing as there were about 2000 alcohol fuelled 'MXers in the house it didn't take much to get an audience. These girls were unsurprisingly followed around wherever they went and were seen leaving Friday and Saturday nights with a different group (we're talking eight or nine at a time) of riders. I just hope that; 1) The riders had fun, 2) They used precautions and, 3) They touched the sides. I don't really know what to say about this really but I know it caused a lot of shit for the organisers and it could have turned real nasty real quick. Anyway, this wasn't the worst part of Saturday night. It's always a little rowdy at Backyard but you don't need much of an IQ to know that a glass bottle fight and violence sucks. I don't know if it was last year's bottle fight with the plastic Volvic bottles or alcohol that fuelled it but riders (??????) ended up throwing glass bottles at each other from either side of the dirt lumping arena. All fun and Games until 17 kids end up in Hospital. The only way I can think of this is to imagine a group of people coming to the trails and start throwing bottles at me and my friends and that's the way I think of the people who caused the violence. I think it's the best that riders get to go away for a weekend to party and see the best riding but it's shit like this that's finally gonna convince Backyard that they can't safely run another Jam. If there isn't another one, the people throwing the bottles and causing all the shit will be the ones to blame. If you're reading this and you were involved I'm not gonna give you a strict telling-off or a sound talking to because I already know you're too dumb to take any of it in but here's a piece of advice. F-k off and take up rollerblading you pieces of shit and you'd just better hope that no-one who really cares about riding finds out who you are. Just get rid of your bike, go down the pub every night, get some tattoos and a moustache, save up for a piece of shit car and drive it off the nearest cliff. Do the riding community a favour and become a football hooligan because we simply do not need you. Alright, that's the crap out of the way. Sorry to bring everything down but you know, dumb-areas are dumb-areas. Don't get the impression that the riding and the comp didn't rule because, of course, it did.
www.dailymotion.com/benbmx
.
The chasm was a gigantic dirt jump over a small body of water covered with green slime. The objective in jumping the chasm is to pedal as fast as you can, and try not to fall in the water. The few that cleared the jump were proud.



Paul Roberts, Ride BMX UK october 1997:

Dirt jumping. Saturday is dirt and it's massive. 17 in Squirt. 47 in C group. 33 in B group and 15 in A. Large. Squirt and it's time to introduce you to one of the stars of the Jam, Louis Whiting. Louis rides a custom-made 16 inch pit bike, stands about 4 feet and rocks. No footed step thru's straight out of the textbook impressed every one who witnessed them. First place from the Hero waiting to happen. C group's a bit of a blur seeing as there's 47 people to remember but Brown E took the win, from Simon Harrison and Robert Brown who were in place and show. Most of C group were busting and a large number ended up busted but hey, that's Backyard. Dave Morton ended up 7th but he's one who pulled pretty much everything without mishap.
Chasm intermissions. The schedule for Backyard is laid out at the beginning of the day but, like normal riding sessions, if someone wants to bust, you've gotta let 'em bust. Mike Escamilla (aka Rooftop) wasn't riding dirt but was itching for a piece of the Chasm. He was first over on Saturday and the crowd careered down to get a better view. In previous years the Chasm has been hard to clear and with the high sphincter factor, trick count's been low. Even though the Chasm was only 3 feet shorter this year, the smoother run up and the lack of head wind made tricks possible and no-one was disappointed. Many people cleared the Chasm, Ross Hill even overcleared it by about ten feet (notch up concussion and broken ribs for Hoffman's top racer in the UK). A few people didn't clear the chasm and seeing kids in full wetsuits didn't really fill the crowd with confidence but, you know, everyone to their own. The stunts that stand out were; Nick Cox, smooth flat tabletop. Rooftop, nuff stretched Superman. Sean Butler and Dan Highams, 360s and the two best tricks: Timo Pritzl is from Germany and he rules. He's been doing flips for over a year now and came to the Jam knowing he was going for it. Not since Clymer's days has a flip been tried over the Chasm. Timo hauled and flipped. With the force of the rotation added to the massive forces of jumping 35 feet Timo collapsed over his bike upon landing but got actually closer than Clymer did. Timo walked away to deafening crowd approval and high on adrenalin kept riding for an hour. It wasn't until much later that he went off to hospital with stomach and rib injuries. Get well soon, you're The Man. Finally, the Trick of the Jam. Marvin Lotteridge rides like he's on a mission. The Orange County local wants that place on S&M and he's out to get it. After being the first man over the Chasm on Friday, Marvelous informed me drunkedly at the Crypt that he was gonna get it tailwhipped. He was gonna go for it, no doubt there, but would he pull it ? On Saturday 12th of July Marvin hit the Chasm, kicked the back end of his bike and proceeded to ride out of one of riding's hardest tricks in BMX over one of its biggest jumps. Chalk up 100 pounds of English currency (from Howies) and 1000 toss of appreciation for the man on a mission... Back to the comp.
B group dirt. B group was cool. Riders had the choice of the table or the sections and everyone was pushing hard. Tommy Bowers pulled the transfer that I pancaked last year. Mark Buckwell was riding well but blew his bike up and Zamo was pulled out of C group for sandbagging but still placed 6th. Top three were, last month's "ra-ted" Mark Theaker who got 3rd. MT took all his jumps on the table but pulled everything. He crashed in practice and ended up with the gnarliest bruising of the weekend and still had vert to come. Thierry Alaux came all the way from France and took second but it was Andrew Sowerby who took the biggest haul of goodies and will definitely be in A group next year. If there is a next year.
A group. Seven from the US. Eight from the UK. 15th was Matt Roach. The Rayleigh local had nightmares with the section but still tried his tricks. More cases than Judge Pickles for the Howies rider. 14th went to Curtis Last. The TNT rider was even tricking the first set but the judges didn't care. 13th was Jimmy Levan. The Huffy rider was another who was struggling over the section but he still pulled his Barhop and got close to a huge turndown 360. Jimmy rules. Come back soon, dude. 12th was Steve Grace. Everything that was expected of Horse's-face happened. Aggression, Big air, crazy limbless styles and bone shuddering stacks from the man who fears nothing. 11th was Dan Price. Considering Dan is one of the streetest guys in the business he was way impressive. Squashing the first set table style he was going fat over the style doubles. Nothing that was "Dead Vic Murphy like" from the Hoffman rider. Also Dan mashed his knee on the S&M tour recently. Get well soon man, you rule. 10th place was 'bad ass' Shaun Butler. The Lumberblack was going off in practice but dead sailored two and bailed one in the comp. Butler was one of the most impressive riders of the weekend but couldn't put it together when the judges were watching. 9th place was last year's winner Kris Bennett. Bennett amazed everyone at a riding session at Ashford earlier in the week (360s both ways, mid section - wow) but was hating the jump more than most. A disappointing day for the PUSH local. 8th place was Nick Cox and basically he got robbed. Barspin to x-up, barspin to no foot, 360, truckdriver attempt. What the hell. If anybody found loads of points laying around on Saturday night they were Nick's; one of the Judges dropped them. 7th went to Chris Dane. After being promoted from B group Chris showed he could hang easily in the top group. Highlights were an enormous Superman where the seat smacked him in the face. Ruling styles from Posh Spice. 6th place was the travesty of the comp. Chad Herrington was not gonna get anywhere near clearing the Style set so he tried all his stuff over the first set. Nothing to tailwhip attempt was cool but should have been marked below anybody who got through the section. Also, the ever ugly Flying W should have had judges furiously scribbling zero's. I've got nothing personal against Chad but I think there should have been at least 9 people who beat him. Top Five: 5th was Josh Stricker. The Sheep Hills local showed the skills to get through and busted fat styles. His one handed flattie may not have been a flip, but then if you care that just says what you think about riding not what you think about style. Josh also said that he didn't think he'd placed top ten, let alone top five. 4th was Dan Highams. Dan comes from Sidley Woods and kicks arse. His helmet may be too big but so are his styles. Massive truckdriver over the Style set sticks in the mind. He rules. 3rd was Marvin Lotteridge. Mission-meister Marvin was hauling. His tailwhip over the Style set must have seemed small compared to the Chasm but the crowd loved it just the same. Top three and ahead of all the S&M riders must have pleased him. Will Chris Moeller hook him up or just keep telling jokes at his expense? 2nd place and top European for the second year running was Dean Hearne. The Ashford local was on fire. Through the section every time. Big no-footed step thru seat grab. Suicides. Busdrivers. Spinages. The lot. The Mean one even got close to a Tailwhip. Longbody Rocks. Interview next Issue. And the winner is: Barspinner Ryan Brennan. Spinner had the section down and as predicted by us (smug bastards) the crowd were treated. One handed flattie. Crazy stretched nofoot step thru. Nuff Busdriver tricks and a tailwhip. Oh yes. As if he hadn't treated the crowd enough, Ryan chased the elusive 360 tailwhip for a good twenty minutes after the comp. Add this to the win in Holland and Ryan Brennan should be Pro in every sense of the word by next year, he did Odyssey proud. All hail the King.


Shaun Butler suicide. Photo by Mark Noble.

A group dirt: 1.Ryan Brennan 2.Dean Hearne 3.Marvin Lotteridge 4.Dan Highams 5.Josh Stricker 6.Chad Herrington 7.Chris Dane 8.Nick Cox 9.Kris Bennett 10.Shaun Butler 11.Dan Price 12.Steve Grace 13.Jimmy Levan 14.Curtis Last 15.Matt Roach
Paul Roberts, Ride BMX UK october 1997: Not as big groups as there were for dirt but still bigger than last year. Squirt was won by Louis Whiting. All the Dirt styles were done on vert, below the coping but still pulled. Check Louis Rated, keep it and in five or six years when he's the next Stuart King you'll be able to pull it out and embarrass the hell out of him. Loey's cool. 2nd and 3rd went to Peanut and Daniel Booth. See Fraggle, I told you you'd get a mention. C group was won by Andrew Hamilton although the judging was a bit tweaked. That's taking nothing away from Andrew, we just should have taken the Beer away from the judges. Martin Plumbly got 2nd and Seb, Bas, Sebastian or whatever, Keep placed 2nd. Young Mr.Keep is another one who looks like he's down for life and will rattle cages in years to come. Also keep your eyes open for the Ginger Bomber who placed 4th. Keep your eyes peeled or he may just blow you up. B group was full of good riders who we wouldn't let ride C group (sorry about that) but they all hung. Joe Sandlands took his second run on his skateboard and the crowd went off. No, they didn't leave, they were like shouting, you know. Scott, a man with no surname, and Mark Theaker tied for points but with more judges giving the win to Scott he took the largest haul. A surname and an A group registration for that man please. Mark Theaker was stoked to say the leant. A third and a second was a good weekend's work for the next Robbie Fowler.
A group. Sorry should have got this moan out of the way earlier. Where was Simon Tabron? Where was Jay Davies? Where was Mark Cornick? Where was Mike Mullen? Where was Jerry Galley? Where was Richard Brown? Where were the other top vert riders? I know that people don't have to ride comps but it would have been nice to see these people ride. I know some were injured. I know it was the Worlds the week after. I know the ramp's not the best. I know. I know. I know. I just want to see everyone ride. I understand why most of these people didn't ride and that's cool, it's up to the individual but if promoters put shows on the name weekend as the Jam then they're obviously not gonna ride. Next year, if you want to ride tell people you won't do shows. Bestwick did a show at the World Skating champs on Saturday and he still made it. All top riders please make the effort to hit the Jam next year. We all wanna see you ride and show promoters leave please that weekend clear. Yet again, sorry about that. Any road up, A group vert was pretty damn good. Fath Romaric from France went up a group from last year and snagged 8th. Rooftop [who has never entered a vert comp before] was going off. Massive 540s and flairs, as well as almost any grind in the book got the Hoffman rider 7th. Steve Swope put down the microphone long enough to carve the hell out of the vert and had two big attempts at flips, 6th for the Swopedog. 5th went to John Taylor, sorry my mind is blank except for the name Mad John. Zack Shaw placed 4th with old school airs, that funky tyretap, hook up shit and burliest gyroscopic flairs. Damn hippy. Also, props to GT for having their two top English vert riders in the house - yeah, I know, but Jason Davies rides for Powerlite, smartarse. In third was German KHE/Puwa rider, Marcus Grempel. On collecting his cash, Marcus came over the PA saying "England rules". Yep, you too Marcus. 2nd was Stuart King. The Satanic one had gone to the jam looking forward to dirt but had a nightmare with the soft stuff that led him to say "I should stick to racing cars", but come Sunday and he was going off. Big old busdriver tricks, 540s and tailwhips all with the style, gained a second place pocket of cash for the Nase. And the winner of the Backyard Jam yet again was Jamie Bestwick. Although disappointed at Hoffman not riding, his royal Back- to-Backness still did more than enough for the win - II'm just gonna run out of superlatives for the best English vert rider who's ever lived [and if you want to argue that one you're onto a loser]. All hail the King.

Le dimanche est réservé à la rampe.
Backflip rentré de David Lombard dans le groupe B.
Dans le groupe A, Rooftop tente un flair, Romaric Fath double bus, Matt Hoffman, Jamie Bestwick, ...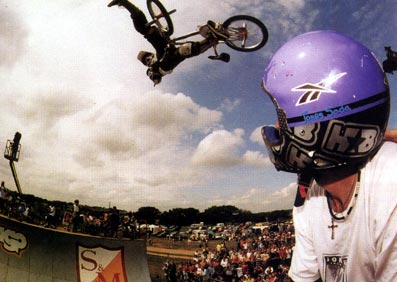 Mat Hoffman on the deck while Jamie Bestwick airs overhead in true candybar style. Photo by Mark Noble.

A group vert: 1.Jamie Bestwick 2.Stuart King 3.Marcus Grempel 4.Zack Shaw 5.John Taylor 6.Steve Swope 7.Mike Escamilla 8.Romaric Fath