Event: X-Trials, BS 1999 round2
Date: 6-9 mai 1999
Place: Richmond, VA
Epreuve de qualification pour les X-Games.
84 000 spectateurs !



Jay Miron, Chase fall 1999:

Some people love the new BMX and some hate it. I have mixed feelings about it. On one hand, it is great to make enough money to afford my own private indoor ramps and I love riding all the new public parks that are being built in every city. On the other, I hate feeling as though I am part of a traveling circus performing for a bunch of idiots who know nothing about me or my sport. Regardless of how any of us feel, one thing is for sure it is never going to be like it was. In 1992, people made fun of me for predicting that BMX would be in the Olympics. Not too many people think that it's impossible now. It might sound a little stupid to say, but the fact is that BMX has become a real professional sport. It's never going to be like golf, where everyone does it. It's too difficult and too dangerous. However, BMX is a perfect spectator sport. People love to watch it and even flatland gets a huge crowd now. The more popular a sport gets, the more money there is in it. Every sport is the same. If there are enough people watching it, there will be large corporations doing all they can to get their logo in the most visible location possible. That location is either on the ramps, on the bikes or on the riders. This new money came in slowly in 1995 with the first X-Games and has been increasing ever since. Pro purses are climbing up to $150,000 US per event - they are worth winning. Riders are signing huge endorsement deals for everything from meat sticks to sunglasses to deodorant. We're not rich yet, but there are quite a few guys making well into six figures a year now. Even the judges are making good money, as they should. They make several $10,000 decisions every contest.
All of this brings us to the second stop of the ESPN traveling circus in Richmond, VA. It was the final chance for riders to earn an invite into the X-Games, so I had expected the level of competition to be quite high. I was right. Everyone is riding so well these days that it's scary. Just making it into the finals has become next to impossible.
Ryan Nyquist rentre un 540 busdriver.



Jay Miron, Chase fall 1999:

Vert was first up on Friday. Just two years ago, you could easily make the cut by doing five variations, a few lip tricks and a sketchy 540 two feet out. In Virginia, you had to do your five variations at eight to ten feet, your lip tricks needed some speed and your 540s, tailwhips or other big tricks had to be done smooth and with authority. It didn't hurt to do some of it opposite either. And remember, that was just to make the cut. Once the finals rolled around, things got a little more serious. There was only one problem though - the ramp. It was set up with more vert on one side than the other. Most riders can adjust to this without much trouble, but when you start pushing yourself to your limits, it gets harder to remember which side is which. Quite a few finalists crashed hard either landing flat or trying not to hang up. It's too bad that we still have to deal with poor ramps considering the money ESPN has to build a good one.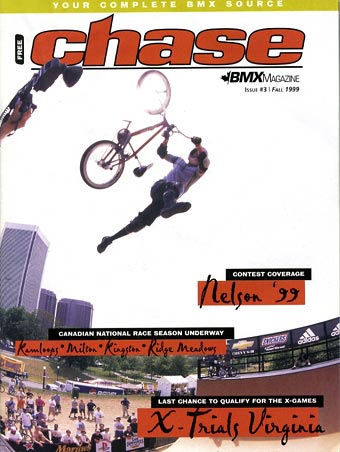 Dave Mirra on the cover of Chase fall 1999.

STUNTMEN VERT: 1.Jay Miron 2.Dave Mirra 3.Simon Tabron 4.Jamie Bestwick 5.Ryan Nyquist 6.Kevin Robinson 7.Dave Osato 8.Jason Davies 9.John Parker 10.Dennis McCoy

STUNTBOYS VERT: 1.Robert Tibbs 2.Garrett Byrnes 3.Michael Mancuso 4.Brad Gethard 5.Michael Corley
Jay Miron, Chase fall 1999:

On Saturday, the ramp riders took the day off and watched flatland. There is a new system in place for flatland contests that has only six guys going to the finals where they battle it out in a jam-style format. It sounds good on paper but is next to impossible to figure it out and it literally takes all day. Why the new system? For TV, of course and it does work. The people who don't ride loved it. With the riders doing so many one-minute runs, it gives the crowd a chance to pick their favourite riders and cheer for them without getting bored. By the time the finals rolled around, everyone knew who was who and what tricks they were going to see. If you didn't, you were pretty stupid because you saw them ride fifty times each.



Art Thomason, www.theflatlander.com:

Every time I go to a Bicycle Stunt/ESPN event I come home thinking that the level of riding was the highest that I have ever seen. The Richmond, VA ESPN comp was no exception. Even though the last contest was only 2 weeks prior, everyone was riding like they were months apart. This time the area was rough (asphalt with big rocks in it) and had a big crack that split the area in half. This crack quickly became known as the "Grand Canyon." However the area was flat, large, and had no major problems.
I will have to apologize to everyone because by the time I landed in Virginia and got to the comp they were handing out the trophies for amateur flatland. All I can tell you about the ams is that Andrew Cooper won and Kip Williamson took second. Oh, also Kip is really good on the mic (he announces pro flat) and I got to ride with Aaron Frost on Thursday night and he rips. Keep an eye out for this guy in the future. While I am off on a tangent, Aaron and I rode with Sean Peters that night and instead of practicing for the contest, Sean spent the night helping Aaron learn some new tricks. He also got me pulling fire hydrant full bar flips to hitchhikers. Sean is one of the nicest guys you will ever meet.
the Eastern Chicken?? Keep reading... Pro qualifying was the following afternoon at 4:00pm. The class was full with 30 riders. Everyone was seeded based on how they did in KY and the people who did not go to KY were seeded by last years point standings. I am really beginning to lose faith in the new system; I think the judges did a good job, but since you have to qualify 2 and only 2 people out of each group the placings are sometimes wacked. Even if you have the 3rd best runs of the day and happen to be in the group with the best and second best, the best placing you can hope for is 13th! I know the seeding should take care of this, but everyone is so good, it really comes down to who is having a good day or not. The way it is now, some really good riders are not making the cut and people who don't deserve to qualify are making it in. Also if the judging is a bit off in qualifying it has a big impact. If rider A gets scored higher than rider B and shouldn't be, rider B is screwed. Under the old system, rider B would just be one place lower and he has a chance to place higher in the finals. Anyway, that is my take on the system. I think it will work a bit better at the X-Games since there are fewer riders and everyone is closer to the same level, but as far as the BS series is concerned, there needs to be a change. Every judge and rider that I have talked to (except Scott Powell; the guy that came up with the system) shares the same opinion.
Now that I have shared my view on the system, lets talk about the contest. Steve Mulder got 12th place. This guys is really good; he has kind of a hit or miss style. He pulled bunny hop tailwhips (landing with speed in the same direction he took off in), rollback to brakeless decade from the pedals, and the "hand job" (a gliding stick bitch full bike flip!). The only reason that he didn't place higher was because he had trouble giving a hand job (I couldn't resist). Eleventh place went to the guy with the most style in the pro class, Perry Mervar. Perry was doing turbined coasting locomotives to boomerangs to rolaids and of course the "perry doom." Kip instated "the no swivel rule," so Perry had to scratch that trick from his run. Chad Degroot got 10th place. He did one of the coolest tricks of the comp: he did a side squeak, jumped to bar endo, bunnyhopped so his tire was off the ground and full bar flipped out! He also did a cool tomahawk on the frame. Scott Powell took home 9th place cash. He busted out a ton of G-string variations as well as brakeless decades and some upside down megaspin stuff. Gabe Weed was all about 8th. Chad DeGrootHe didn't have much new stuff, but he was smooth, flowing, and consistent. He also puled his crossfooted hang 5 to backpacker. Effraim Catlow won the semi final consolation round. This guy rocks! He does full bar flip circle Ks while standing on the INSIDE pedal. I also really liked his hitchhiker barflip to crossfooted hiker (with no brakes). I don't see how he didn't make the finals.
Friday night Bryan Huffman, Effraim Catolw, and I went out to eat with the Eastern guys. If you ever get the chance to hang out with them do your self a favor and do it. They have the coolest toys. Highlights include them chasing 17 year-old girls around in the parking lot while dressed in a chicken suit (is that legal?) and telling people to report to the front desk of the bar via their portable PA system in a backpack... hilarious.
The finals were amazing. Everyone rode really well. If I was a judge there would be a 4-way tie for first; it was just too close. They started at 10:30AM on Saturday. Aaron Behnke just recovered from a broken collar bone, but that didn't stop him from riding almost flawlessly in the qualifying and semi final rounds. Unfortunately, in the finals, he had a lot of touches that kept him from placing higher than 6th. Jason Brown woke up about 30 min before the contest, so he was not quite as consistent as usual, but he still ripped. He did his boomerang to hiker as well as his signature footwork. I rode with Jason after the comp and he blew my mind by doing a 540 bar flip to hitchhiker! Andrew Faris was riding really well, but still only got 4th. He pulled his inside gliding junk yard to death truck, rollback to 540 bunnyhop, and his 360 bar flip to backpacker. Michael Steingraber got a well deserved 3rd. All of his tricks look super crazy with his no-offset stem/fork combo. This guy can pivot like nobody's business: 360 body varial side yard and a 360 bike pivot out of a stick bitch. He also did a swivel at the end of his run just to show Perry that he is not the only guy that can bust out some old school stuff. Trevor Meyer took 2nd place. He looked good, but didn't ride quite as well as he did in KY (which was pretty much perfect). However, he dropped the bomb at the end of his third run by pulling a triple decade. I spoke with him after the comp and he said he was on the plane on the way to the contest and just thought "I'm gonna do a triple in this contest." I never even saw him practice it. He can pull anything when it is for all of the marbles. Day Smith made the biggest come back in BS history. He went from 22nd in KY to 1st in VA! He was on fire! His first trick was a hang 5 to backpacker to crackpacker to hitchhiker. He also pulled a one handed hang nothing (with his knee on the frame) to a circle K in the same position. He didn't forget to bust his upside down decade on the seat either. This was his first time to win an ESPN comp (I think) and it was definitely well deserved.

After the contest Effraim and I did whiplashes down every hill in Richmond. I did about 15 and Effraim did 20 into an elephant glide! The flatlanding didn't end there; that night we got McCoy to do some old school footwork on Effraim's bike in the hotel lobby. When Dennis was vigorously shaking his leg at one point, Thorne asked "what do you call that, shaking the change out of your pant?" McCoy replied "No, in the 80s I called it cash money!" Never get into a cut down war with Dennis; you will lose! After that, Leo came in the door with no bike because he had to sell it to buy a bus ticket home! Oh, well I'm sure S&M will give him a new one when he gets home. Later in the evening Effraim, Bryan, and I went to "Area 51" dance club. None of us have a clue how to dance, so we came up with the idea of going through the motions of our flatland links on the dance floor. I nearly peed my pants when I saw Effraim do a funky chicken to backwards funky chicken on the dance floor without a bike... I guess you just had to be there. Maybe we started a new dance craze. If ravers in Virginia start buying flatland videos you will know why. The Richmond contest ruled! The next stop is the X-Games.

Michael Steingraber

STUNTBOYS FLAT : 1.Andrew Cooper 2.Kip Williamson 3.Joe Miller 4.Mike Yeager 5.Robert 6.Josh King 7.Shawn Kacar 8.Darren Hough 9.Aaron Frost 10.Mike Vincent 11.Scott Sharp 12.Brett Downs 13.Erin Donato 14.Johnny Lopez 15.Mike Wilson

STUNTMEN FLAT: 1-Day Smith 2-Trevor Meyer 3-Michael Steingraber 4-Andrew Faris 5-Jason Brown 6-Aaron Behnke 7-Effraim Catlow 8-Gabe Weed 9-Scott Powell 10-Chad Degroot 11-Perry Mervar 12-Steve Mulder 13-Matt Gibson 14-Ed Nussbaum 15-Alexandre Jumelin 16-Art Thomason 17-Leif Valin 18-Cory Straychuk 19-Leo Dumlao 20-Brian Tuney 21.Nate Hanson 22.Sean Peters 23.Pat Anderson 24.Bryan Huffman 25.Dave Osato 26.Paul Vail 27.Jay Miron 28.Keith King 29.Brian Rybak 30.Dave Schaefer
Jay Miron, Chase fall 1999:

Street was street - not much has changed. Half the course was a box jump with a spined mini and the other half of the course was street. Back in the day, we combined street and mini in one discipline because that's how skate parks were laid out and no one had enough money to build a new course every contest. We even called it street/mini. Now that we have the money, I can't understand why there is still a mini ramp in the street course. No one will ever make a real street course with wood, but we should at least try our best. Nonetheless, street contests are a lot of fun. This one was no exception. So who was the streetiest of the street? Dave Mirra. He did a barspin acid drop from the 14' high vert wall into the transition of the mini-ramp. Say what you want about Dave, but I have a feeling that if we took the mini out of the street course, he would still be at the top.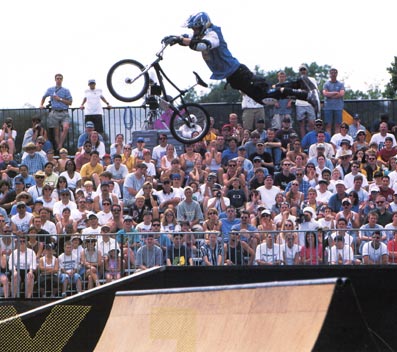 Rob Nolli.

STUNTBOYS STREET : 1-Seth Kimbrough 2-Joseph Prisel 3-Chris Toth 4-Garrett Byrnes 5-Chad DeGroot 6-Bruce Crisman 7-David Lombard 8-Josh Harrington 9-Ash Bruce 10-Corey Martinez 11-Shane Biffin 12-Robert Tibbs 13-Todd Everette 14-Tim Mirra 15-Stephen Morrisey 16-George Hoernig 17-Jim Cielenski 18-Justin Bland 19-Mike Castillo 20-Erik Hingerty 21-Josh Pontzer 22-Steve Wisbeski 23-Richard Bearry 24-Randall Thompkins 25-Michael Corley 26-Steve Caro 27-James Cadenhead 28-Ryan Shuck 29-Andrew Caetano 30-Stephen Bess 31-Dana Rowsey 32-Michael Mancuso

STUNTMEN STREET: 1.Dave Mirra 2.Ryan Nyquist 3.Jay Miron 4.Rob Nolli 5.Chad Kagy 6.Dennis McCoy 7.Dave Osato 8.Ron Kimler 9.Josh Heino 10.Colin Winkleman