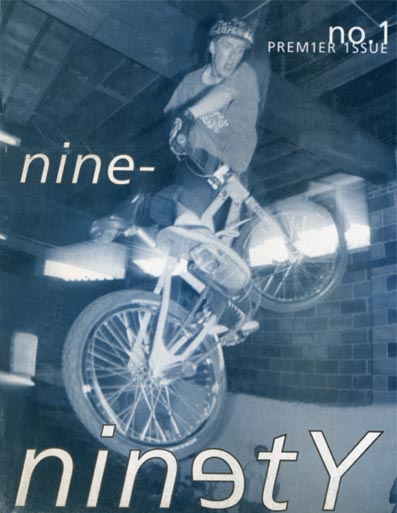 issue 1 - 1998 (scanned by Jared Souney 0903 - download)


Jared Souney, www.jaredsouney.com, march 2009:

Back in 1998 Brian Tunney and I did a one-off magazine/zine called nine-ninety (a name based off a popular model of BMX brakes). It was mostly black and white, with a spot color on the cover and center spread (which fell on the same printing form) and web-printed on a paper that was a step above newsprint. At the time, Brian was living in New Jersey ocassionally contributing to Dig, and I was living in Boston working on a fashion/lifestyle magazine and finishing school. We started on a second issue, but it never came out. Unfortunately it wasn't for lack of interest. I got a job working at Ride BMX Magazine, and they weren't too keen on me doing two magazines at once, and Brian was contributing more heavilly to Dig. So issue two just fell to the wayside. Bummer. We printed several thousand copies of the first issue, and gave them away for free at skateparks and through some of the BMX brands. Who knows, now that print is dead, maybe someday we'll put out an issue two. Every now and then someone will bring up nine-ninety, so I got the bright idea to make a pdf of it and put it online. What I failed to consider was that nine-ninety was produced write around the time when publishing was transtitioning from camera-ready artwork (in otherwards you provided the printer with layouts on boards that they'd take a picture of) to going from computer straight to film (these days they skip that entirely and go right to printing plates from the computer). Anyway, nine-ninety was designed in computer, and shipped to the printer on boards, so elements of it were somewhere on an old disk (probably a Syquest cartridge holding a whopping 80mb) and other elements were long gone. So my only option was to scan a copy. Well, 40 pages of scanning later, here it is. Not an ideal way to go about it, but you can see what it looked like… pretty different than the BMX mags at the time. Issue 1 included a Dave Parrick interview, a story on the 1998 X Games, a feature on BMX on the Web (we were so ahead of our time!), an Erin Donato profile, and a feature on a contest at Impact Skatepark in New England, amongst other things.



Kieran Chapman, www.ewirezine.com, october 1998:

Nine-Ninety is the brainchild of riders Jared Souney and Brian Tunney, and for a premier issue it's damn good. The bulk of the 40-page full-size newsprint (actually, a step above newsprint) magazine is was written and photographed by the two of them, with Jared doing the layout with a slight Raygun influence. Good stuff is found throughout, with some interesting writing turned in by Tunney, and some damn cool photos from Jarhead. Contest coverage includes Impact Skatepark's first contest and X-Games in San Diego (where Brian provides a cool behind-the-scenes rider's view). Also found is an interview with Dave Parrick, article on injuries, NY trails, and an article by me bitching about riding Web sites. Nine-Ninety is free if you pick it up somewhere; otherwise send US$2 to get yourself a copy: Nine-Ninety Magazine, P.O. Box 1654, Brookline, MA 02466.