Nonda Coutsicos, august 2005:
We have a BMX zine in Switzerland now. It's the first one. It's called Ilame, people's finest BMX zine. 24 pages, full color, 220 Ex. A5 Size.
Redaktion, Foto, Grafik, Order:
Nonda Coutsicos
Aarauerstrasse 45
5012 Schönenwerd
Switzerland CH.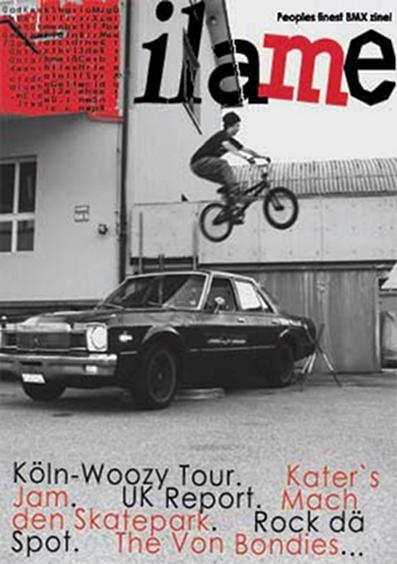 issue 1 - 2004

(1)


Sandro Widmer jumping over oldsmobile on the cover.
Die absolute, kompromisslose Berichterstattung auf zwanzig Seiten u.a. mit Köln-Woozy Tour, Katers Jam, UK London Report, Mach den Skatepark, Spots, The von Bondies, Schonerschule... AUSVERKAUFT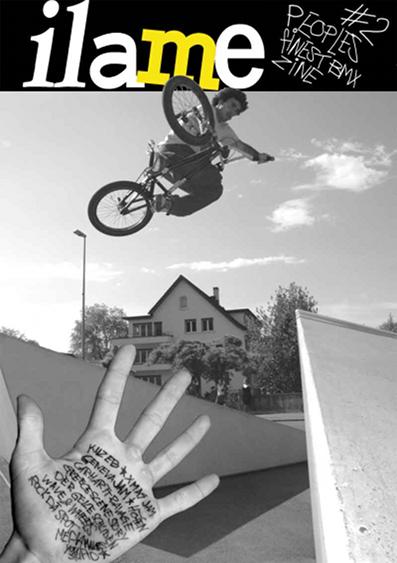 issue 2 - august 2005

(1)


Ruben Alcantara on the cover, doing a Table over a circle in the middlle of the Street. Aarau 2005, 5 minutes before the police will end this action.
Noch geiler, noch fetter, 24 Seiten vollfarbig, A5; Cover mit Ruben Alcantara, KuzeB, Geneva Jam, Carhartt ravage, Höfen Trails, Greece scene story, der geile Schlidden, Media, WM Prague 05, Wave&Wheels, Rock dä Spot.... Versand per Post, Briefmarken+CHF 3.- Nonda Coutsicos/Aarauerstr.45/5012 Schönenwerd. nonda@ilame.ch



Bart de Jong, www.fatbmx.com, november 2005:

'Zines used to be black and white xeroxed pages stamped together. The technique and colour copiers have definitely changed things. Welcome to ilame 'zine # 2. The Swiss BMX freestyle book is made by Nonda with the help of fellow Swiss riders. Total printed: 200 copies.
It reports about the scene in Switzerland but also some travel is involved. The issue we received from Nonda has the Xmas Jam report, a IBMXFF World's report from Prague, Greece scene story, the Hoefen Trails, Geneva Jam, the Carhartt Ravage and some fun stuff like how to modify your sledge with some BMX handlebars.
The 'zine is in German.