www.theindustrybmxmag.com, november 2007:

"The Industry" strives to be your information roadmap to the BMX market. Its primary focus is to help dealers grow their BMX business by covering consumer trends, new products, apparel/lifestyle and providing key merchandising tips. Our staff has over 100 years of experience in BMX and has existed in every facet of the industry. One thing that has remainded a constant throughout is the importance of a direct link between the brands and ideas pushing the industry forward, and the all-important sales channels keeping it alive. We didn't want to let 2007 end without that link being re-established, so we assembled the best possible staff, aligned ourselves with an industry leader in "Bicycle Retailer," and made it happen. "The Industry" outlines the most progressive and relevant aspects of the BMX community from around the world.


Staff:
editor: James Ayres
editor: Greg Walsh
art director: Chris Hargrave
art director: Aaron Burto
staff writer: Kent Pearson
staff writer: Brian Tunney
staff writer: Scott Towne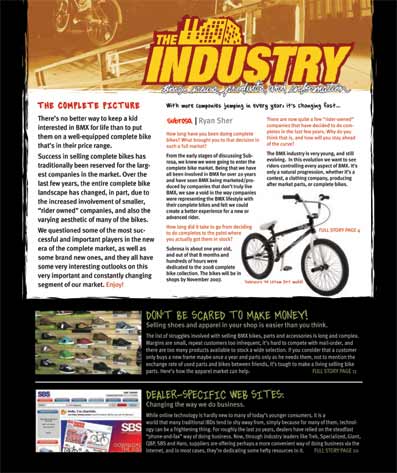 issue 1 - september 2007 (Interbike Release)


Bart de Jong, www.fatbmx.com, november 2007:

I've been meaning to write a review of The Industry for a few weeks now. First issue of this BMX trade magazine came out at Interbike and that's where I picked up the first issue. After BMX Business News was no longer in business there was no BMX trade magazine out there. To our knowledge there is no BMX specific website out there so the logical stepwas to make a magazine version to keep the dealers up to date on what's hot and to give BMX companies a chance to get in touch with the dealers at the same time. It can only help grow the sport. The Complete Picture is a big article in the first issue about all the (new) companies that started making complete bikes. Ryan Sher (Subrosa), Jim Ford (Mirraco), Zack Phillips (Kink), Brian Castillo (Volume), Corey Muth (Verde) and Robbie Morales (FIT Bike Co.) all talk about what it takes to be a player in the complete bike business. Interesting read for sure. The mag educates dealers how to make money. Selling shoes is an option. Further articles are about Time management, Beloe Footwear, Dealer Sites, Bike Check, BMX in the Olympics, Perspectives, Products, Checking in with..... and Life Abroad (Huber!). With James Ayres and Greg Walsh on staff you can expect to the point stories. Scott Towne, Kent Pearson and Brian Tunney have enough experience in BMX to tell you how it is. These three wrote articles for the first issue too. Chris Hargrave and Aaron Burto are responsible for the layout/art direction and yup, it does look like a trade magazine and no, it does not have the latest roof gap sequence. It's not made for that. In fact, working in the BMX industry myself, I found most articles interesting to read. If it was something new it was good to know about it. If you already knew, it was good to get the confirmation.