Directed by Steve Bartelomew
Time: 34min
Featuring Urban Games, King Of Concrete, Dallas B3, the Redditch Relax Jam, the Barcelona European X Games, the Romford Jam, the Weymouth Skatepark Jam.



Paul de Jong, www.fatbmx.com, october 2001

: Rate: *1/2 /5
Compzine Video One is the new creation of Steve Bartelomew formely editor of Clicked VDO-zine. Compzine shows you 8 contests in a very nice way, fast but all the highlights are there, some of the crashes, and Steve didn't forget to put the flatlanders in it too!
Compzine One: Dallas B3 (USA), Urban Games, Redditch Relax jam, King of Concrete, Weymouth Comp, Romford (all UK) ,and the Barcelona X-games (ESP).
I'm glad to see all the HDT riders doing well in this VDO, names like Pill, Ali, Chris Mahony, Vicky "Get Wasted" and O.B.D. showing their skills on their bikes instead of drinking. Blackjack will be stoked to see this Vid, he got lots of coverage and he deserves it. The music is relaxed, my kinda style and not even a bad song in the whole tape.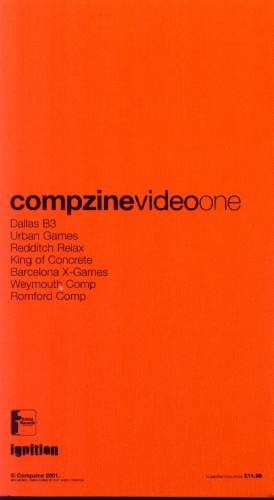 www.myspace.com/clickedbmxvideo:

URBAN GAMES 2001 (clicked compzine 01)
Directed by Steve Bartelomew
Released in may 2002.
Time: 26 min

Featuring all the best riding from the Backyard Jam no.1 in Telford, Bike 2002, Derby Jam 02, Dallas B3 May 2002, and Cambridge Level Vibes, and more - riders include Jamie Bestwick, Mat Hoffman, Ruben Alcantara, Jay Miron, Wiz, Spanish Fly, Bruce Crisman, Simon Tabron, Jim Cielenki, Brian Tunney, Josh Heino, Ben Manual, Gary Young, Pill, Martyn Tambling, and many more.



Paul de Jong, www.fatbmx.com, june 2002

: Rate: 1/2 / 5
Ads: Fat / Chico / Clicked
Music: Poppy / Punky
Shows: Flatland, Park, Street, Contests
Steve did it again, wanted to quit but we all want him to do more BMX vdo's so this is his latest creation: Compzinetwo.
Comps: Bike 2002 and the Backyard Jam at Telford, also the Level vibes Flatlandcomp and the B3 contest in Dallas.
The Backyard Jam #1 this year was a blast, so many riders came over to England and made it one of the best contests ever in the UK. Big gaps by Ruben Alcantarra, Hard riding by "the HDT Beast" Jay Miron with his famous 540 tailwhip on vert and all the other rad riders from all over the world. Lots of Black and White coverage, it looks like almost every tape with the Backyardjam is made in B&W but I like that very much.
The Levelvibes Flatlandcontest makes it worth to buy for the Flatlandkids and the Crashsection makes it worth to buy for the rookies so they can think about it first before trying all the stuff they do on their playstations.
Bike 2002 was another hot contest in the UK, good vertriding by Jamie Bestwick, Chad Kagy, Eduardo the Spanish fly,
Kevin Robinson and all time favorites Mat Hoffman, Simon Tabron, Zach Shaw and of course Mr Wingham. Will Jackson got a lot of coverage with his fast grinds, Strieby's worst trick was a nofooter backflip (!?) and Pill, Mahoney, Manual keeping it real for the English. Sergio from Spain is going to be a top guy soon and Beringer is crazy as ever. Flatcoverage of Phil Dolan, Alex J,Nathan P, Sam Foakes and Marti Get Naked!
Compzine2 is a very good competition memory for those guys who forget everything after they come home from a weekend of riding. Keep up the good work Steve!