Time: 30min
Features DK team riders including Colin Winkelmann, Dave Freimuth, Leigh Ramsdell, Mike Ardelean and Neal Wood.



Marty Wendt, Ride BMX US, december 1998 january 1999

: DK's newest video rips. Randomness includes a little fat guy dribbling four balls on a box jump, Colin Winklemann wearing panties on his head, and Leigh Ramsdell's face not catcbing on fire. Damn Kids covers skateparks, street, dirt, ramp, flatland, and general insanity.



BMXup #18 février 1999

: C'est Dave Freimuth qui s'est chargé de cette vidéo. Premier essai donc pour DK avec la vidéo et c'est une réussite. Dommage pour Colin Winkleman qui s'est fait opérer des deux genoux en cours de tournage et que l'on voit peu. Dans les trente minutes que dure cette vidéo, on pourra voir des images des X-Games, du DK Pro circuit, BS contest et de différents champs de bosses et skateparks. Vous retrouverez entre autres: Mike Ardelean, Todd Walkowiak, Leigh Ramsdell, Nate Hanson (à ne pas rater), Robbie Miranda que l'on apprécie sur son champ de bosses, Neal Wood, etc, ... Le passage de Dave Freimuth est aussi un moment d'anthologie. La musique n'est pas en reste avec des groupes comme The Misfits, Led Zeppelin, Fat Boy Slim ... Pour 119 FR. vous pouvez y aller les yeux fermés. Conseillée par la rédaction.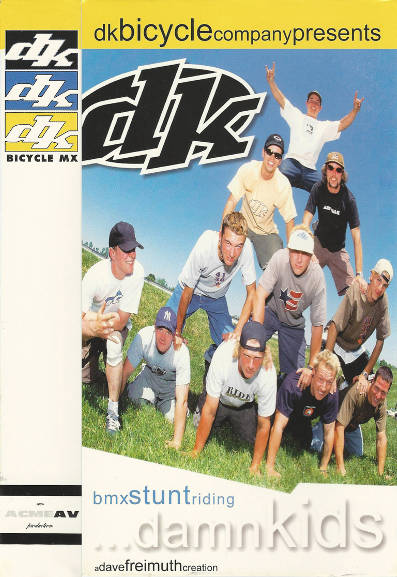 Running time: 27min.
Released in 2000.
All original footage (no contests) of Colin Winkelmann, Chris Doyle, Todd Walkowiak, Leigh Ramsdell, Dave Jacobs, Adam Banton & many others. Filmed mostly in OH & NC with some other spots thrown in.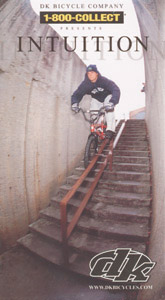 Chris Doyle part.