Tom Finch, www.streetphire.co.uk:

This is the first full video to be filmed and edited entirely by Joel Moody and I knew it would be pretty good judging by his previous sections that he has done for Props.
It starts off with a mixed section which features riders like Dylan Smith, Joe Rich, Ruben, Kevin Porter and a few others and I think it's a nice intro/first section to the video.
Next up is a section from Danny Hickerson, this section is a lot like his other video sections but he still manages to impress you with his effortless maneuvers on street, park and trails. After this we have a random section that shows people like Pat Holiday, Joe Simon, Keith McKinney and Jed Rogers.
Next up there's a section from Chase Hawk which is his first real section and it isn't at all bad. You can tell he grew up racing because he just seems to go really fast at everything and also really high, lots of nice trails riding, some park clips and also a bit of street riding and it all rounds up to quite a nice little section from the lad.
Then we have a small bail section which is just like any other you see really, and that goes over to a shared section from Joel Moody and Jake Finlay, for me this is one of the best sections. Joel Moody demonstrates his effortless front wheel skills on every terrain you can think and Jake Finlay does everything both ways, Whips, 360's 540's and most other things u can think of.
After that theres a section from Neil Harrington which is really good, even if he has chosen to use the music from a super Nintendo game its still really good to watch with his ability to do most things down handrails and even the odd stunt in a skatepark.
Finally the section which a lot of people have been longing to see, Aaron Ross, this guy hasn't really had much coverage that I've seen but you do get to see how good he is in this section I think, lots of whips, big rails and harsh crashes and probably some of the best tricks in the video.
Overall I reckon it was a good video, it was well made which is always important and it showed some really good riders that in some cases don't get enough footage. You do get some bonus riding but they are just the deleted clips really but its better than nothing although some is it pretty good.



THT, www.agoride.com, juin 2006:

Une bonne musique, bien cool, un montage nickel à la Forward d'Etnies, cette vidéo attaque fort avec la scène d'Austin. Donc pêle-mêle on peut voir, Taj, Joe Rich, Porter, Bogard, Smith, Hamilton, Ruben,... bref ça commence fort. Puis vient le premier rider du Team, Danny Hickerson qui nous sort whip toutes les 2 ou 3 séquences dans tous les sens. Le riding est propre, pas de gros tricks de fou. Chase Hawk, qui ne connaît pas, roule chez lui et bien sûr il envoi comme d'hab avec son style de lutin satanique aussi bien en street, dirt ou park. Entre chaque séquence des team riders, on découvre pleins d'images de gars plus ou moins connu, tel Joe Simon, Jake Finley (très très fort). Neil Harrington, rider Mutiny de son état est un pro du fingers skate, mais ne nous montre rien d'extraordinaire, un peu déçu sur cette séquence surtout que l'on nous met une musique répétitive de jeu vidéo qui est selon les goûts, soit drôle, soit bien saoulante. Ce que j'attendais le plus, c'est de voir Aaron Ross, la figure montante du moment et, en Street, ça maîtrise grave avec backward 180 bus en montant des marches, Manual to whip et un feeble to whip en descendant un gros ledge en béton, la séquence est vraiment trop courte. Donc une petite vidéo sympa qui ravira les fans de la scène texane.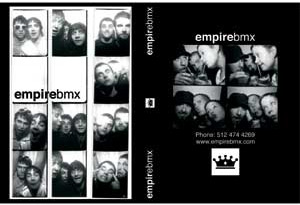 www.databmx.com, juin 2007:

Ah! ça faisait un bail que je n'avais pas eu sur mon bureau une vidéo de parts! C'est le cas avec la "chillbro" qui met en scène le team empire. Pour ceux qui vivent dans une grotte, je rappelle que empire bmx est "the" shop de bmx au US. Ils sont localisés à Austin, le team est foufou. On attaque par le mutant du street Aaron Ross qui se découvre enfin dans une vidéo. On est vite dans le bain avec un gap de 10 marches en whip! Ce garçon a de l'énergie, il finit avec un echaînement inédit: ice pick grind to whip! Joel Moody, le réalisateur de la vidéo, continue à explorer le street en hang five, ça change vraiment de ce qu'on voit habituellement, c'est tellement rare. Dylan Smith fait partie de la fête, ce rider est super classe, je regrette que sa part soit courte mais il a le temps de payer un beau truck en gap. Kevin Porter continue à rendre son riding original et ça marche, jolie musique en plus. Danny Hickerson calme pas mal en street avec une sacré session sur un wall incurvé (wall to whip dans les 2 sens, même en downside...). Il est vraiment impressionnant de facilité, il claque des bus ou il veut. On finie avec mister style Chase Hawk, il arrive à booster n'importe quel obstacle. Pas besoin de vous dire qu'il va haut sur la mini T1, c'est un phénomène... Comme on s'en doutait, c'est une vidéo à mettre dans sa collection, de plus, on a la chance de se la procurer en France à un prix sympa chez www.unleaded.fr