2008
Press release, march 2008:

Introducing Éclat, a fresh new component brand from the creative forces behind wethepeople bike company. Based at wethepeople's international headquarters in Cologne, Germany, Éclat will exist as a separate entity, manufacturing an innovative collection of seats, brakes, grips, hubs, rims, tires, pedals and brake levers, with plans to expand coming further this year. To begin, Éclat will be represented by Portland, Oregon's Chester Blacksmith and the UK's Ashley Charles, with the initial collection of components arriving to retailers by late summer of 2008. "

In a time when the majority of BMX company's components are becoming more identical by the day, we believed it was time to create a brand that manufactures unique components based on function and simplicity,

" says Éclat owner/art director Klaus Dyba.
In regards to the brand name, "Éclat" is a French term, which, roughly translated means "excellence." Éclat's first foray into the component market is marked by a brand new patented seat and post design, which is remarkably simple and lightweight without sacrificing strength. Using 3D Torsion techniques, the seat material has been reduced to the fullest, with the final seat and post combo being ready for sale by late summer of 2008.
"

I'm really exited about the new Éclat line. They've put a lot of thought into the new products and the people at Éclat have done a great job designing the finished product. I know riders won't be disappointed with the line,

" says Éclat rider Chester Blacksmith, currently on a European trek and testing a few products from Éclat's line. Additionally joining the Éclat brand is Brian Tunney, who will serve as Éclat team manager.

Full range of éclat components available in the beginning of October.

Teck Front Hub: Designed to protect spokes and eliminate bent axles

Teck Cassette Hub: Strong, lightweight, functional and refined

Bell Hub Guard: Designed exclusively for the Teck Cassette

Unit U-Brake: Low-profile, straightforward, precise.

Swift Brakelever: The perfect bend in a two-finger lever.

Webster Seat: A new take on an old classic.

Surge PC Pedals: All the grip, none of the weight

Surge Alloy Pedals: Lightweight, low-profile, built to last

Tibia Cranks: Lightweight, splined, two-piece cranks

Bondi aero rim: Flash-welded for strength with a unique wider design

Bondi straight rim: Featuring eclat's exclusive wide-rim design

Slotmachine peg: A simple peg with many options.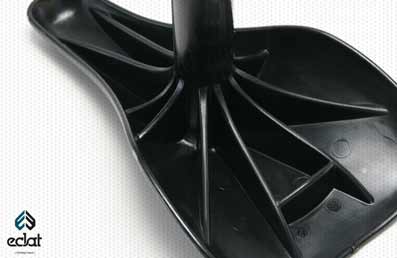 2011
ONYX CRANKS.


www.eclatbmx.com, august 2011:

We have just released our brand new ONYX cranks and to put it quite bluntly, they are our most inventive and strongest cranks yet. The arms are made from tubular heat-treated 4130 CRMO and they are our strongest yet! The axles are 22 mm CRMO ultra hollow, the cranks feature a new CRMO bolt with spline for a better grasp and hold and they feature the invest cast pedal and spindle boss which helps to eliminate any problems with welding in stressful areas. BMX moves constantly and riders are not only getting more technical but they are pushing everything so tricks become higher, harder, faster and stronger. The ONYX cranks are designed specifically to take the strain, the stress, and the power that now exists at a brand new level. Material: Tubular heat-treated 4130 crmo arms & crmo axle. Length: 170mm or 175mm. Axle: 22mm crmo ultra hollow. Features: Invest cast pedal & spindle boss to eliminate problems with welding in stressful areas • New crmo bolt with spline for better grasp and hold • RSD & LSD compatible • 2 sprocket boltholes on each side.