BMX Plus! september 1988:

It was a dream come true. The long awaited day when there would be a BMX streetstyle contest had become a reality. For years, freestylers have been anticipating contests where they could compete on their home ground, the street. It is, after all, the original location for all freestyle. Since before the birth of ramps and permission to use skateparks, freestylers have been practicing their sport in the streets. It has proven to be the most challenging of all terrain for riders, forcing them to constantly adapt to the surroundings. Besides, everyone who doesn't have access to a ramp knows that flatland or the streets are basically the only alternatives. Street riding has no rules, no limits. That's the exciting part because it gives the rider a chance to use his or her imagination to invent new tricks.
Ron Wilkerson of 2-Hip Promotions decided it was time to hold a streetstyle contest, so he set forth to organize one with a theme of "fun and enjoyment" instead of "rules, rules, rules." After setting the date for Saturday, April 30, Ron managed to persuade several companies to donate the necessary funds. ACS, General, ODI, Vision, and Skyway all contributed their wares, and now Ron was able to offer a $1000 purse to the winners.
Obviously, finding the perfect arena to conduct a contest such as this would be nearly impossible. There are many great riding locations for freestylers in Southern California, but locating a spot with a wide range of natural obstacles suitable for competition is like trying to find a needle in a haystack. The only other alternative was to create the contest environment from scratch. Ron hopped on the phone and, after a few calls, he was granted permission by the landlord to use an area of flat pavement behind a Thrifty's Drugstore in Santee, California (near San Diego).
Now, with the location secured, Ron and a few friends began the task of building the various wooden structures to be used. The final course layout consisted of three small ramps varying in size and transition, propped against the back of the building, which were mainly used for wall rides and fakies. Another ramp was placed at the end of a box-like structure which varied in height and was about 24 feet long. A small launch ramp was placed running parallel to the box, and at the far end a dirt embankment led up to a high wall (which again, was used mainly for wall rides). Probably the most interesting part of the course was the junked green Chrysler sedan that Ronnie aquired from the local junkyard. The windows had been taped and the car was given a complete stickering and painting job by almost everyone. The contest rules allowed for anything within the roped area to be considered fair game, including parking blocks, a shopping cart, photographers, and plastic food trays.
The first half of the day was devoted to practice and sign-ups. Practice was chaotic as each rider tried to find a clear path to ride in. Immediately, one of the most notable differences between this contest and those of the past was the absence of safety gear, especially helmets. It was left up to each individual rider to decide on the amount of safety gear worn, with most opting for minimal amounts due to the scorching sun. The action was intense. Each rider spent the time wisely, experimenting with the new terrain and perfecting moves. The new street contest format was forcing riders to adapt to new environments and create new variations.
As one o'clock rolled around, Ron called all of the contestants and officials together for a rider's meeting concerning contest rules and judging procedures. Instead of the usual expert" and "pro" classes, Ron split the contestants into classifications of "good" and "great." The eliminations would be based on each rider's two qualifying runs, each lasting one minute. The top eight scoring riders in each class would move on to the finals, which consisted of two, two minute runs. Andy Jenkins, Mark Lewman, Woody Itson and Rich Hewing were the four men in charge of judging duties. As mentioned earlier, the riders were granted use of anything within the boundaries, and each was given 30 seconds before his run to move any obstacle to fit his routine.
By the time the meeting had been adjourned the riders and crowd were stoked and definitely more than ready to begin. McGoo hopped on the mike and took the duty of announcer/morale booster, a tape was popped in the deck, and the "good" class began their individual eliminations. There were some HOT riders out there competing for the first place prestige. They were terrorizing everything within reach. Popular tricks were fakies and wall rides in all imaginable places. Some riders used the launch ramps to try a few of the BMX jumping styles. With each new competitor, the green car received another dose of bashing. The hot rider seemed to be Vic Murphy, who was pulling off a wide assortment of moves on all parts of the course. Scott Towne adapted plastic fast food trays into his routine by slidin' around on them. After two rounds of fierce competition the crowd and judges voted wildman Vic Murphy as winner. Todd Anderson looked good, but equipment problems dragged him down to a sixth place finish. The "good" class was full of radness, surprises, and fun, but kept everyone wonderin' what was to come with the "great" riders.
A little more practice ensued as the judges turned in their scores to be tallied. Witnessing the "great" riders shred the course was definitely a treat to the eyes. Most riders were primed for their runs, but a few began to fatigue under the hot afternoon sun.
Practice ended and the "great" riders began tearing the place up, one after the other. Can you say RAD? These guys ripped the place apart. Dave Voelker, local boy and crowd favorite, was pulling off some REALLY high wall rides and insane jumps. Everyone was stoked on Dave's runs. He had mastered the far end dirt-to-wall area. Nobody could carve as high as Dave. "Smooth" is the best word to describe R.L. Osborn, as he adapted a few ground tricks to his routine. Grasso was pulling off incredible fakies on the walls. Contest organizer Ron Wilkerson wasn't too polished, but he managed to have a lot of fun which was the intended attitude for this event. Voelker managed the first place win, beating Skyway's Craig Campbell by a slim margin. Craig's three almost successful 540s off the end wall put up some stiff competition for Dave and gave the crowd a rumble.
For the most part, the whole contest ran smoothly, with no problems and no hassles from the police. Everyone seemed to enjoy the new format, which was definitely refreshing. Now, with a new streetstyle forum opened up, there's a chance for a whole new breed of competitors. The only problem that I could see developing in the future, would be that streetstyle would be exploited and the Fun aspect removed. Who knows, we'll just have to wait and see. As for the Santee contest-it was a complete success. Thank you to Ron, 2-Hip Promotions, the sponsors, and everyone who was responsible for making this contest happen. Let's just hope that all of the future contests can be just as enjoyable.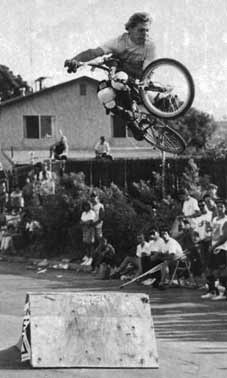 Ron Wilkerson

GREAT
1.Dave Voelker 2.Craig Campbell 3.R.L. Osborn 4.Craig Grasso 5.Eddie Roman 6.Pete Augustin 7.Dave Vanderspek 8.Ron Wilkerson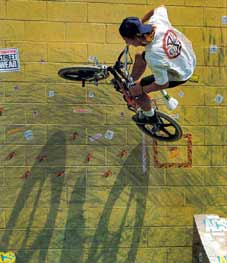 Vic Murphy

GOOD
1.Vic Murphy 2.Scott Towne 3.Mike Golden 4.Richard Barlett 5.Mark Roldan 6.Todd Anderson 7.James Arlington 8.George Smoot


2-hip B-hip part 2/8.


Krt Schmidt:

This is the second 2-Hip video created. It features all the 2-Hip contests held in 1988.