BMX Plus! october 1984:

On the same Sunday in early summer that most of America's top BMX racers were at the Teem Murray World Cup of BMX in Nashville, Tennessee, another group of BMX enthusiasts were gathering in a Southern California beach town for an entirely different BMX event. Trophies and cash were on the line here, too, but the event was not racing, it was freestyle. The American Freestyle Association, in conjunction with GT-BMX, ACS, Skyway and Hutch, was putting on the GT-BMX Summer Freestyle Championship in Venice Beach, just outside of Los Angeles. The event was the largest and most ambitious freestyle event yet held in this country. The site for the contest was a small park by the boardwalk near the Venice Beach Pavilion. A 30 by 60 foot area of concrete was marked off as the arena. At the far ends of the area, the promoters and contestants erected the additional equipment: three quarterpipes and two small trick ramps, which GT-BMX, Haro Designs, and amateur competitor Brian Scura had brought to the event. Bleachers were set up for spectators who were free to come and go as they wished, with no admission charge. Come and go they did, too, as an estimated 6000 spectators (1000 maximum at any one time) crowded in to watch the proceedings as the day progressed.

ENTRIES FROM ACROSS THE COUNTRY
In all, approximately 60 freestyle hopefuls from Northern and Southern California, Arizona, Idaho and Massachusetts came to compete for top honors in six different competitive divisions: Professional, 17 & Over Expert, 17 & Over Novice, 16 & Under Expert, 16 & Under Novice, and 13 & Under Open. Contestants were free to enter as experts, novices, or pros as they so chose. Entry tees for the amateur classes were $10, for the pro division $50. Amateurs competed for BMX trophies, and pros for a $500 purse and first-place money of $250. The judges were the contestants themselves. The pros judged the amateurs first. Then the top amateurs (and guest judge David Ruz) scored the pros. Riders were rated for their ground routines first, and then for their ramp routines (both on a scale of one to 100). Then the two scores were averaged to come up with each rider's final score.

RICH SIGUR TOPS AMATEUR DIVISIONS
Haro-sponsored Rich Sigur put together the highest combined score of any amateur-87.15 points-to win the 17 & Over Expert class. Sigur did so with strong scores in both ground (86.0) and ramp (85.1) routines. Skyway's Dave Vanderspek, the inventor of the "Vander Roll" (BMX Plus! September 1984), took second place in the class with a final score of 85.3. A big surprise to many competitors was the strong finish of "wheelie king" Brian Scura, 26. Scura, the inventor of the "gut lever" (see last month's "Inside Scoop") and the world record holder for longest wheelie in the World Almanac BMX Skills Competition of 1983 (two hours, 57 minutes), put on an extremely impressive ground performance worth 68 points. The highlight of Scura's routine was his newest invention, the "Scura Tuck," in which he does a handspring over the handlebars to land on his feet in front of his bike, then, without letting go of the bike for an instant, yanks the bike over his head to get back on the pedals and resume riding. Scura's relatively weak performance on the ramps-72 points -dropped him to fifth overall in the class. The winners of the other amateur classes were Dale Perez, who scored 82.50 in the 17 & Over Novice group; Tony Murray, who scored 80.65 in the 16 & Under Expert division; and Oleg Konings, who scored 68 points in the 13 & Under Open division (the smallest class, with just three contestants).

FIOLA TOPS THE PROS
Only tour riders opted to risk the $50 entry fee required for a shot at the $500 pro purse. They were GT's Eddie Fiola and Ron Wilkerson, Haro's Ron Wilton, and Hutch's Woody Itson. A number of other freestyle pros were away on tour, including Haro's Mike .Dominguez, RedLine's R.L. Osborn, and Hutch's Mike Buff.
Anyone who had any doubts about how the pros would look compared to the amateurs soon realized why the assembled pros are able to make a living out of doing tricks on their bikes. Said Brian Scura afterwards, "The pros were definitely better than the amateurs. The four guys who were there put on the most awesome show I've ever seen!"
Fiola and Wilkerson were by far the best ramp riders in the contest, dazzling the crowd with spectacular aerials. Wilkerson amazed the crowd with his one-hand-no-footer aerial and an incredible rear-wheel-first "acid drop," as well as the highest aerials of anyone present. Fellow competitor Woody Itson rated Wilkerson's aerials the best he'd ever seen. Fiola, however, won the hearts of the judges and the crowds with spectacular one-hand-one-footers, 360s out of the quarterpipe onto the platform, and the smoothest landings of anyone present, all done with such flair and personality that he out-scored even Wilkerson, 96.6 to 96.3 in the ramp riding.
In the ground riding Fiola took the top score of the whole event, too, with a routine that didn't quite match Wilkerson's or ltson's as far as difficulty of maneuvers, but more than made up for that disparity with personality, showmanship, smoothness, end pure exuberance. Fiola scored 91.5 for his ground routine, compared with Wilkerson's 89.5 and Itson's 90.3
The judging was close, and many felt that it could have gone another way just as easily, but Fiola pulled off the win with a combined score of 94.05 to second-placer Wilkerson's 92.90. Ron Wilton beet out Woody ltson for third, with a score of 89.50 to 89.45, in a highly controversial decision.

EPILOGUE
Despite the controversies over the judging, the contest itself was clearly a success end a major step forward for BMX freestyle. The number of riders and spectators indicated that a freestyle contest could attract enough public interest to justify the work involved in putting it on. Freestyle BMX may have a long way to go to even begin to approach the popularity of BMX racing, if, indeed, it ever will, but one thing is clear: with this event BMX freestyle competition moved forward one very big step.


RESULTS:
PRO: 1 Eddie Fiola 2 Ron Wilkerson 3 Ron Wilton 4 Woody Itson
17&OVER EXPERT: 1 Rich Sigur 2 Dave Vanderspek 3 John "Dizz" Hicks 4 Rich Avela
17&OVER NOVICE: 1 Dale Perez 2 George Conjamie 3 Shaun Condon 4 Steve Peralta
16&UNDER EXPERT: 1 Tony Murray 2 Todd Anderson 3 Mark McGlynn 4 Donovan Ritter
16&UNDER NOVICE: 1 Oleg Konings 2 Larry Hull 3 Eddie Roman 4 Greg Kovacevick 11 Larry Manayan 13 Jeff Cunningham
13&UNDER OPEN: 1 Dan Ponce 2 Jason Lowe 3 Kevin Valpe



Ron Wilkerson:

When the first real contest happened in Venice Beach, most of the pros were there except for the ones who were on tour or injured. Venice was the first contest where I was competing in my area of expertise. I was so stoked! For so long we'd had to compete in other people's territories like skateparks just to get noticed. At Venice a lot of people thought I should have beaten Eddie. But I was just stoked that I came in second and got recognition.



Larry "Mr. Sulu" Manayan, www.bmxfreestyler.com, february 2005:

I was 15 when I rode my first competition. It was the 1984 AFA Venice ,Beach Competition. It was the first of it's kind, as far as I can remember. Bob Morales saw the skatepark competition scene was dying out a little bit so he decided to branch off into flatland/ramp competitions. I entered the 16 and Under Novice class. I believe there were about 25 riders in our class. I think I placed 11th or something like that. Not bad for my first comp. My buddy Jeff Cunningham entered as well; placed 13th I think. That was so long ago. All in all, it was a great experience for the both of us.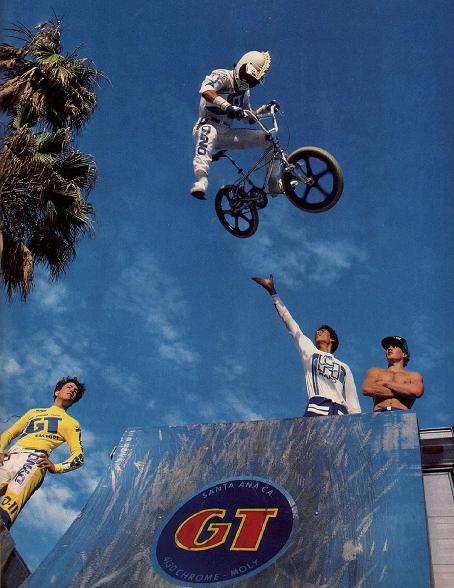 Eddie Fiola dazzled the crowd AND the judges with his spectacular ramp routines.