2B HOMECOOKED.


oldscoolbmx.com, february 2013:

In 1989, Hal Brindley started 2B Homecooked Garments with his friend Steve Buddendeck. Three years later, according to a Ride BMX reader survey, it was the top clothing brand in BMX. Leigh Ramsdell was one of 2B's first pro riders. He also became Hal's employee and roommate. In 1995 Hal started PLAY clothes and Leigh started his own line called Useless. Together they again became two of the best selling rider-owned brands. In 1999, Hal sold PLAY clothes to become a traveling wildlife photographer (and PLAY went under 6 months later). Leigh became a team manager and graphic designer in the BMX industry. Now, twenty five years after 2B was born, they decided it would be fun to re-print some old tee shirt designs. That's how Oldscool BMX was born.

COOKBOOK.


Hal Brindley, oldscoolbmx.com, february 2013:

In 1992, during the lean years of BMX, Go Magazine went out of business and there were no BMX magazines left. I attempted to fill that void by publishing the Cookbook. Somewhere between a zine and a a magazine, I printed 10,000 copies and mailed one for free to every person on the Trend Mailorder mailing list. I attempted to collect some funds for it after the fact but never managed to get enough dough to print a second. Thankfully another magazine startup came around later that same year called Ride BMX.



Steve Buddendeck, www.defgrip.com, november 2006:

The 2B Cookbook was really Hal Brindley's baby and consisted of just one issue. The best BMX magazine at the time (Go: The Riders Manual) had just shut down, so there was a scramble to fill the void. Hal had just graduated from college and received something tike $8,000.00 in graduation money. He spent every penny of it on the Cookbook. The idea was to make a grassroots magazine that expressed how much fun BMX is. We got a copy of the Trend BMX mailing list and sent every one of their customers a copy for free. There was a message inside that if you liked the zine, then send in $1 for the next one. A lot of people said they liked it, but not a lot sent in a buck. So much for the revolution. Needless to say, Brad McDonald's business model for Ride was a little more solid. Ironically both Hal and I would go on to work in some capacity for Ride. We both shot photos and wrote stories. One year Brad hired Hal to tally the 1993 Ride Readers Surveys. He nearly lost his mind. At one point he resorted to tallying for hours while completely naked. I went on to start Snap BMX and BMX Business News with Brad.



Jared Souney, www.jaredsouney.com, september 2009:

If you rode freestyle BMX in the late 80s and then the early 90s, Freestylin' magazine and later Go were your bibles. When Go folded in the early 90s, a void was left in the freestyle community. Young BMXers/entreprenuer's Hal Brindley and Steve Buddendeck were doing a line of t-shirts called 2B Homecooked Garments at the time, and the brand was picking up in popularity. Hal saw an opportunity and the need to fill the void, and with the help of Happy Zine maker Jimmy Deaton, produced one issue of The Cookbook. The Cookbook was a black and white, offset printed publication with a DIY aesthetic. Hal put up $5000 of his own money (Print costs have decreased since those days. Now publications skip many of the expensive pre-press phases and go direct to plate.) to produce 10,000 copies of The Cookbook, which he mailed out for free. In return he requested that anyone who liked the 'zine send a dollar. Anyone who liked it and wanted to recieve the next one, send another dollar. I sent two dollars, and Hal deserved it. About a year later the first issue of Brad McDonald's Ride BMX Magazine came out. Issue Two of The Cookbook never surfaced. Ultimately it was the Cookbook that made me realize producing a magazine on your own was attainable, and led to me working in the publishing/media industry, and even producing a few of my own magazines.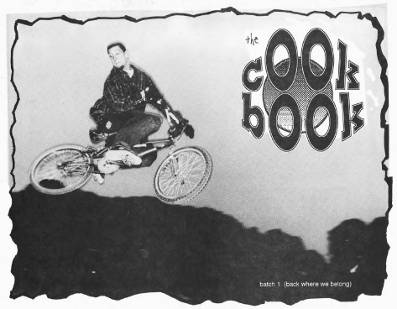 bartch 1 - 1992 (scanned - download)
Mike Forney.
1992 BS round 1 Texas.
Jamie Roberts.
Chad Stemmler.
Rob Nolli.
Leigh Ramsdell.
How to feeble grind.



Mark Noble, Ride BMX UK, october 1992:

2B, a rider owned clothing company from Virginia in America, have just started putting out a rather large 'zine type publication called The Cook Book. Hal Brindley and Steve Buddendeck [the 'Bs' in 2B] were both at this year's King Of Concrete and along with a fine new range of tee shirts they showed me the first issue of their magazine. The Cook Book is total bikes - the articles and photos and style are all solid BMX editorial, with a few different bits and pieces here and there for added spice. Photos are cool, layouts are full on, and the writing is knowledgable and fun to read. Black and white throughout printed on good paper, it's fresh - and the coverage is mostly mid to East Coast America which is a very strong bike scene indeed. The magazine has cost them a hell of a lot of money to put out [they spent something like $3500 on postage alone] and they're shooting for subscrptions and stuff for the future issues. Overall, Hal and Steve are doing a fine job, and we reckon you need to check out an issue - it's a good rider's mag. The best thing to do would be to send 2B a five dollar note with your name & address and they'll send you an issue. You'll appreciate it. SEND 2B Cook Book PO BOX 428, Williamsburg VA 23187, USA.