H Man, www.streetphire.co.uk:

This is the second version of the review. I'm using paper instead of the trusty old PC Notepad program.
When I got this DVD and looked at the title I had no idea what Trafaelio actually meant; so there I was straight onto Google to find out the meaning. To cut a long story short I found that Trafaelio is Welsh for Travel.
The video is filmed from all over the world with places like England, USA, Europe, Japan and the Czech Repubic featuring riders such as Sandy Carson, Corey Martinez, Ian Morris, Dean Hearne, Peter Adam, Steve Hamilton and Brian Tunney.
The opening section goes to Dean Hearne; he's the king of second attempts and begins by sending himself icepicking down a rail to his arse. He seems to love throwing himself at anything, it's a funny section to watch and he still has time for riding trails. The music on his section is pretty lame but im sure its just not my taste.
Next up is Brian Tunney; it's a really inspiring four minutes of riding. This has got to be one of my favourite sections with a smooth mix of flatland and street combos, together with a great tune. Its not often that you see these two styles combined together. Tunney has never came across as an amzing rider and ive never seen him in any video sections before so this is a first and its pretty impressive.
Peter Adam's section's a blast, a UK rider with a decent style who goes balls out at tricks. He loves road gaps in his section and there's a pretty mint curved wall flyout made of metal in some waste land which looks ghetto as fuck. He has an impressive section and doesn't touch a park once, he keeps it street.
Ian 'Mozza' Morris is the man at the forefront of Federal Bikes, he must feel pretty stoked having such a good team behind him and his section doesn't let him down either. Its made up of the usual Morris style tricks; ledges and rails and roof gaps galore. His last trick rules and it still shows that he drops fucking hammers on demand!
Steve Hamilton; the man with a 19incher and the stunts that make up for it. Mr Hamilton has a nice mix of hang five and nose wheely tricks, he uses the front wheel about as much as Robby Morales uses his rear wheel manualling everything. It's a real good section to watch another new style of riding along with the crazy shit Steve goes for. Watch his last two tricks in slow motion because the first time you see it you wont believe what's just happened.
Next up is Sandy Carson. He lives over in the USA now (traitor) but its cool to see him clocking footy in Scotland for his section. He rides some dope spots all over the world and the shit he does is pretty knarley just like his pussy cat on the intro, Meowww.
Lastly is Corey Martinez; he never fails to impress with his skills. All im going to say is that he has another top killar section and watch out for his 720 out of a curved wall ride burm and his street superman trick. His footage is hot shit and its mixed nicely with some Latin beats. If that doesn't take your fancy there is a re-edited version of his section with a metal tune over the top in the bonus section.
Now then on the topic of bonus footage Trafaelio has quite a bit to offer. There are extra sections from the Federal Team that aren't on the main part of the video. People like Ross Tanner, Jared Washington and Chris Stauffer to name but a couple. There are some re-edited sections, a Japan Road Trip, 3 alternative endings and a slide show to choose from.
Overall I like Trafaelio and it's a good team video from a small UK company that competes against the worlds other BMX company videos. It has a decent list of riders and its put together well, thanks to Ed Docherty's editing skills. My only quirks with this video is the intro and ending to it both being pretty boring with the most annoying riff of music ive ever heard. Appart from that little bitch comment it's a cool DVD!



www.staff-bmx.com:

The action of travel is integral to the action of BMX. Trafaelio traces the widely varied travels of team members Sandy Carson, Ian Morris, Peter Adam, Dean Hearne, Brian Tunney and banger parts from Steven Hamilton and Corey Martinez. Footage from all over the globe and extended bonus stuff and a few team rider remix sections.



www.edirectory.co.uk:

The action of travel is integral to the action of BMX, one rarely exists without the other. Trafaelio traces the widely varied travels of each member of the Federal Team with footage from places like Scotland, Wales, USA, Canada, Germany, France and Spain. It is the act of travel, the eagerness to explore the world that has shaped the atmosphere of Trafaelio. This DVD features full sections from the entire Federal Team including Sandy Carson, Corey Martinez, Ian Morris, Deane Hearne, Peter Adam, Steven Hamilton and Brian Tunney.



Ryan, www.ridebmx.com, may 2005:

I hope you like Super 8 footage; particularly footage of birds, the sky, and whatever else you could point a Super 8 camera at, because Trafaelio has a lot of it. But once you get past the film burns, it's nice to watch the different style of each Federal rider, from Dean Hearne's loose-cannon antics to Brian Tunney's mixture of flat and street to the straight wildness of Steven Hamilton and Corey Martinez. My only real complaint would be the amount of poor filming in Hamilton's part, but that only means my finger will spend a few extra moments on the "rewind" button.

MUSIC.
Intro: Iglomat - Federal
Steven Hamilton: Clinic - Cement Mixer
Corey Martinez: Jesse Cook - Mario Takes a Walk
Max Vincent: Radio 4 - Start a Fire
Sandy Carson: Pitchfork - Burn fire burn
Corey martinez edit: Time in Matta - Against the tide
Dean Hearne: Iggy Pop and The Stooges - I got a right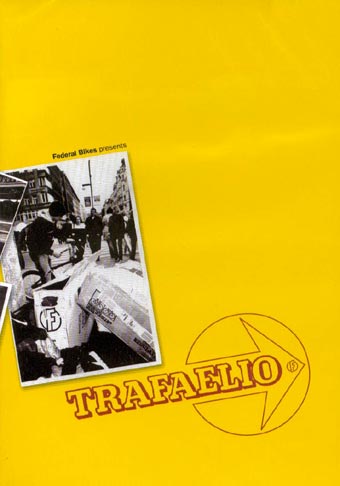 Corey Martinez.


Steven Hamilton.


Brian Tunney.
The second instalment in the Federal dvd series, 9 1/2 days in Germany, is now available worldwide. This aint no epic 4 years in the making this time, 9 1/2 Days in Germany was all filmed, funnily enough on our recent team trip to Germany. It features Kye Forte, Steven Hamilton, Corey Martinez, Peter Adam, Ian Morris, Sandy Carson and Dean Hearne going from the Masters in Cologne to the Rebel Jam in Berlin, via Bochum, Oldenburg, Bremen and Hamburg... As well as all the footage from the trip the dvd includes a ton of extras, A Warehouse Short ( the one in the gallery section ), A Weekend in Devon, Peter Adam's Summer Vacation, Boyley Jam 05, Tunney's Corner and a Ten Minute slideshow. Now here is the best bit of all, this dvd will only cost you a Lady Godiva, That is Five Pounds, You can't even buy two pints of beer for that, Not bad for 45 minutes of action edited By Edd Allen.. Start bugging your local shop now to get them in...



Bart de Jong, www.fatbmx.com, december 2005:

Making a team video can be a long process. It usually takes months to collect enough footage and sometimes even years. Federal took it another way. They got the team riders in a few vehicles and made sure enough camera's were on board. Then they set off to Germany and filmed the whole thing in 9 1/2 days. With riders like Corey Martinez on your team, you don't need much more time. Corey found stuff to ride right from the start and used everything that was available to clock in his footage. So good. The fact that he messed up his shoulder during the trip and could not ride any more leaves some time for the other riders to show what they got.
The rest of the Federal team on the trip includes Kye Forte, Steven Hamilton, Peter Adam, Ian Morris, Sandy Carson and Dean Hearne and guest appearances by Sergej Geier (lots of good stuff from him), Bjorn Heyer and a bunch of others. The trip takes you from Cologne (Carhartt session/street) to Bochm (trails), Hagen, Oldenburg, Bremen, Hamburg and Berlin straight to the Montage with a wide mix of footage from the trip. Edd Allen edited the video but was not on the trip himself. He must have gone crazy when he received all the tapes that Ian Morris, Stew Johnson, Timm Wiegmann, Peter Adam and Sandy Carson filmed over there in Germany at unknown spots. He did a great job considering this.
The Bonus section on the Federal DVD has 6 chapters. It starts off with a session at the Seventies warehouse and is followed by "A weekend in Devon," the Forte territory. Lots of dirt action by the world champ and his crew. The Boyley memorial jam looks like a lot of fun. It's a jam like a jam should be with everyone having a blast. The dresses help in that field and if you haoppen to wear girls pants, nobody would notice it there. Peter Adam went on vacation in Hawaii and California. Seeing a sunshine part in the video at this time of the year (December) makes you want to take that plane over there. The slideshow with pics of the Germany tour is great. It shows what went on behind the scenes and has great shots by everyone who had a camera and was part of the trip. The black and white photos (by Sandy Carson) are awesome. Hey, it's a team video, right? Federal rider Brian Tunney comes in with a flatland part at the end to wrap up the latest product from the Federal crew.