Video from Yannick Dubois released in 1996.

Cast: Jay Miron, Dave Osato, Jason Brown, Rob Sigaty, Dave Mirra, Dennis McCoy, Rob Nolli, Andrew Faris.



Ride BMX US february 1996

: This video is put together very well and features some rad unseen spots like Burnside, and a lot of canadians parks, as well as many known american parks and contests. ,As far as riders, Canada has indeed become a force to reckon with. Dave Osato, Jay Miron, Andrew Farris, Jason Brown, Rob Sigaty... All have very impressive sections, along with some really good non canadians like DMC, Rob Nolli, Stuart King, ... It's 42 minutes long, filmed in HI-8.



claybom24, www.youtube.com, march 2012:

1996 - HighRollers 5 (full movie).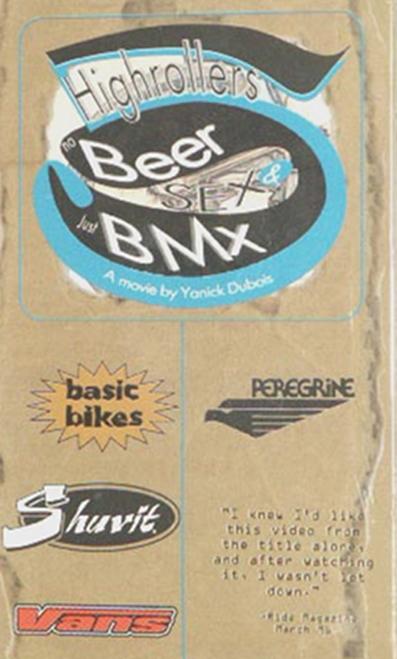 Released in november 1997.
Time: 30 minutes.
CAST: Andrew Faris, Jason Brown, Jamie McIntosh, Jason Enns, Rob Sigaty, Jeff Harrington, Taj Mihelich, Dave Osato, Dave Voelker, Luc-E, Paul Buchanan, Troy McMurray, Zach Sprinkle.
Troy McMurray brakeless, truckdriver to fakie sur un quarter, gaps et rails de fous.



Ride BMX US june 1998:

This video is weird. Ultra-pro video techniques and a bunch of nice looking film give this video an almost rock video feel. Riders from all over the place randomly mixed with a general cast of Canadians. It ends up being a pretty good mix of street, flat, dirt and skatepark. Some really good stuff from Jason Enns, Dave Osato and Andrew Faris. Troy McMurray's street section is also very good.



BMXup #11:

Suite de la série HighRoller concoctée par nos amis Canadiens, cette vidéo a comme mission de faire aussi bien voire mieux que la précédente Sex Beer and BMX. On retrouve pour le Canada, nos amis Rob Sigaty, Jason Brown, Dave Osato, Jay Miron (en spectateur), mais aussi pour les US, TAJ, Jeff Harrington, Luc-E, Mc Coy, (du beau monde somme toute).
Beaucoup de skatepark (normal, au Canada il fait froid !), du sol (Faris and Brown oblige), du street avec une visite de Denver, (McMurray Hometown), de la mini avec Jason Enns. Sans thème particulier, cette vidéo passe d'un rider à un autre et d'un lieu à un autre sans crier garde.
Une bonne vidéo, mais cependant à mon goût pas un incontournable. Elle n'apporte pas grand chose par rapport à la précédente mouture, même les musiques sont parfois les mêmes. Bien mais pas top !