Date: december 1986.
Place: The Enchanted Ramp, Encinitas, California.



BMX Plus! april 1987:

Wilkerson's second ramp jam was radical. Wilkerson's house is right next to the San Diego Freeway and you can see the ramp as you drive by. He and Stacy live about 20 miles north of San Diego, California, in a town called Encinitas. Anyway, they have a good-sized piece of land right next to the freeway, so Ron built a halfpipe. It has to be the coolest halfpipe I've ever seen. It looks as though Ron hired an architect and a professional builder to design it, but he and a couple of friends did all the work, using the ramp plans published in BMX Plus! february 1987. The ramp is set in a small valley between the side of a hill and the freeway. Ron named it the Enchanted Ramp because there are gnarly old trees around it that make it look as though it's in an enchanted forest.

Technically, this was a contest, but it was really more like a party. Ron simply wanted an excuse to get all his friends to come to his house for a jam session on his ramp, and he figured this was a good way to do it. He cut it close to the wire as far as getting the ramp finished, of course. He finished building it only two days before the contest. Ron didn't have a permit from the city to build the ramp, so that may have had something to do with the fact that he tried to keep the crowd down to a reasonable number. I don't think he wanted any of his neighbors calling the police, so he didn't promote the contest to anybody but the riders and the magazines. It worked out well, because there were only 50 to 100 people there for the contest.

There were six pros and about ten amateurs entered. The pros consisted of Wilkerson, Todd Anderson, Dominguez, Fiola, Blyther and Josh White. The experts included Tim Rogers, Matt Hoffman, Steve Broderson, Marc McGlynn and a few other guys who aren't as well known. The organization of the contest was pretty loose. Everybody got to practice as long as they wanted, and when it seemed as though everybody was warmed up and used to the ramp, they started the contest. Woody and R.L. were the main judges, but a guy named "Winkle," and Steve Emig were judging, too. Frank Scura and McGoo appointed themselves announcers. You know how those guys are. Hook up a microphone and there's no way to keep them away from it.

THE AMATEURS: The amateurs went first, as usual. It was a toss up between Broderson, Rogers and McGlynn. Those guys were all good, but they weren't on the same level as Matt Hoffman. Matt wasn't 15 yet, but he was by far the raddest guy in the class. He was popping off eight.to nine-foot aerials, no-footed cancans, regular cancans, no handers and all sorts of other tricks. He was unbelievable. He was actually radder during practice than he was in his run (like he was at the Velodrome), but still rad enough in his run that there was no doubt who had won. If he stays in freestyle long enough, it's virtually a sure thing he'll be the raddest guy alive in a couple of years. He's kind of shy and quiet when you meet him, not at all what you'd expect from someone so radical.

THE PROS: The biggest disappointment of the pro class was Dominguez. He got hurt in practice and pulled out of the competition. He did a 540 about five feet above the top of the ramp, but his hands slipped off the bars when he landed, and he ended up smacking his nose and mouth against the handlebars. It bothered him too much to ride.
Wilkerson used the same jam format he used in Minnesota last month. All the pros got up on the ramp platforms and took turns riding, always in the same order, and the judges scored them on each run. It was really exciting. Blyther was incredible. He was knocking off eight.to nine-foot aerials on every run (he and Matt Hoffman definitely got the most air of anybody in the contest) and riding so smoothly that nobody could touch him in that department. He didn't do many variations, but somehow it didn't seem to matter. He looked great.
Todd Anderson rode very well, too. His lookbacks really are the raddest of anybody's in the sport, and his one-handed one-footers are pretty amazing, too. He gave Brian a run for his money.
Wilkerson rode well but wasn't quite up to full capability this day. Ron is never as good in contests as he is in free-riding sessions. Maybe he feels the pressure too much. Just the same, he did the raddest combination of the whole contest-three consecutive no-handers about six feet out on opposite sides of the ramp during one of his runs. Most of the guys did basic aerials on one side and their good stuff on the other.
For some reason, neither Josh nor Eddie seemed up to par this weekend. Josh did a fair number of variations, but his riding lacked the spark it needed for a win. Eddie rode smoothly but admitted he wasn't really up for the contest. His highest airs were only around six feet on most of his runs, although he did do one or two that were up around seven feet.

After everybody finished his fifth or sixth run, the judges retired to Ron's living room to review a videotape of the performances to see if they were happy with the scores. Once inside, however, they simply compared scores to see what everybody else thought. As it turned out, they had scored everybody about the same. The only real discrepancy was that Winkle thought Todd had beaten Blyther by a tiny margin, but after the judges talked the matter over, Winkle agreed that Blyther deserved to win, and that was that. After the judges agreed on the results, we all headed down to a little Mexican restaurant off of Pacific Coast Highway for lunch-a little hole-in-the-wall place with six tables. Around 50 people crowded in to eat and to talk about the contest. This was probably the most laidback freestyle competition in history, but it was cool. Don't miss the next one.

OPEN EXPERT:
1.Matt Hoffman 2.Steve Broderson 3.Tim Rogers 4.Marc McGlynn 5.George Holguin 6.Chris Potts 7.Don Cook 8.Mike Golden

PRO:
1.Brian Blyther 2.Todd Anderson 3.Ron Wilkerson 4.Josh White 5.Eddie Fiola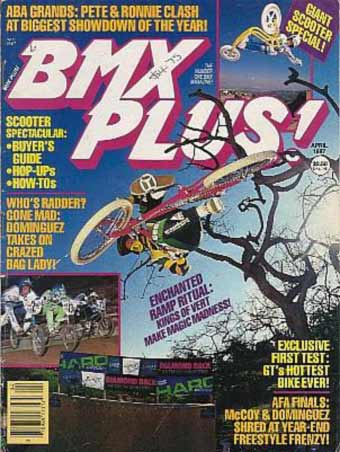 Tim Rogers at the 2Hip KOV on the cover of BMX Plus! april 1987.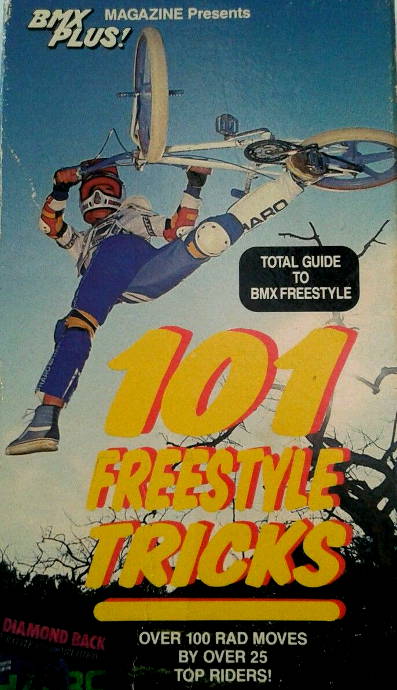 Matt Hoffman on the cover of the BMX Plus! 101 freestyle tricks video.