Place: Thrasherland, Glendale, Arizona.
Date: December 1st, 1990.



KalaYasuda, www.youtube.com, february 2011:

From inTRIKat's RealiTV-2 by Chad Johnston, VHS, 1991. In this clip, one of Hoffman's first backflip fakie attempts at a vert comp at 05:50, a little crash section that makes you laugh more than cringe 06:16 and some sweet animation from Greg Higgins promising a 3rd RealiTV 08:45. I never saw the third one though.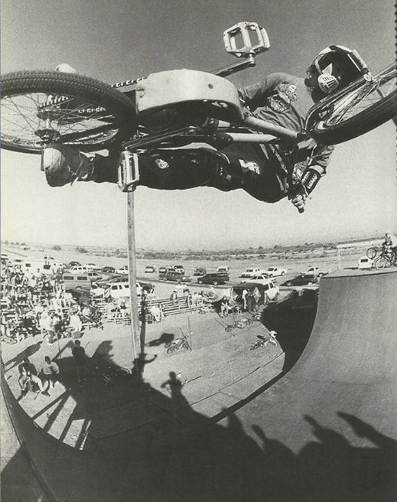 Jay Miron rocket air.
BMX Plus! may 1991:

Despite jet lag from a recent trip to Australia, Matt Hoffman (Haro) pulled a first-place win for the day and the year. Tricks pulled: inverts in excess of 13 feet, 540s in excess of eight feet, no-handed channel airs, Indian airs, Superman airs, Tailwhip airs to the pedals, Barspin airs, triple variation airs, Manuals to noseplants, tons of lip shenanigans. Tricks attempted: two 900s, alley-oop "smoothie" peg grinds, a bio backflip fakie (he slid out on the rollback).
Bob Kohl (Wilkerson Airlines) was definitely within striking distance of the pro win. He rode like a madman and stoked the entire crowd with his fiery style. Tricks pulled: No-handers into lookbacks, Cherokee airs, Barspin airs, 540s, stalled-out noseplants, abubacas, backward drop-ins. Tricks attempted: lookback 540s.
Veteran pro Dennis McCoy (Mongoose) is always a force to be reckoned with in any aspect of freestyle. On halfpipes he's got the latest moves and he executes them with almost inhuman consistency. Tricks pulled: cancan 540s, 540s manuals, no-footed cancans, nose wheelies to nose plants, peg grinds, rockwalk drop-ins. Trick attempted: one crazy 900.
Jay Miron pulled 540s six feet above coping, no-handers, lookdowns, nose-wheelies to noseplants, manuals, alley-oop backward peg grinds. Trick attempted: carved 900.
After months of semi-retirement, Greg Guillote borrowed a fellow Texan's bike and started practicing for the KOV Finals. That was the wednesday before the contest which took place on saturday. He was jammin' like nobody's business, too. Call him natural. Tricks pulled: no-footed cancan nothings (think about it), no-handers, lookbacks, rocket airs, lookdowns, 540s, manuals, peg grinds.
Dino DeLuca pulled no handers, 540s, no footed cancans, rubberband lookbacks, lookdowns, cancans, noseplants, rockwalk drop-ins, rear peg-stalls, peg grinds.
Ron Wilkerson put on the event and, of course, he participated in it as well. He pulled superman airs, no footed cancans, fakie airs, manuals, 540s, abubacas, high disasters, peg grinds.
Chris Potts is one of the few riders who has been to every single KOV event. He's a full factory Haro rider. He pulled no handers, no footed cancans, x-up one footers, 540s, manuals, peg grinds and disasters. He attempted a nutty 900.

PRO CLASS: 1.Matt Hoffman 2.Bob Kohl 3.Dennis McCoy 4.Jay Miron 5.Greg Guillote 6.Dino DeLuca 7.Ron Wilkerson 8.Chris Potts
BMX Plus! may 1991:

Dave Mirra is growing up in the amateur ranks faster than most people thought. A couple of years ago, Ron Wilkerson tried to get the mighty-mite sponsored by Haro for his incredible flatland riding. Then, as he started to excel on halfpipes also, the Dyno dudes gave him a full-factory sponsorship. At the finals he proved his ramping abilities to all. Dyno-mite Dave ruled-first place. He pulled one footed x-ups, no handers, tailwhip airs to the pedals, 540s, no footers, lookdowns, manuals and noseplants.
Gary Laurent pulled-one-handed lookbacks, lookdowns, 540s, tallwhio footplants, ice cream seat-grinder drop-ins, peg grinds, manuals. Gary wanted the amateur win so bad he could taste it, but the #2 spot was all he managed to munch. He put on quite a show in the process, though. He's the aggro showman. Working the Las Vegas circuit has definitely taught him a thing or two.
Rick Thorne pulled-Cherokee airs, cancans, one footed inverts, 540s, manuals, peg grinds, abubacas and attempted 540s. This slickster now boasts a co-factory Mongoose sponsorship. He rides with his buddy (and teammate) Dennis McCoy most every day in Kansas City, MO. His ramping career seems to improve with every event he attends. On this occasion he rogued his way to a third place victory. Keep him in sight.

EXPERT CLASS: 1.Dave Mirra 2.Gary Laurent 3.Rick Thorne 4.Eben Krackau 5.Brent Oswald 6.Lee Ranschill 7.Pat Dehne 8.Lars Hanson