Lew, Freestylin august 1988:
In the contest site building: Dennis McCoy won pro ground with a string of moves that left the few spectators who showed shrieking for more. Another Dennis -Langlais, rode ramps for Hutch and spun himself about 720 degrees through a 900 attempt. The rolling trick plague infected everyone once again.
Outside of the contest building: It didn't take long for everybody to figure out that the city ot Tucson was waiting for a session. Local police had better things to do than bust bikers, although the boys in blue did menage to cuff and capture two of the most evil villains to ever defy justice... Dennis McCoy and Ron Wilkerson violated the city curfew and had no i.d. to prove they were over 18. Within minutes they were released into the capable hands of Bill Hawkins, Haro's tower of power/team manager guy.
Inside the contest building: Bob Morales was seen mixing it up on a Dyno which later was proved to be his personal unit, according to McGoo. Rumors were rampant of Bob's exploits on the new GT ramp. Signs were posted on all walls and non-moving objects proclaiming "WALL RIDING IS A CRIME." Throughout the weekend I noticed several violators who I won't mention. I also noticed Eric Evans catching at least four feet of air with variations in his ramp class.
Outside the contest building: There was a bank/fountain/street haven right across the street from the Holiday Inn that became overrun by riders in no time. Name a street move and it was going down. The Plywood Hoods, in the company of Aaron Dull, went out scavenging on Sunday and sessioned no less than six empty swimming pools.
Inside the contest building: Large Ray treated us all to a routine he whipped up himself while his pal Gary Pollak let loose with an air horn for two minutes straight. The custom painted "evil eye" helmet as seen on Ray was also used by several riders of prominence, including Kevin Jones. On the broken bones list, team Diamond Back was looking sparse. Woody didn't make it to Tucson because of a broken hand, while Mike Dominguez still had to deal with a broken leg. Craig Grasso remained docile while indoors, raged while outdoors. Haro's Matt Hoffman was present and riding with the aid of one of his dad's anti-injury braces -he won again with his usual "strobe-light" variations at great heights.
Outside of the contest building: Don't anyone tell Stacy Wilkerson this, but even though Ron only got second in pro ramps, he still had the sickest routine of the weekend... his ledge-walking routine, that is. Imagine an eight inch window ledge TEN stories high. Yes, he went out one window, across the ledge, and in the opposite window of the Horn hotel room. Do NOT try this at home.
Inside the contest building: There were two quarter-pipes end no short ramp. The practice area was fairly big but because there weren't any jam circles formed, it was basically free-for-all. Some chose to do their warming up outside. In case someone broke any parts, there was a small bike shop set up indoors with items for sale at prices that were, ... a bit steep. Inner tubes were $7.00 each, and McGoo bought a chain and sprocket for a poultry $30.00. Ouch.
Outside the contest building: It rained a lot.
Inside the contest building: Josh White was on the move in pro air. A can-canned 540 topped off a routine that was packed with everything required to win. Wilkerson came the closest to beating Josh -high disasters, a Miami Hopper fly out, high airs, the nothing, and crowd appeal. The Kansas City crew was there to get Dennis McCoy psyched enough to blaze to third on ramps -no variation seems beyond his grasp. No-footed can-cans, candybars, Iookdowns, and the like all belonged to McCoy. Todd Anderson rode without worry and proved that he's able to step back into the pro class after a LONG absence and still place well -fourth.
Outside the contest building: The airlines lost some bikes, forcing Craig Campbell to borrow a teammate's en route to second place behind Chris Rothrock in 18 expert ramps. R.L. got to watch the pro flatland class from the sidelines this time due to a lost bike and food poisoning. Rick Allison showed up but didn't ride due to a knee injury attainted while riding Wilkerson's ramp. Perhaps Allison is shooting for an overall in the future?
Inside the contest building: Scotty Freeman rode ramps this time as well as ground -and actually did better on ramps. His combined scores gave him the overall for 15 year olds. Jason Parkes made a reappearance to the contest scene and rode with intensity, although looking a bit rusty. It's good to see him back.
Outside the contest building: After the qualifying on Suturday there was plenty of time to blow until the finals started at 7:00. A small group of maybe 100 riders headed over to the fountain/bank deal across from the Holiday Inn. Windy arrived and began shooting... until someone jumped the hip, kicked out, and knocked the flash out of her hand. Luckily, it didn't hit the ground and break -it landed IN the fountain and sunk to the bottom instantly. Stoking. The next day more of the street thing happened. Someone took us to a local ditch and there were guys riding there too. Derek Schott was launching out of the ditch with style unmatched and landings that were harsh. In 15 expert flatland he was also unmatched, even against heavyweights Ryagi Hoara, Ruben Castillo, and Jeff Rugg. Fellow Florida ripper and friend of Schott, Gerry "Cat" Smith made his presence know while street thrashing as well as in the contest building.
Inside the contest building: ... like I was saying, Gerry Smith was the man of choice by the majority. Switch-handed hang-five for miles. Backwards this into rolling frontwards that, etc. Although Gary Pollak and Joe Gruttola both placed in front of Gerry in the 17 flatland class, there's no denying that Smith's time is coming, SOON. Another rider who goes relatively unnoticed come out of the Northeast and rides ground for Hutch. 18 expert bowed to Darren Pelio, who hit every trick without question or even the slightest bit of sketchiness.
Outside thecontest building: Team Haro cruised town in a mean rental car that could've easily passed for a pimp's Cadillac if it wouldn't have had six or eight bikes sticking out of the trunk.
Inside the content building: The unbeatable Kevin Jones was beaten by both Kris Ketchum and Mark Roldan. The K displayed a smooth allotment of mindbending stunts, but Ketchum end Roldan were not to be stopped. The two had a run-off for first in which Kris prevailed. Also make a note that this may have been the first content where Mark Roldan's bike arrived on time.
Outside the contest building: For the most part, rogueing was kept to a minimum. Instead of wasting hotels and terrorizing pedestrians, attitudes were mellow. Looks like things are changing for the better.
Inside the content building: The pro ramps finale were the highlight of the weekend. The spectator count was still small, but those who were there were stoked. An hour or so after the last pro rode, they were still plenty of people hanging out inside, waiting for a sticker toss to happen or a pro to give something away. Not Windy and I, we...
Outside the contest building: ... were outta there in a hurry so as to catch the last flight back home to Los Angeles that night. An hour and several packs of those complimentary peanuts later, Tucson was a memory and exhaustion was reality.

Pro flatland: 1.Dennis McCoy 2.

19 and over expert flatland: 1.

18 expert flatland: 1.

17 expert flatland: 1.Gary Pollak 2.Joe Gruttola 3.Gerry Smith

16 expert flatland: 1.

15 expert flatland: 1.

14 expert flatland: 1.

13 and under expert flatland: 1.

Dennis McCoy. Photo by Windy Osborn.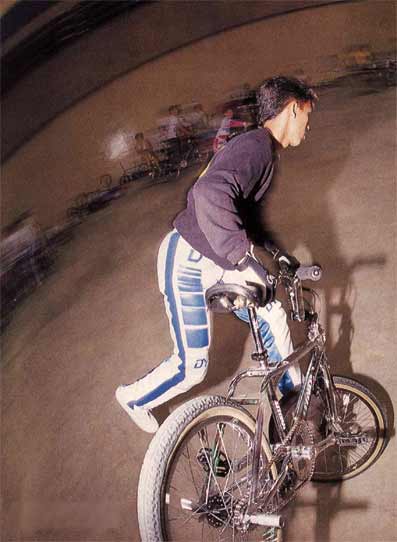 Ruben Castillo. Photo by Windy Osborn.




krtschmidt.com/blog:

Kevin Jones.




krtschmidt.com/blog:

Mark Eaton. Is it the best flatland run you have ever seen? No. But for those of you who can appreciate the innovation Mark and Kevin brought to freestyle then you will enjoy watching Mark's run in AZ, 1988.




krtschmidt.com/blog:

Dennis McCoy.




krtschmidt.com/blog:

Pete Augustin.




krtschmidt.com/blog:

Martin Aparijo.




krtschmidt.com/blog:

Rick Moliterno.




krtschmidt.com/blog:

Large Ray. The rumor goes that at this contest Ray pooped in a paper towel and put it in someones hotel room microwave on high for 30 minutes. Needless to say two floors of the hotel were evacuated.




krtschmidt.com/blog:

Eric Evans.




krtschmidt.com/blog:

Darren Pelio.




krtschmidt.com/blog:

Chris Lashua.




krtschmidt.com/blog:

Gary Pollack.




krtschmidt.com/blog:

Karl Rothe.