Place: Pipeline, Upland, California.
Date: September 16th, 1984.



BMX Freestyle UK, may 1985:

There's a new king on the trone ! The 1985 King of the Skateparks is ex Haro rider Mike Dominguez, now riding for Hutch. Despite Eddie Fiola winning the final round, Dominguez had already amassed enough points to clinch the title; turning up to the final round with broken leg thanks to an incident with a trick three weeks before.
The famous 'max air contest' was also won by Fiola with a height of eight feet and three inches exactly.



Freestylin march 1985:

What is it? What is it that drives aerial freestylists to interact with excessive concrete vert and pull off moves that are nearly impossible to rationally comprehend? What gives them the ability to pull off the interaction with a style and power that makes the average person's brain fall out and his jaw drop to the ground? What is it that makes these Commanders of Air totally commit to progressive riding on a 20 inch freestyle unit? Is it simply cause they crave it? Is it an obsession, a true love? Tough to say. Even for them, the skatepark elite. But one thing's for sure - when watching them do their thing in the heat of a King of the Skateparks competition, you truly get the impression these guys have found a place they can call their own. Sit back, check out the pics from the final round of the King of the Skateparks at the Pipeline, and read what the top skatepark activists have to say about themselves and their sport.

EDDIE WINS THE BATTLE, MICHAEL WINS THE WAR
Michael Dominguez was crowned the King of the Skateparks after the final round at the Pipeline-and he didn't even set a wheel in the bowl. Why? Well, about three weeks before the contest Mike was riding his bike home from the Pipeline when he had an unfortunate meeting with a 4x4. A broken leg and a few cuts and bruises resulted, causing him to miss the last round of the KOS. But, with a second and two firsts from earlier competitions, he already had the title sewn up. How? Eddie missed a contest because of scheduling conflicts and the rest of his record read a third and a first - not enough to catch Dominguez even if he won the final round. And he did, out riding Hugo Gonzales and freshly turned pro, Curb Dog Dave Vanderspek. In the 17 and Over Expert class it was a battle between Rich Sigur, who was lookin' radical as ever, and newcomer Steve McCloud, Believe it or not, McCloud came out on top. He was incredible, gettin' at least seven and a half feet out of the bowl at times - smooth too. And get this - he had only SIX WEEKS of skatepark experience before the contest, although he admitted he used to ride the parks WAY back when airs were unheard of. Watch for him - he was picked up by Red Line a few days after the contest. The wildest knockdown, drag-out fight of the day - maybe of the year - was in 16 and Under Expert, between Donovan Ritter and Brian Blyther. Brian, who lives near the Pipeline, was the home park favorite, so the crowd was really backin' him. He's no doubt the smoothest aerialist around; all you can hear is his freewheel clickin' and his tires buzzin' as he works the bowls without even pedaling. Ritter, a Del Mar Skate Ranch local, was makin' the crowd scream just as loud with his no-footer, six foot airs. Unreal. When the smoke cleared and the crowd stopped yelling, Blyther had edged Ritter for the win. After battling it out all year, they wound up tied for the 16 and Under Expert King of the Skateparks title. These two guys would be a REAL threat in the pro class.
The highest air contest was reinstated, and with 400 smackers up for grabs, the boys were skyin'. Fiola was first at eight feet, three inches, and Blyther took second at eight feet even. McCloud came in a close third. AFA prez and contest organizer Bob Morales assured everyone that the measurements were 100 percent accurate because a video camera was used to record the insanity.
It was definitely a hot day of aerial activities in the Radlands. Pure insanity.


Steve McCloud, Freestylin, march 1985:

I've had hard falls. I've taken some punishment to get where I'm at, but it'll be worth it in the end. I'm tryin' as hard as I can.





Eddie Fiola, Freestylin march 1985:

I don't like being like everyone else. I've always liked individual type sports; I was into wrestling and pole-vaulting. Now I'm into freestyle. I like to do things that not many people can do - and I like to be the best at it.





Brian Blyther, Team Huffy, Freestylin march 1985:

I don't really get scared; I try to block everything out and keep going and do my best. Between runs I'll be thinkin' about trying to do better and be a little bit smoother, and do the rest of my tricks.



On the highest air contest


Eddie Fiola, Team GT, Freestylin march 1985:

EVERYTHING is going through your head. You want to make it for the money, but you don't want to hurt yourself because things are comin' up in the future and you want to keep your career in freestyle. It's REAL scary, 'cause when they put up that money.



Hugo Gonzales, Team GT, Freestylin march 1985:

I was stoked when I pulled off the fence spring 'cause I landed right back in the pool, and that doesn't happen all the time! I was totally freaked out, I was saying to myself, 'I'm doin' this?! Come on!' On my last trick I was frying to do a foot plant off of Tony Murray's bars - it was something I'd just thought of about 15 minutes before my run it was a first. I came SO close! It worked out pretty good anyway 'cause the crowd loved it - they were with me. I couldn't of done any of this stuff without the crowd.

RESULTS.
Pros: 1.Eddie Fiola .2.Hugo Gonzales 3.Dave Vanderspek

17&over expert: 1.Steve McCloud 2.Rich Sigur 3.Jon Peterson 4.Don Osman

16&under expert: 1.Brian Blyther 2.Donovan Ritter 3.Tony Murray 4.Robby McCrary

17&over novice: 1.Angel Rosas 2.Mike Capito 3.Michael Small 4.Scott Morse

16&under novice: 1.Robert Aguilar 2.Andy Shohara 3.Deric Garcia 4.Randy McCray

Highest air: Eddie Fiola

1985 King of the Skateparks: Mike Dominguez



Donnovan Ritter, www.kingoftheskateparks.com, july 2013:

Before this contest started I went up to BrIan Blyther and said, "you should ride pro this contest because Mike Dominguez was out and I knew Brian could beat Eddie." Brian said, "wish I could but Huffy would kill me if I missed out on the 16 expert title." Then Brian smacked me in the shoulder and said, "Donovan I think you're better than Eddie, so you turn pro!" I replied, the AFA would never let that happen! Brian said, I know huh! We both knew there was something strange with the AFA and Eddie.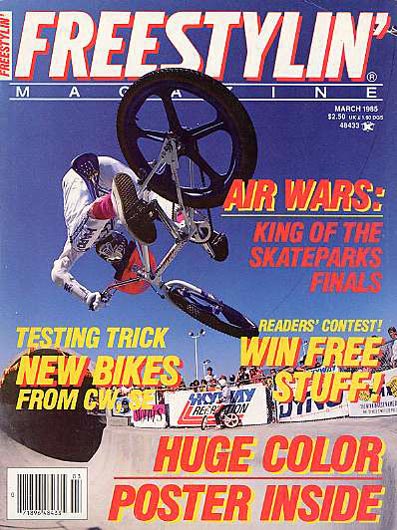 Freestylin' march 1985.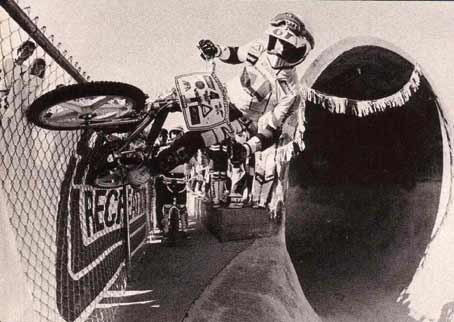 Hugo Gonzales.