The first street contest, the 2-HIP factory and every contest in '88. - 1 hour
Edited by Eddie Roman.



krts, www.youtube.com, april 2007:

This is the second 2-Hip video created. It features all the 2-Hip contests held in 1988.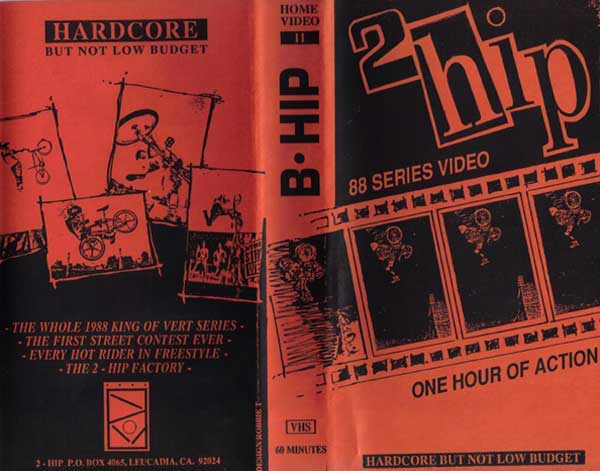 krts, www.youtube.com, april 2007:

2-Hip BHIP video part 1 of 8.
2:00 - 1988 2-Hip KOV round 1, march 6, 1988, Vista, California.




krts, www.youtube.com, april 2007:

2-Hip BHIP video part 2 of 8.
0:00 - 1988 2-Hip Meet the Street, Santee, California.




krts, www.youtube.com, april 2007:

2-Hip BHIP video part 3 of 8.
1:14 - 1988 2-Hip KOV round 2, Flint, Michigan.




krts, www.youtube.com, april 2007:

2-Hip BHIP video part 4 of 8.
0:00 - 1988 2-Hip KOV round 2, Flint, Michigan.




krts, www.youtube.com, april 2007:

2-Hip BHIP video part 5 of 8.
0:19 - Slam section.
3:36 - 1988 2-Hip KOV round 3, Austin, Texas.




krts, www.youtube.com, april 2007:

2-Hip BHIP video part 6 of 8.
1:30 - 1988 amateur KOV.
6:00 - 1988 2-Hip KOV round 4, Albany, New York.




krts, www.youtube.com, april 2007:

2-Hip BHIP video part 7 of 8.
2:30 - 1988 2-Hip KOV round 5, Washington, DC.




krts, www.youtube.com, april 2007:

2-Hip BHIP video part 8 of 8.
0:00 - 1988 2-Hip KOV Finals
Edited and filmed by Ron Wilkerson.

April 2003, Ron Wilkerson has spent three months in the editing room to finish the new 2-hip video. The video is labeled "Obsession" and has clips from Germany, Brazil, Colombia, Argentina, and all over the USA.
Riders in this video are: Jared Allen, Ryan Armstrong, Alajandro Caro, Juan Carlos, John Demers, George Dossantos, Joel Hulsey, Andreas Kittell, Eric Lawson, Matt Lippitt, Dave McDaniel, Steve McCloud, Ricky Roich, Ron Wilkerson.



Ron Wilkerson, www.fatbmx.com

: Obsession is my very first video I made from scratch all myself, and I am not stupid enough to think that I am going to make a perfect video the first time, but I feel that I at least made a good video-not perfect but entertaining and really good.
All the 2-HIp riders are different so I tried to show each in a unique way that expresses that they, and 2-HIp, have depth and character besides being good riders and a good bike company. If you're stoked to be in it, be stoked. If you don't like it, don't like it, but give us some credit... I'm open to feedback. 2-HIp and myself are in BMX because, when we started, BMX WAS UNIQUE AND DIFFERENT- THAT'S WHAT I TRIED TO CAPTURE IN THIS VIDEO.



Angie sKwirl McEwen, www.notfreestylin.com

: I never get to review videos and this was awesome to get to do. Ron warned me that he was sending me a copy of Obsession in the mail. So I got nicely excited because I would be entertained for a while my knee still healed. Ron Wilkerson put forth a huge effort in his fort film: editing and filming everything himself. For a first timer the project was successful. It is reminiscing of old format but with new style to it. It has a lot of double takes if you missed anything maybe more than might be necessary but they were still OK and a lovely song dedicated to George D. With dubbed voices of Ron's daughters and himself tributing a great rider, over the lyrics of "Let her Be" by the Beatles. Which had me busting a gut. Grizzly Adams has nothing on Ron when he decides to giver a go at the breaded look. My goodness! Regardless of the unkempt appearance of Ron he still manage a very high gap void of ramp that you have to see. All the sections are wonderful and the video is a good reminder of how much editing goes into making your favorite riders look like flawless gods on a bike. Rarely taking out the missed attempts in his editing gives the feeling that you are actually out riding with these guys. Nothing can cans at the dirt trails under a low sun in far off lands gives a mystical feel. Not to mention the snip of a drunk girl kissing Ron's neck and the look on his face. That was so funny. Obsession gives you a taste of life not a video. Bits of festivals that were attended and groups of people having fun everywhere and all over the world. I like this video and good work Ron and company.



Mark Noble, Ride BMX UK

: I've gotta say that the video is the TITS! It's awesome. Tim viewed it last Friday in the office (he's doing the review) and he was in a severely bad mood, but the video picked him right up and inspired him. It's awesome. I love how you have a team of 'unknown' riders, yet they all rule. That trail rider guy you have, Coja or something - man, he is unbelievable. So much trail ridin' talent. Tricks, big tricks, and tons of style. He rides with apparent ease. He could blow contests wide apart. The music rocked, the editing was cool too - nicely cut together. Filming is excellent as well. It ruled!



Taj Mihelich

: I found that I had the same opinion of it that Joe had... we both liked how it reminded us of old videos and the sort of randomness of it all. Its not straight riding parts and it feels like a sort of adventure. Its pretty long, but that is fitting too.



John Paul, www.factionbmxmag.com

: I'm not sure of the exact number of times this video has been watched in the past few weeks at the house, but I would guess it to be somewhere between 15 and 20 times. And that's a safe guess. It's so hard to make a truly great video. One that no matter what generation it is from, it will remain timeless and kick ass in any era. To make a memorable video on the other hand, doesn't take such greatness. It doesn't even take great riding, great filming, great editing or great anything. It's tough to put a finger on the ingredients that eventually cook up to a memorable video. With Obsession, you have to look no further than ronw., 2-Hip's founder and BMX pioneering legend. In the mid and late 80s he was it. The fucking man. He was Mat Hoffman, before Mat. He had the big contracts, the big tricks, the trick hairdos, and put on the biggest contests. And suddenly, at the peak of all the rock star loot and hoopla, it was gone, and the big time players bailed for greener pastures.
Jump forward fifteen years or so to the present day, and ronw. is still around?somehow? Ask anyone what the weirdest company in BMX is and 100% will say 2-Hip. Nobody, and I mean nobody knows what in the hell is going on up there in the far away hills of NorCal. Maybe not even ronw. himself. He even has his own society for god's sake, the 2-Hip society. Ask yourself; do you know one person in this 2-Hip society? I guess I know ronw., but I'm not hanging out with him. I've never been around ronw. for more than five minutes. There are a lot of questions about ronw., 2-Hip and this society that nobody knows shit about. You want some answers? Watch Obsession. And you know what happens at the end? You only have more questions, like, "What in the fuck goes on here?"
The climactic scene in ronw.'s part is amazing. The buildup is slow and spectacular, and draws the viewer in beautifully. The break down is very intense and thorough, and at one point ronw. runs down his bike checklist. New chain? Check! The ladder climb up to the roof is the best view of his stuntman outfit, consisting of red jeans (at least I think, some lean towards sweatpants), a Dr. Seuss Cat in the Hat sweatshirt, and a long gutter punk mohawk. The first view is from underneath, and what immediately pops into your head is, "Wait a second, did he just nose that in? No way, I don't care if he does have a Tuff on the front, there's no way he nosed that in." As you watch the second view from the side, the nosedive is way more prominent and it looks like he might even go over the bars, and you scream out loud, "No fucking way. There's a ramp there. You can't nose in a bunnyhop like that?" ronw. knew, he knew there would be questions, doubters and a naysayer or two. And just as you stand up and shout, "Ramp, definitely a ramp," NO RAMP!!!!! jumps on the screen squelching any and all hater's doubts. We had to super slow-mo it just to be on the safe side?no ramp, definitely no ramp. If you want an indication of the impact this video is having on the many people that have watched it at my house, look no further than Kris Bennett, a guy who just put out a great video this year. "I have to rethink the way I make videos now. And I need to learn more about this 2-Hip society. What in the hell is it?



Olivier Tourel , www.agoride.com, septembre 2003

: Réalisée par: Ron Wilkerson, DVD et VHS, 75 min + 8min de bonus. Spots: Brésil, Woodward (Pensylvanie, US), Colombie, Allemagne, etc... Riders: George Dossantos, Andreas Kittel, Juan Carlos, Jon Demers, Eric Lawson, Matt Lippot, Steve McCloud, Jared Allen, Alejandro Caro, Ryan Armstrong, Joel Hulsey, Dave Mc Daniel (Flat), Ricky Roich, Ron Wilkerson (+ de multiples locaux). Distribué en France par: Eastreet
Best Tricks: Feeble sortie over de Georges Dossantos sur un rail en street, 720° et tail-whip dans les 2 sens d'Andreas Kittel, Bunny-hop Truck Driver de Ryan Armstrong, Flip double barspin de Jonathan Ospina, 360° Ali-whip, Whip-to x-up, et Flip Turndown 3/4 d'Alejandro Caro, Gap entre 2 immeubles de Ron Wilkerson, etc...
Notre avis: 7ème vidéo de 2-HIP. En un mot: INCROYABLE. Pourquoi ?? Car, c'est une profusion d'inconnus (ou peu..), qui envoient vraiment de gros tricks !! Notamment, la séquence (à mater en premier) d'Alejandro Caro, le Colombien, qui avec ses potes "démontent" littéralement leur trail !! Limite "choquant" de savoir qu'à l'autre bout du monde, sur de grosses doubles, les 36 whips, flip turndown, et superman seatgrab strecth (à la Chad Kagy) sont des figures de base !! Le reste est à base de can-can nothing, 36 ali-whip, flip barspin-to x-up (eh oui), ou autre flip double barspin.. La séquence de Georges "D" quand à elle est tout simplement magnifique: simple, smooth, et imaginatif. Les autres séquences ?? Même tendance que les 2 précitées. Quoique, un peu longue, dans cette vidéo on voyage (surtout en Amérique Latine), on découvre ; Et on visionne du bmx comme on l'aime: sans chis-chis !



George Hoernig

: Obssesion, a refreshing look into the future, I've always liked what 2-hip does, wheather I understand it or not , they stick to there guns and do what they wanna do, with no influence or compromise to whats supposedly 'cool' or 'IN' some reasons why I liked about the video.
1. filmed in a way where it makes you feel like your in a good home video.
2. good riding
3. shows the riders as people and not just flawless "profesionals"
4. It simply shows what a big part of the bmx lifestyle is about.
5. Easy to relate to
6. Very realistic to what BMX is about
Constructive negative?( is that an oxymoron)
1. kinda long, no definatly long...
2. could be tightened up a lil more as far as editing and footage.
3. music was good not great,
4. would like to see a lil more effort in filming perticular tricks and scenes, quality not quantity"



Steve Crandall

: I know we definetly do things from different angles, but it is what makes each of us who we are. I like the video, and it was weird as hell.



Tim March, Ride BMX UK

: I've just been handed this DVD one hour before we got to print, the things covered in goop which I have now managed to wipe off with the help of my friend White Spirit. Watching it has opened the floodgates to my repressed anger, so before we start on the DVD though I'd like to say despite all this be careful what you say post 9/11 bullshit, American foreign policy and governmental state laws are really pissing me off as of late. How can it be illegal to ride a BMX bike in a skate park? Where were the majority of skaters when the sport died on its feet the last three times, I'll tell you, not in the skateparks. The BMXers were though, and always had been using the parks with the tiny pockets of skaters who hadn't given up their love of the concrete wave. Fuck all skaters who are anti BMX and fuck all cops who give anyone a ticket for skating or riding. Fuck that tosser who wrote that shit article in Thrasher about banning bikes from parks.
Now onto a more serious matter. It regards a skater called Neil Heddings (pro skater and notorious ex151 team member) who at present is incarcerated along with his long term partner Christine in Riverside County Jail for allegedly killing their two year old son Marty (who actually fell and banged his head in the bath and died later in his sleep) who had problems with fused head plates and a swollen brain. With no evidence that Heddings committed murder they (the police) had already issued proceedings to have Neil and Christine's three other kids adopted whilst they remain in jail. This is a fucked up situation and I need to make you aware of it because Neil and Christine were discriminated against just because they look different (Neil is heavily tattooed). Now there is some good news, Big Brother skate mag have started a legal fund to fight the Hedding's case and also to raise bail which is set at $500,000. Go to www.bigbrothermagazine.com to get the down low and do what you can to help this family please. USA wake up you are fucking over your citizens. Now onto the DVD review which and why I had to get this off my chest before hands
Ron Wilkerson has to be number one on the unsung heroes of BMX, from his first visit to the UK in 1985 with Brian Blyther on the Kellogs BMX championship Ron has single-handedly turned every single marketing opportunity he's had to make thousands into a keep-it-real-make-enough-to-eat-and-ride deal at every opportunity. He's had enough injuries to put all but Hoffman to shame and had indulged in many a concoction of shaman juice to send even Neil Armstrong further than the moon. This DVD got me more emotional than any other I've seen this year. It's full of riding of some amazing riding, riding from kids we've never heard of from all over the place. I do mean some great riding, amazing stuff at the trails, parks and streets of the USA, South America and a few other spots I didn't have time to check. Dossantos is on it and Ryan Armstrong, Juan Carlos, Eric Lawson, Ricky Roich, Jarod Allen, Joel Hulsey, and a shit load more. The quality of riding is first class yet the overall feel is fun and games home video'ish. There are so many little treats you won't be disappointed. Ron W does the sketchiest nosedive gap three stories up and lands it like a 15 novice at a bunnyhop comp, but it just doesn't matter because he made it so the footage keeps on rolling. This DVD made me glad there are people like Ron still involved in BMX and his part at the end has to be one of the finest cut-ups of truth I've ever heard. The cops appear to give tickets for riding in parks too (wankers).
Ron inspired and thrilled kids to buy and get on their BMX Bikes from the '80s right up to the current day and you can see why, if Mirra is heads and Hoffman is tails, then Ron is then all of the odds rolled into one. A true one off. Please buy this DVD and put some cash in the pocket of a punk-assed hippie-tripping genius who will put it straight back into BMX without hesitation. If he sells enough he might even put an ad in Ride. Why no advert? Are we not 2HIp too, or is it 'cause we is not interested in boys bums and we know too much? Now that would be a miracle boy McTwist. Damn damn damn. And hot damn.
Don't forget about Heddings. Rebellion changes all things, revolution changes the faces of the ones in charge. - big difference.



Brian Tunney, Dig

: Last winter, I went to one of the many Hackettstown Skatepark late night Friday sessions. It was a strange night. Crandall and Kelly Baker showed up. Stricker and Edwin were there. Ralph Sinisi was doing one-footed tables over the box jump. And Ron Wilkerson was standing dead center in the middle of all the chaos that surrounds a usual Friday night H-Town session. It turns out that Ron was there filming George Dossantos for the new 2-HIp video. It really struck a chord with me that here was this guy, almost 40 years old now, wearing (and riding in) Doc Martens, sitting in a cold skatepark at 2am in the morning to film someone 3,000 miles away from home. It made me think "Damn, I hope I'm still as into BMX at his age." (Not to say there's a giant age gap between us, but you get the point. There's no turning back for Ron Wilkerson now. His life is BMX.) So the video is done. It's not what you'd expect from the latest BMX video assortment. It's different, but love 'em or hate 'em, you've gotta respect Ron Wilkerson and 2HIp bikes for genuinely doing their own thing outside the social hierarchy of what's cool and what's not in BMX. It's not a bang, bang, bang trick session by each rider. Ron wants the viewer to see each rider's lifestyle, not just their riding. Sometimes, this gets a bit monotonous, but such is life. Getting to the riding though, there is some serious footage in Obsession. Yes it may take a bit of searching, but wait til you witness Alejandro Caro. This guy is from South America, never touched a foam pit, and could win X-Games Dirt any day of the week if he wanted to. It's insane and worth the price of the video alone. Anyway, when you reach the point where over 25 years of you life have been truly devoted to BMX, I personally think you're allowed to do whatever you want, whether that includes replacing the chorus of the Beatle's "Let It Be" with "George D." or making a 15 minute section of various drunken binges throughout South America. Ron Wilkerson has done it all, and this video is one more notch in the heavily worn BMX belt that is his life.



Mark Losey, Ride BMX US:

This is a video I was really hoping would be good, but it doesn't deliver the goods. There is some good riding mixed in, but it's surrounded by so much extra material that sitting through the entire thing at once is nearly impossible. George Dossantos, Ryan Armstrong, and a few other guys lay down some good tricks, so there are a few highlights, but they are few and far between. Ron Wilkerson wanted this video to be different than what else is out there and tried to capture what the 2-HIp team is all about, so if you are a huge 2-HIp fan, this may be for you. But if you're buying a video to see the most progressive riding that can hold its own against the best videos in BMX, OBSESSION just doesn't fly.



Kevin McAvoy, Transworld BMX

: Imagine ten $50 dollar bills placed randomly in a swimming pool filled with Styrofoam packing peanuts and you'll have a good idea of what the new 2HIp video is like - there's some stuff in there that you really want to see but there's way too much filler. I think it would have made a pretty powerful 25 minute video but unfortunately it was stretched to 75 minutes, which is pretty difficult to consume in one shot.
There's definitely some good riding here; you may not have heard of all of 2HIp's riders but they all deliver at least a couple of quality clips. The middle of the video consists of footage from South America; as far as I can tell (there were no titles for the section), its Argentina and Brazil. There's some interesting lifestyle footage here, along with some impressive riding. Unfortunately there's a lot of bad riding; at some points it looks like raw footage that didn't get edited. Alejandro Caro and his crew deliver contest-level dirt jumping in his section, and help to give the video even more of a unique, international feel.
I'd like to give Obsession a better rating but ultimately, the pacing of the clips really starts to drag this video down. Add to that a bit of shaky camera work and some questionable editing choices here and there, and those $50 bills have some trouble rising to the surface. Hopefully, 2HIp's next vid will be much shorter, with lots of interesting bonus footage.