411 Video Productions

: F-IT is 411's first BMX production. Teaming up with Robbie Morales and the rest of the Fit Bike Co. team was a great experience. We recognized right from the start that their passion and dedication to BMX were an exact match for the feelings we hold for skateboarding. Endeavoring to bring some of the fun back into the sport they love, we were honored to produce this project for Fit. Filmed and edited by 411VM BMX project manager Anthony Moreschi, "F-it" contains all the production value you've come to expect from 411. We guarantee that "F-it" will take it's place amongst your favorite BMX videos, but more importantly, inspire you to get out there and enjoy riding your bike.



Robbie Morales

:

From it's inception, Fit Bike Co. has been a collaboration of individuals with one thing in common; having fun on their bikes. Although each team member has their own unique style, they all share the same passion for riding; a common bond strong enough to shape Fit into more than just a traditional company. In an extremely short period of time, the hard working staff at 411 has documented this new team doing what they do best; enjoying bike riding. Hopefully this video will inspire you to do the same. F-it.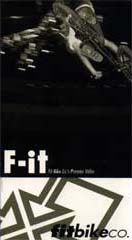 F-IT Promo.




vimeo.com/fitbikeco, may 2012:

Mike Aitken.
DVD BONUS FOOTAGE INCLUDES THE FIT VIDEO F-IT



411 Video Productions review

: 411 Productions is once again breaking ground in the BMX world by releasing Barcelona BMX Vacation. Barcelona BMX Vacation is an unprecedented first look at the BMX scene in Barcelona through the eyes of seven American professionals: Mikey Aitken, Van Homan, Justin Inman, Brian Foster, Robbie Morales, Edwin Delarosa and Vic Ayala. These members of the Fit and Zoo York teams make up the first-ever trip of its kind to Spain.
As good ambassadors of the BMX world, this group unleashed their own individual barrage of tricks on the city's plethora of shredable terrain. Using skateboard magazines to locate well-known skate spots, the crew translated their own BMX abilities to manipulate these spots in previously unheard of ways. Through the crew's travels they met up with a few native Barcelona riders that were excited to take them from spot to spot and show off what Barcelona has to offer...
In between sessions everyone had the chance to discover the culture of Spain away from the BMX world, exploring marketplaces, museums and other treasures Barcelona has to offer. It's amazing to see so much history and culture that has been created over Spain's centuries of development.
Documented by Anthony Moreschi and Joe Sederquist, Barcelona BMX Vacation will open your eyes to a world unexplored by bikes before. Fit, Zoo York and 411 have paved the way for future BMX teams to ride this magnificent city and enjoy all of its cultural wonders and unforgettable terrain.
In an unprecedented offer, 411 Productions has teamed up with Fit bikes to include the Fit video, F-it, in its entirety as free DVD bonus footage!!! Two videos for the price of one.
411 Productions' Barcelona BMX vacation will be available on VHS and DVD in bike shops everywhere, and here at 411vm.com, on April 8, 2003!



Bart de Jong, www.fatbmx.com, may 2003

: I can see Robbie Morales' idea. Let's take the guys to Barcelona, stoke them out with the trip, film the whole deal and get our money's worth from the coverage we get back. With Ane Morales present to take pictures it will end up in the magazines too and the video sales will pay for the whole thing.
I'm not sure if it worked out the way Robbie had planned it, I'm not sure if the DVD/VDO sales were good enough for 411 productions to do another trip like this in the future. Either way, the guys made it to Barcelona, Spain and started ripping the city apart. I'm not sure if Van's translation of the friendly Spanish man "taking the damaged board away for later fixing" was correct. More damage was done to different art all over the city but hey, this is street and they didn't say anything so I guess it's allowed (?).
It must be frustrating for Robo to pay for these guys' flight, accommodation, food, transportation and drinks to see them ride in a 2 dollar thrift store flannel and Johnny CASH T-shirt. There goes the extra FIT promotion. Oh well, Fuck-it.
I have a feeling the 411 editors had to scramble for footage to make a high level video out of the vacation because of the several repeats. If I want to see something again, I will press rewind. Also added to this DVD is the entire F-it video which is a nice bonus if you have not purchased it before.
With Mikey Aitken, Edwin De La Rosa, Robbie Morales, Vic Ayala, Brian Foster, Justin Inman and Van Homan hitting the streets of Barcelona you sure get to see some good stuff. Worth 50 guilders? Maybe yes if you have not seen the F-it video before.
P.S. Note to 411: On your cover you keep on using guilders as currency for The Netherlands. We've been a Euro country since day one as well so I guess the price is 22 Euros for the Dutch as it is for the Germans and the French. Nobody has guilders any more so if you want to sell it in The Netherlands, change the price to Euros.



Ed BmxDestroyer, www.bmx-test.com, 07.2003

: The team FIT & ZooYork decided to go to visit Barcelona in Spain for a 10 days roadtrip. This video is not like all usual movies of bmx, it is more like a documentary on this splendid city and the riders speak about the spots which they rode. This video also talk about the culture in Barcelona. The riders in this movie are Mikey Aitken, Van Homan, Edwin DeLarosa, Vic Ayala, Justin Inman, Brian Foster and Robbie Morales. With great riders and awesome street spots, you can't ask for more. All riders got a couple of great tricks in this video. But it's more like as if you were riding with your friends at certain spots. It's not like they had filmed for one year or more, they were there for just 10 days. Don't think that you will see just big tricks after big tricks. It's more a video of style and flow from all the riders.
For the music, I think that it's pretty great.It depends of what you listen to, but it has Rock & HipHop in this video.
This is a very great video but it's pretty short, about 20 min, and they don't ride all the time. But if you have the money, you should buy it. It's a different way to see riders, because you learn to know how they really are, like us, just friends who ride for fun.
The VHS is about 20 minutes but the DVD contains a lot more stuff: Crashes, Montage, Directors Commentary, Photo gallery and the FitBikeCo video (20min). If you buy the DVD, you get a lot more for your money. With all the bonus, you get a 45 minute video.
I recommend this video for those who want to watch a great video but not just riding.
I give this video a 8.5/10.



SolidBykeRider, www.bmx-test.com, 11.2003

: Alright, I got this video about a week ago, maybe less and for a video thats about 30 minutes long, its amazing. The riders included in this video are, Mike Aitken, Van Homan, Edwin De La Rosa, Justin Inman, Brian Foster, Robbie Morales, and Vic Ayala. I mean the whole team is really good, so I expected a good video. The video takes place in Barcelona, Spain.
The second I popped the video in, they kind of cut right down to the riding within like 15-20 seconds. Theres some really good spots which means great riding. Its nothing but street riding, and there isn't any breaks in riding except for like one part (when the weather is bad). So the video is basically all riding. There is a lot of tranny riding, real nice banks to wallrides, ledges, rails, and a lot of tech tricks.
The first day they ride a nice wallride, where Mike Aitken does nice wallride to flattys out, and they ride a lot of pyramid type things that they find on the streets (things I wish I had). The second day, they go to a spot where theres a lot of ledges and tranny benches, where brian foster went up the tight tranny to wallride, etc. Van homan also does a 180 over a 3 set to half cab barspin over another 3 set.
The third day they go to the MCBA museum, which consist of nice ledges, manual lines, and tech tricks all around. Thats where Edwin and Vic have a lot of fun, and a lot of nice tricks go down. The fourth day they go to a heating vent that has a mini ramp on top of it and sub boxes on each side. It was crazy, from what went down by each rider there. The fifth day, they meet at a place where theres marble ledges everywhere, and vic does a very long icepick grind (about 25 feet, probably more). The sixth day, they ride a lot of ledges, banks, and all sorts of things. Rob-O does a nice gap to wallride. Justin Inman does this transfer over a tight tranny on a sidewalk to manual down the other side to 180.
The seventh day, they ride a wedge to stage that is seen in a lot of videos, and Van fufanus the stage and hops back into the wedge which is atleast 4 feet away from the stage. The eighth day, they find a huge hip, and mike gaps the whole thing. The nineth day they ride an actual mini ramp with a spine. Some good things go down there. Well thats the video. I just listed some highlights of riders at the spots on different days, but everyone rides good everyday and at every spot. You get to see a lot of different styles of riding from each rider. Its a very unique video. Its very good. Theres only like 5 minutes of non riding, which is damn good. The video is only 30 minutes long, but the riding is unbelievable. It feels like a pretty long video. Overall I give it a 9.9/10. Because it is only 30 minutes long and I just wish it could've been longer, but still, its a good video.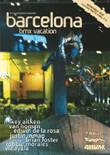 Van Homan on the cover.


www.danscomp.com:

Based around a Fit team trip from Los Angeles to San Francisco, but so much more, Summer Of Fit contains footage from the whole Fit team doing their thing on the road and at home. Edited by Marco Svizzero, featuring Mike Aitken, Eddie Cleveland, Chase Hawk, Edwin DeLaRosa, Tom White, Justin Inman, Brian Foster, Chase Dehart, Russell Barone, Shawn Garrett, Jackson Ratima, Nick S., Joe Vee, Dakota Roche, George Ramirez, Samar, and Van Homan.



lateddy.blogspot.com, october 2007:

The beginning section is cool. Like the name offs. Some cool Kanye West tunes I believe. And it gets you pretty hyped on the video to come. Starts off big with some of Fit's best riders putting work in at really sick spots, LOTS OF SCHOOLS! If you didn't know Mikey Aitken was as good on street as he is on dirt, this video will show you. Of course Dakota Roche and Van Homan are just destroying everything, as Edwin had said. Tom White puts some serious work in on some rails as always.
Some nice skatepark footage with the typical concrete park flowers goes down. Then out of nowhere, Brian Foster steals the show! Gotta love this guy. Obviously destroying some dirt but you'll see some footage from an awesome skatepark you can't miss. The Ras Cats come out in this video, proving their street skills once again. Luke Santucci appears with bangers. Nothin' but hammers. Nick Schwarzenbach and Jackson Ratima from SF show you how it gets done on the street. Jared Chilko has a few mind-blowing clips. Of course Rob-O throws in a couple gaps. Chase Dehart kills it as you would expect. Walls stand no chance when he is around. Also he looks like he's wearing a white shirt when he's shirtless... just so ya know.
San Fran goes off with the locals and everybody ripping everywhere. Watch out for Joe V killing it with his freecoaster. Watch out for Mikey Aitken in San Fran, BIG surprise. More fun skatepark footy with a softer musical selection. Straight into a BA song with some Tom Wipeout and more sick schoolyard footage. Bank to rail hops are HUGE in this video. Credits. Funny stuff. Keep watching.
RATING: 8.5/10: Mikey Aitken, Van Homan, and Dakota Roche RULE this video. For the price it is awesome. I gave it an 8.5 because there's a lot of spots you've seen in SO many videos before, and lots of tricks you'd expect at each one. I hate predictability in videos. I wanted a little More Delarosa, Tom White, dirt jumps, and ramps in general. I know Fit is all about street, but I wanted a little diversity. Either way it's awesome. And definitely worth 10 bucks! Don't forget to watch the extra sections. Chilko and Santucci are the men! The S&M party looked fun as heel I'm sad I missed it. There's a bunch of extra raw footage in the extras. Kinda weird/cool. Just a little more bang for your buck. I suggest you watch that. More riding and everything. AND a nice little photo slide show. Kinda cool to watch. Once again, a little more bang for your buck.
My advice. Get it! You ain't got nothin' to lose. A nice little BMX video for 10 dollars. Enjoy.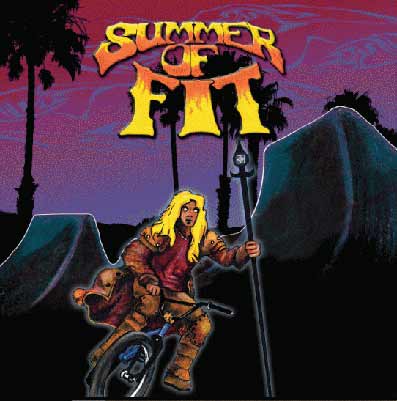 Intro.


Chase Dehart's part.