Date: may 30, 1987.
Place: Flint Michigan, USA.



Super BMX september 1987:

Yup, this one was definitely Ron Wilkerson's best contest to date, and the 2-Hip King of Vert series is gathering momentum with every event. A few examples of why? Here ya go: There was something in the neighborhood of 1500 screaming, and at $5 each, paying, spectators. The venue was cool for an event like this. Playland is an arcade/miniature golf/go-cart/bumper boat/pizza parlor/snack bar thing, and the creature comforts and non-contest diversions added to the carnival-like atmosphere And yes, there were far more good looking ladies congregated here than at previous events .and the riders liked that. There were radio commercials on local stations before the event, urging action-hungry locals to come out and watch the pros in action on "The Undertaker" There was more amateur rider participation than in the past contests, with a still meager 19 riders, but the talent level makes up for the small numbers.
On the ramp: With 19 amateurs vying for only eight spots in the final jam, the standard format of two one-minute qualifying runs was used to narrow the field down to the required size. Afterward, the order of the qualifies went like this:
1. Dave Voelker, 2. Gabriel Marroquin, 3. Chris Potts, 4. Bob Kohl, 5. Steve Broderson, 6. Dale Matson, 7. Krt Schmidt, 8. Marty Schlesinger. The first two riders outside the amateur cut were Florida's Mike Gibbons, who totally raged during practice, but saved a bit too many of his tricks for the finals and the Candy Man, Brian Dahl. Brian's no-footed candy bar airs have to be seen to be believed. Still, he was left watching during the finals.
Am jam: A straight 20-minute session of pure radness. Dave Voelker, who's not normally known for his halfpipe radness, backed up his number one qualifier standing with a firstplace finish. Full use of the ramp, an outstanding bag of tricks to draw from and good showmanship tipped the judges favor in his direction. Of course, the crowd's favorite tricks were his no-handers, and his ever-famous bike-grabbing flyout. Do we remember 540s at very respectable heights? Yes, could be. Bob Kohl moved up from his number four qualifier spot to second in the final jam. One of the more notable highlights from his routine were his Superman airs a no-footed/one-handed rocket air. Intense. You will hear more about this guy in the future .we guarantee it. A couple months back in our sister publication, Freestyle, we introduced you to Awesome Shoes factory rider, Chris Potts. Many of you may not have heard of him. You will in the future. He rips. The biggest beef award, unfortunately, goes to Steve Broderson. He looped out after an air, and rebroke his recently healed left foot. Fortunately, besides Steve's incident, the contest was relatively injury-free.
Now, moving to the pros... So far, at every contest he's held, Ron Wilkerson has gotten a third. This time, he tied with Mike Dominguez. Highlight of Ron's jam included a first-air hang that dinged his rear mag wheel and left him without the use of his rear calipers for the rest of the jam. Then there was the one hander/half-footer (which he made), and a later attempt at a nohander/no-footer (all at the same time), which he bailed on. Michael Dominguez was pulling off his usual high airs, and adding things like no-handers to his bag of tricks, and late in the game he even went for a much-talked-about and seldom-seen 900, but unfortunately at about the 820 mark it ran out of steam and a bail resulted. Brian Blyther pulled off his usual endless stream of high and extremely smooth airs, and his 540s were unleashed at above average altitudes, but it wasn't enough to beat Josh White's onslaught of massively bio moves. Killer no-footed fakies, one-handed/no-footed cancaner and cancan lookbacks are just a few of the mind-numbing moves that spectators and judges saw. Was Josh stoked with his first pro win? Are you kidding? If he keeps riding like this through the rest of the year there will definitely be more contest wins added to his list of accomplishments.
Adios. After the judges reviewed the tapes and tabulated their resuits, the awards were handed out and not a minute too soon. One of the local thunderstomns unleased itself on the contest site, quickly scattering both competitors and spectators. Now for the really good news. if You live in the area of Flint, Michigan and want to try out this pay-for-play ramp, GO FOR IT! It'll be open all summer, under the watchful eye of Greg Flowers, the builder and operator.



Lew, Freestylin october 1987:

It's been a good three weeks since the Flint, Michigan Playland jam, round two of the 2-Hip King of Vert. I figure it's about time I wrote the story, so here goes. Sitting on my right I have the World Famous Spike J. Jonze, who happens to be here for the sole purpose of helping me out in this literary adventure. For those of you who aren't aware of it, Spike is our new assistant editorial lofter of jive.
"So Spike ... how was the contest?"
"It was like icing on cake. It was an amazing feat I wasn't there."
"Then what are you doing trying to help me write the story. Go finish up the Plywood Hoods article!'
"Okay... see ya later."
Now that that's taken care of, we can get down to business. Like I was saying, I was in Michigan, which I might also note is my home state. I was psyched. Of course, I was hard at work the whole time... especially the night before the contest in downtown Flint with Greg Flowers and the Reflex crew. By the way, just so it gets mentioned somewhere in the story; let it be known that the whole Flint jam wouldn't have been possible if it weren't for Gary and all the other extremely cool people at Grand Blanc Cyclery along with Greg Flowers, who was responsible for ramp construction. Thanks for supporting the scene, you guys.
Speaking of the ramp . ... when you check out the photos, remember that the top of the banners was marked at a little over ten feet. You can imagine my surprise when several of the competitors began hitting variations above the banners. 18 ams, four pros, and 900 or so screaming observers showed up to participate in what was to be one of the best contests ever held. The deeds that took place on the ramp ranged from the common to the outrageous.
On Saturday morning practice started early, and a hefty crowd was gathered beside the ramp in anticipation. The usual pre-contest tension was in the air, but so was a lot of casual heckling and joking. Blyther and Dominguez were a little TOO casual, seeing as how they both missed practice completely due to oversleeping. After a few flat tires, some humidity, and a lot of 2-Hip shifts had been sold, it was decided that everyone was thoroughly warmed up and ready to go. Judges were gathered and briefed, an order was drawn for the ams qualifying runs, and the infamous yet dreaded 2-Hip jam tape was popped in the PA.
One of the best things about 2-Hip contests is the qualifying system -each rider is given two one-minute runs with the top riders transferring into the jam. With 18 ams in Flint this meant that quite a few guys wouldn't be making it to the final jam. It's impossible to give you a blow-by-blow account of how the am qualifying went, but let's just say It was hectic. The following riders had the flow, skill, and style to make the cut; Dave Voelker, Chris Potts, Mike Gibbons, Marty Schlesinger, Dale Mattson. Steve Broderson, Kurt Schmidt, Gabe Marroquin, and Bob Kohl.
There was a two-hour break for lunch, rest, sticker tossing, yelling, sunstroke, and whatever you can do in a two-hour period. By the time the experts had regrouped on the decks, the crowd was thick along the fence surrounding the ramp. Blyther and Dominguez finally took the trouble to wake up and make a graciously awaited appearance at the ramp, where they were promptly mobbed. Ha ha.
The jam lasted 20 minutes and contained all the things that are talked about for months afterward. One rider that instantly comes to mind was a fellow by the name of Bob Kohl. His height and flow would have put him way up in the placings anyway, but Kohl also possesed a lexicon of tricks that made him a crowd favorite as he busted variations on both sides of the ramp every run. CW/Awesome shoe rider Chris Potts had savage contortions at eight feet, taking him to a well deserved third place. Gabe Morroquin was one of the smallest guys riding, yet glided and carved gracefully with a style likened to Mike Dominquez. Fourth. The only injury of the contest occurred in one of Steve Broderson's final runs when he slammed from a high air, breaking his foot. But banner height airs, 540's under coping, and Camarillo style still nested him a tie for fifth with his ever-bio teammate Minnesota Marty Schlesinger, that is.
The winner from the first 2-Hip contest Dale Mattson, showed up in Flint with friend Kurt Schmidt and the two of them managed to take seventh and eigth places, respectively. Florida's Mike Gibbons destroyed his rear wheel when qualifying and rode to ninth in the jam on a borrowed rim.
In the end, the battle for first was REAL close between Bob Kohl and Dave Voelker. Pulling 540s over coping, inverted footplants, and generally shredding the ramp was the norm for \/oelker. If there was one thing Dave did that edged out Kohl, I'd have to say it was his 540s. Either way, it was super close and both guys ended up stoked with the finishes, which is all that counts.
The crowd was primed and ready for action after seeing the amateur jam, so it didn't take much convincing from cult hero/announcer McGoo to get the place real loud when the pros took to the ramp. Loud enough to completely drown out the music coming from the PA for the entire 15 minute jam.
In fact, things were worked up into such a frenzy that as Wilkerson dropped in for his first practice run, everyone thought he was starting the jam. Instead of re-starting everything. Ron went for it and proceeded to hangup in a big way, bending (don't ask) his rear Tuff Wheel. I didn't find it out until after the contest, but Ron told me he was forced to unhook the quick-release on his rear brakes for the whole jam so his rear wheel could spin. Insane.
Dominguez was obviously caught by surprise at the early start of thejam, too, cause his second air was a flailing no-hander about seven feet out, which he somehow saved -I swear he missed his left grip about three times before he grabbed it.
Blyther looked exceptionally smooth throughout the jam carving higher and higher to the frantic crowd's delight. 540's, chicken-butts, Iookdowns, lookbacks, can-can lookbacks, helicopters, and a realm of lip tricks. Josh White started out blazing and rode the whole jam lofting his crooked style like I've never seen. Josh and Dominguez were both spinning 540's that were pushing six feet. Wilkerson was probably the crowd favorite, and he gave his screaming followers his all -rocket airs, abubacas, tail taps, no handers and even a couple of runs aboard Blyther's bike after Ron got a flat. Wilkerson will try almost anything if the crowd is loud enough, so you tell me how loud they were when he went for a no-hander no-footer riding Brian's bike.
Toward the end of the jam things were raging harder than ever Everyone was pumped, Josh was removing limbs during variations so forcibly that on one particular can-can his bike was sent flying through the air in a riderless tailspin. During one of his lust runs, Dominguez was about 850 degrees through a McMike (900 air) before deciding it was time to abort. Each pro had his fair share of bails, but luckily they were all unscathed by the time it was over Stickers, shirts, shoes,jerseys, and even helmets were fed to the army of groping hands and showing faces that made up the crowd. It took a good fifteen minutes for things to calm down, and another 30 passed before Ron appeared with the results; Josh with his first pro victory, Blyther in second, and a tie for third between Mike and Ron.
So, here it is, three weeks (going on four) after the contest and I'm still stoked. You've probably already looked at most or all of the photos from the contest by now, so you have an idea what it was like in Flint. All I have to say about 2-Hip King of Vert contests is this: SEE ONE.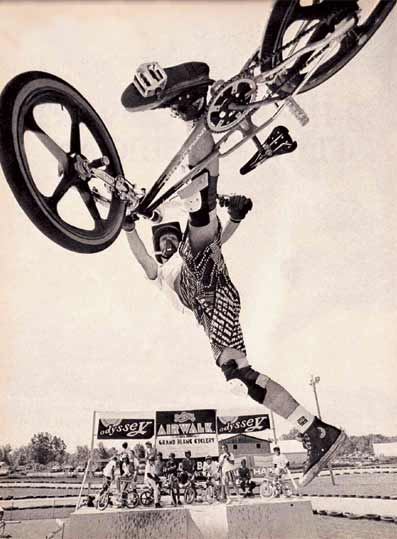 Ron Wilkerson. Photo by Windy Osborn.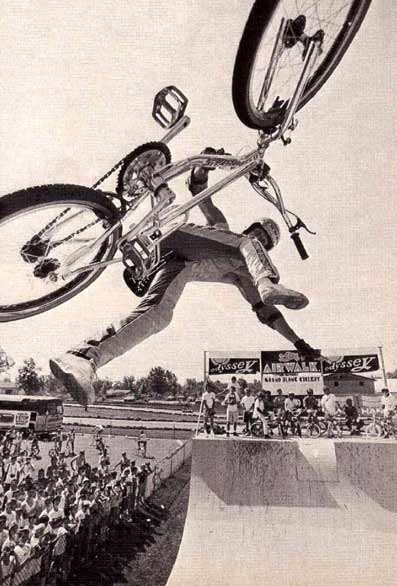 Josh White. Photo by Windy Osborn.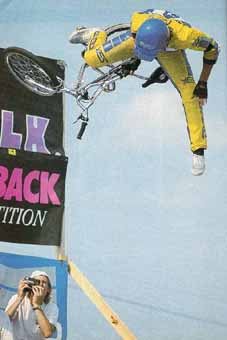 Yes, he made it.
Unreal !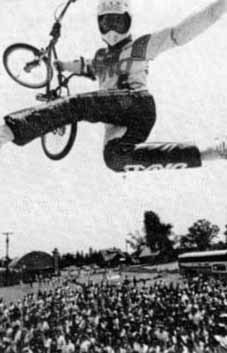 Dave Voelker
Flyout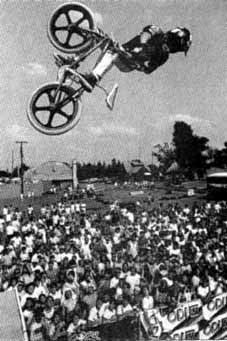 Mike Dominguez
Turndown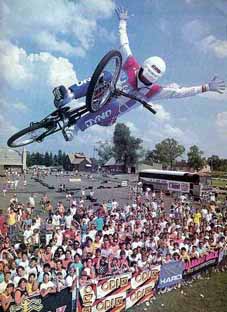 Dave Voelker
No Hand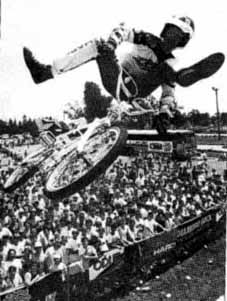 Brian Dahl
No Footed Candy Bar

RESULTS PROS:
1. Josh White
2. Brian Blyther
3. Mike Dominguez
3. Ron Wilkerson

RESULTS EXPERTS:
1. Dave Voelker
2. Bob kohl
3. Chris Potts
4. Gabriel Marroquin
5. Steve Broderson
5. Marty Schlesinger
7. Dale Matson
8. Krt Schmidt
9.Mike Gibbons