BMX Action Bike march 1986:

After years of keeping the US Freestyle scene wondering if he'd ever expose himself to competition, R.L. Osborn finally took the plunge at the Masters and came home the overall winner thanks to two second places behind Martin Aparijo in flatland and Ron Wilkerson on ramps.



BMX Action Bike march 1986:

The hall doesn't look much but this was the scene of the hottest freestyle comp yet run in the USA. Why hot ? Because despite the setting the American Freestyle Association Masters Finals in New Hampshire attracted the largest rider turn-out ever, the largest pro turnout ever and the largest pro purse ever. It also turned out to be the smoothest ever thanks to the AFA's East Coast organiser Ron Stebenne who laid on the giant Pepsi's. The West Coast crew were so impressed with himthat he'll now be running contests in California.



Super BMX april 1986:

Yet another east coast freestyle contest happened, this one in Manchester, New Hampshire. This one was held December 28 and 29—last weekend of the year—to wrap up the 1985 Masters Series. The main sponsors of this event were: Freestyle Promotions (a company owned by promoter Ron Stebenne), Diamond Back, SE Racing, Pepsi, the Boy Scouts Explorer Division and Skyway. Riders showed up from all over the country to show off their talents and dazzle the crowds. Another record was set with the weekends entries. It seems that each contests attendance out did the last. Accord-ing to Ron Stebenne, the contest ran smoothly without any big problems. The contest was made possible by Ron and the people at Hillside BMX. Throughout both days several of the main sponsors gave away bikes and parts, this helped add excitement to the AFA event. A major change with the contest over previous ones was with the judging. Duane Lashua, one of the judges was the key person to come up with the new judging system. He said: "This system was made up because of major inconsistencies with the old freestyle judging." He focused on five major categories with a different score assigned to the competitors for each. The categories were: show-manship and appearance, variety and flow, execution and technique, difficulty of trick, and overall. The judges were not paid, they volunteered. Everything started off with a bang. The organized practice sessions for ramps worked out well. Each rider was given a ribbon that signified their class, eliminating confusion in practice.

13 AND UNDER OPEN CLASS.
The 13 and under open class is always fun to watch. Scott Freeman took the overall win along with first place in both categories. Gregg Macomber, riding on his GT Pro Performer pit bike, finished in second place in the ramp division while Ben Johnson was hot on Scott's trail for the ground segment. Mike Nogueira of Fitchburg, Massachusetts, had a hot run in the 14 and over intermediate class with great showmanship. Nogueira however, was not hot enough to beat Fred Casey.

THE EXPERTS
Expert flatland came next. Dennis McCoy took first with an electric , run. Dennis had the raddest ground trick without a doubt. He went into a cherrypicker 540 in a split second. It was so quick, you couldn't tell what he was doing. John "Dizz" Hicks and Eddie Roman competed in a one minute tie-breaker. Dizz took it by pulling off all his original tricks and Eddie placed third, foot planting off the judges and scorekeepers tables. On Sunday morning after the pro flatland, which was delayed until Sunday due to the large number of amateurs that entered, the experts were the first ones to hit the ramps. Todd Anderson pulled off insane airs and all the variations—a perfect ramp run. Joe Johnson, who took second behind Todd, executed full extension can-cans including a foot plant off a frame. The raddest attempt for a non-footed topside can-can has to go to Florida's Mike Gibbons. If he came out of it, it would have been insane.

THE PROS
So far, this event drew the largest pro class to date of course it offered the largest pro purse ever, $5,000! The heat was on during pro grounds, mainly between Martin Aparijo and Woody Itson to find out who was the best. Martin seemed to have a laid back routine, but it gave him the win. Surprisingly enough, R.L. Osborn took second place with Woody placing third due to an injury. Woody dislocated his ankle during the first minute of his five minute performance. Chris Lashua and Eddie Fiola had a two minute tie breaking run. During Chris' run you should have seen the look on Eddie's face. Chris beat him out of $200, walking away with an extremely happy fourth place. Finally the main event that the crowd as well as the contestants were waiting for—PRO RAMPS! Ron Wilkerson got the crowd going wild by doing all variations of massive high airs. R.L. grabbed second place in the ramp segment, giving him the overall pro purse of $2,200. Not bad for his second contest in the pro nclass (R.L. is now riding for Red Line). Eddie Fiola and Mike Dominguez finished in third and fourth. Hugo Gonzales (Skyway) was there and that meant he probably had something up his sleeve. He did and he almost pulled it off. It was a 540-degree alley-oop ramp to ramp. It had to be at least three to four feet over the top and then he went into the crowd. It was insane. There wasn't just one crazy trick on pro ramps, there were two. The second was done by Paul Delairro from the Haro team. He pulled off a cherry-picker drop-in!

The overall opinion of the contest was radical action, excellent organization and fair judging. The crowd, although not as numerous as at past events, were treated to super performances by newcomers to the sport, as well as the seasoned veterans. Then there were the three girls from Rhode Island who cheered for everyone; those three freestyle fans—along with us—can't wait for the next freestyle extravaganza to hit the east coast!

Pro ramps: 1.Ron Wilkerson (Haro) 2.R.L. Osborn (Redline) 3.Eddie Fiola (GT) 4.Mike Dominguez (Haro) 5.Hugo Gonzales (Skyway) 6.Dennis Langlais (GT) 7.Paul Delairrio (Haro)

Pro flatland: 1.Martin Aparijo (GT) 2.R.L. Osborn (Redline) 3.Woody Itson (Hutch) 5.Eddie Fiola (GT) 6.Ron Wilkerson (Haro) 7.Kevin Foss 8.Paul Delairrio (Haro) 9.Dennis Langlais (GT) 10.Fred Blood (SE)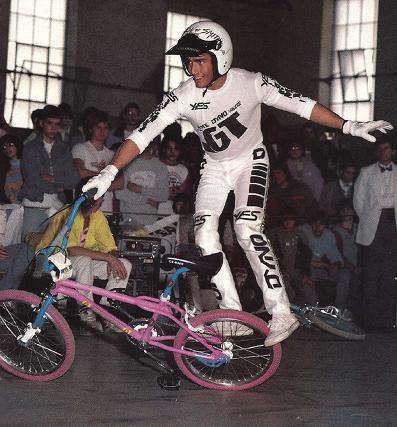 Eddie Fiola. Photo by Jim Paiva.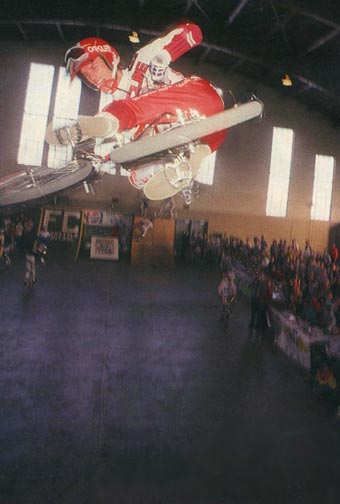 R.L. Osborn. Photo by Shawn Buckley.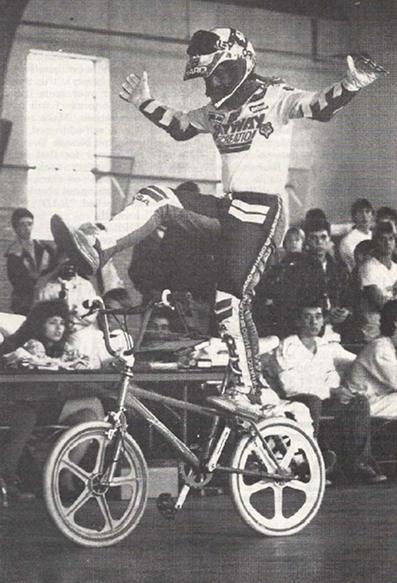 Hugo Gonzales, a noted bowl rider, made the AFA event and showed everyone a thing or two on the ground. Hugo revealed his balance and grace on a bicycle in New Hampshire. Photo by Jim Paiva.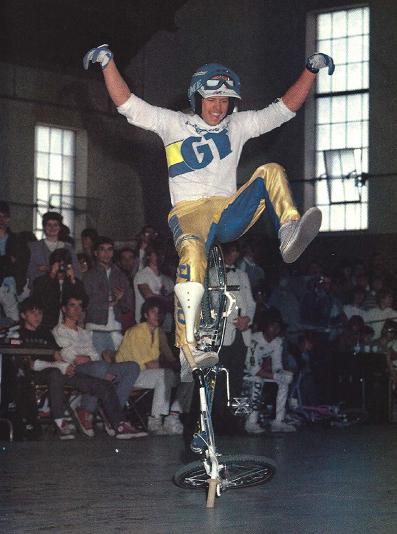 Martin Aparijo. Photo by Jim Paiva.