Place: Pipeline en Californie.

Every top skatepark rider was there-including a couple from the other side of the world. Hoja Wada from Japan (the Eddie Fiola look-alike). Craig Campbell and Neil Ruffel from the U.K. (Neil had to drop out of the contest because of an injured shoulder), and of course, Andy Shohara from Hawaii. (Andy is one of the only two riders I know of who can do Killer aerials to the right and to the left. Fiola is the other.)

NOVICES
Some hot runs were put in. Xavier Mendez has been around for a while now--he took the 17 Over Novice class with aggro moves to spare. Perry Wagner's fence spring helped him lock down second while Hoji Wada from Japan shredded a trail to third. In 16 Under Novice, Scott Robinson stood above the rest (rode above the rest?) for first. Scott handles his share of flatland rather well too. Bryan Davis' fence high helicopters got him second. The quality of the novices was WAY up.

EXPERTS
The dogfight of the day, besides the pros goin' for the title, had to be between Tony Murray and The Spiderman, Rich Sigur. Tony was his usual blazing self, blasting eight-foot tire grabbers and can-cans. But Rich was going higher than he's ever gone and shreddin' the whole pool with tricks like lookback alley oops and helicopter bio-airs that he floated for what seemed like forever. Both of these guys were in the upper stratospheres of intensity. Rich won for the day, but Tony took the overall title for the 17 Over Expert class. Rich is lookin' at turning pro for '86...watch out.
In the younger expert class, the standouts had to be Jeff Carroll (who's now riding for Kuwahara), Marc McGlynn, and new blood local Tim Rogers, who was snagged by Hutch just before the contest (to help make up for the loss of Mike and Donovan?). Carroll was pulling off the unthinkable in practice--a no-handed aerial. He bailed heavily twice during his runs trying to pull it off. On his third attempt he did it, but the bails had cost him first spot, which Rogers too in force--this dude is RAD. Everyone thought he was Donovan Ritter when he first came out. Where was Ritter anyway? He sat on top of the Hutch trailer outside the park--banned from the Pipeline since round two. I don't think he'll ever sneak into the park and sticker the coping again...

PROS
The three top pros were so close going into it that anyone of them could've taken home the title. Brian Blyther led with 270 points, Fiola and Mike Dominguez came in with 260 apiece.
They went in close, they came out close. One didn't come out of it at all. Hugo went down HARD in the first five seconds of his run. He'd pulled the trick off multitudes of times earlier. He'd ride around the bowl, go straight into ONE front wheel hop at the hip, then dive into a drop-in--only this time he hung and dove right onto his head. Hugo ALWAYS walks away from hairy crashes, but not this time. One severely bruised shoulder muscle and a load of pinched nerves to go...he was out of it. Craig Campbell from England was amazing. They don't have real vert over in the U.K.; Upland has MORE than it's share of vertical. Craig had about three days of practice on it. The results? Seven-foot one-footed inverts, helicopter can-cans...bloody insane. Brian Blyther rolled in and out of the bowl like a cat--ALMOST pullin' a footplant on the hip. Bottom-sided can-cans and eight-foot airs were the norm. Mike Dominguez was dropped by Hutch a few weeks before the contest. More than a few factories offered him some hefty bucks to ride for them just for the day. But Mike opted to wear jeans and ride his old Hutch. he rode to a Run-DMC record that he scratched himself. He pulled off 540's one-footed one-handed carve-airs, tail tap re-entries, and the trick of the day--a no-footed can-can. Sick. Eddie Fiola; two-footed fence plant, contorted turn-down airs, the 540, godlike airs in both directions. When he pulled off Brian's patented footplant off the hip, it was obvious, he'd taken it. It was SO close. It all came down to presence and style, and Fiola was ELECTRIC--he won. Flyin' Brian and Dominguez tied for second. The AFA asked them if they wanted a run-off. Nope. So who got the King of the Skateparks title? The original decision was to give it to Eddie--much to the dismay of the Haro camp. We say "original decision" because after a couple of complaints from the Haro people the AFA changed the ruling at the awards banquet about an hour later. Eddie Fiola and Brian Blyther were crowned co-champions. Let's just say that a few people were shocked at the change. GT was steaming to say the least. Later that week we (Freestylin magazine) received a copy of a letter GT had sent to the AFA, GT was STEAMED all right. A day or two later I received a phone call from Bob Morales of the AFA. he told me that they made a mistake at the finals and shouldn't have awarded a co-championship. They'd changed their minds and given the title back to Eddie Fiola 'cause he'd won the final round. A few days later we received ANOTHER letter--this time from Haro. THEY were thoroughly steamed now and are probably STILL smarting. Here's where it started: Eddie got 100 points for the win. Cool. Brian and Michael got 90 points each for the second place tie. THAT was mistake number one--they should never have been awarded equal second place points. According to traditional competition rules, the AFA should have combined the second and third place points and split them between Brian and Mike. So each of them would have actually gotten 85 points--and Eddie would've won by five points. BELOW: Carroll's no-handers were a tough act to follow. Tim Rogers beat the act. Rogers, first in 16 Under Expert. Mistake number two? Craig Campbell should not have been given third place. Again, under the standard competition rulds, when there's a second place tie, you don't award a third place. The AFA wound up giving out a lot more points than they were originally allotted for the class. The point of all this? EVERYBODY knew the pro class was SO close that it was VERY likely there would be a tie somewhere. Yet the AFA was still caught with their pants down. If they'd used a little common sense and had a set of solid rules down on paper--and stuck by them--that would've solved everything. Not to mention prevent a lot of angry reactions from the very people who support the AFA--the riders, the sponsors and the manufacturers. By all rights Eddie deserved the King of the Skateparks title, and he earned it. Nothing should be taken away from him or any of the other riders--they did their part. They put their butts on the line and they got INSANELY rad. We think they deserve better treatment. Let's hope the AFA will give them some in the future.

Highest air contest.
The AFA put up $300. But the aerials didn't begin until the hat had been passed around for more and after the manufacturers and spectators had anted up the pot had grown to almost 900 bucks, winner take all. Dominguez, Rich Sigur and Blyther entered. Brian Blyther won.

13 & UNDER OPEN
Chris Mc Coy
Chris Andreozzi
J.J. Bartlett

16 & UNDER NOVICE
Scott Robinson
Bryan Davis
Jack Smith
Eddie Marquez

Series Winner: Randy Mc Crary

17 & OVER NOVICE
Xavier Mendez
Perry Wagner
Hoji Wada
Eddie Llamas

Series Winner: Randy Lawrence

16 & UNDER EXPERT
1.Tim Rogers
2.Jeff Carroll
3.Robby Mc Crary
4.Marc Mc Glynn

Series Winner: Jeff Carroll

17 & OVER EXPERT
Rich Sigur
Tony Murray
Andy Shohara
Dan Osman

Series Winner: Tony Murray

PRO
Eddie Fiola
Brian Blyther (tie)
Mike Dominguez (tie)
Craig Campbell
Hugo Gonzalez

1986 King of the Skateparks: Eddie Fiola

HIGHEST AIR: Brian Blyther



Oscar Gonzalez, www.vintagebmx.com, march 2005:

The 1985 King Of The SkatePark Finals was going to be a big day for Hugo Gonzales but it went the wrong way. This is when he took himself out on the 1st trick of his 1st run... nosepick drop off of the hip to shoulder plant... he was done for the day with a dislocated shoulder and a concusion... Hugo was pulling that nose pick drop all day on sat... but he had some crazy stuff up his sleve for the comp, I knew in my mind he was going to give the pro class a run for their money... He had the bowl wired... huge airs and was carving the whole bowl... he had the fence sping and he was doing some crazy footplant stalls up in the pipe, one handed as well... but on Sat evening he worked on a few things... he was working on one handed 540's he pulled one towards the end of the night... he had the nose pick drop down... but he had this trick that was again a spur of the moment trick... he was doing a footplant on the back fence... the fence that Eddie, Mike and Brian footplant... but Hugo did his footplant up on top of the fence (the footplant he's famous for)... he pulled a few of them late sat nite and it was crazy... not too many people seen it... the only pro that seen it was Eddie... Hugo was going to put on a show come sunday... but he went down hard and no one got to see what he had planned... That trick was before it's time... now you see riders doing this trick off of sub boxes and walls... I stiil get bummed when I thing about that day cuase I knew he was going to go big.



krtschmidt.com:

Brian Blyther's first and second run at the AFA 1985 King of The Skateparks finals.




krtschmidt.com:

Craig Campbell's first and second run at the AFA King of The Skateparks. Truly amazing when you consider he only had three days of practice at Upland before the comp!




krtschmidt.com:

Mike Dominguez first and second run at the AFA King of The Skateparks. The first No-Footed Can-Can in a contest!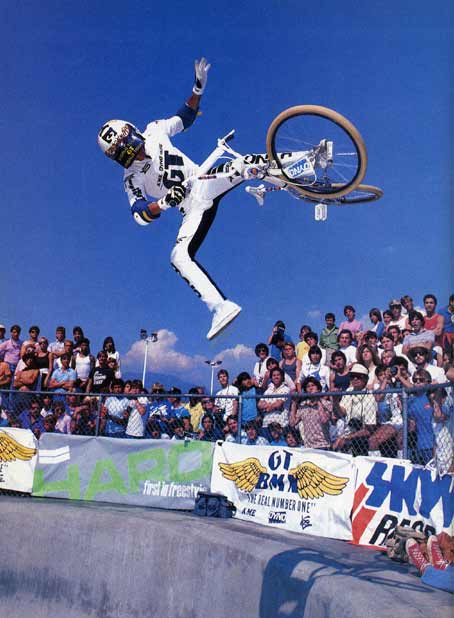 Eddie Fiola.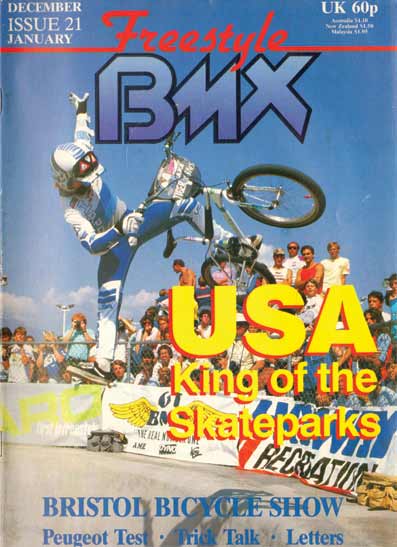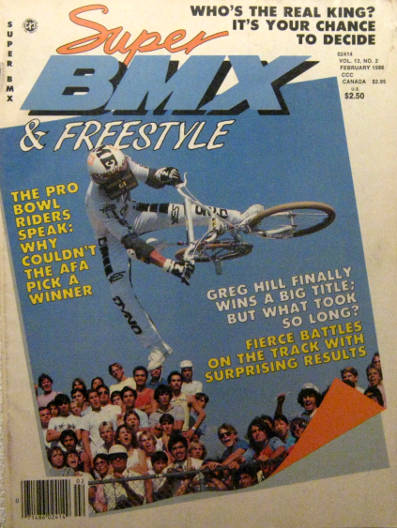 Eddie Fiola on the cover of Super BMX & Freestyle february 1986.