The Overall title is pretty much sewn up by Dennis McCoy, and Mike Dominguez owns the Ramp class. The only title that hasn't been decided yet is the ground title. That could be taken by either R.L., Dennis or even possibly Martin Aparijo. R.L.'s sporting his new General duds. He's stoked and could pull it off. Dennis is the rookie pro with something to prove; he definitely has it in him! As for Martin he has to beat both R.L. and Dennis in order to even have a prayer, but he's pulled off major upsets in the past.

Congratulations go to Intermediate Overall winners Mike Krnaich and Chris Obermeyer for scoring their big wins.

The 16 and over expert flatland class had 59 riders entered, which made it the largest class of the weekend.
A killer flatland routine was turned in by Karl Rothe, who's now sporting Mongoose garb. Karl definitely had the crowd on his side. They haven't handed down the results yet, but I think he'll have a great chance at winning it. Another outrageous routine was turned in by Reynaldo 'Ray' Santillan, who we'd never heard of before. Larry Manayan is another relative unknown. Although we did catch a glimpse of him in Freestyle Spectacular Magazine doing some testing, he really showed his stuff today. There are many people to mention because there were many hot routines. Rick Moliterno's run ripped. Although Rick did touch down a few times, his showmanship and overall riding prowess are practically unmatched. It's really surprising that there wasn't a runoff in the top five.
In first place with a score of 90.3 is Reynaldo Santillan. Second, with a score of 90 is Karl Rothe, and third, with a score of 89.3 is Larry Manayan. Only one point separated first through third places, which is unbelievable. In fourth place with a score of 883 is Rick Moliterno, and rounding out the top five is Mike Loveridge with a score of 87.7. Amazing expert action.

Rick Allison is always the master of showmanship, and today is no exception. Mongoose seems to be treating him right, and it appears that Rick is more into his riding than ever before. The seat-grind king did it again a seat-grind, that is. He was hittin' the beat, doin' some slow up-rockin' pogos on the front and rear wheel in a circle, and some boomerang variations. He did a good job a pretty smooth run, not a lot of spectacular tricks, but he didn't touch down a lot.
Maurice Meyer is riding for Skyway. He has good variety and is hitting his tricks consistently. There's a lot of difference between the experts and the pros-harder tricks, fewer touchdowns. A respectable run. Maurice has shown mucho improvement over last year.
Dennis McCoy did a lot of boomerang variations in his runs, and also used plenty of his patented footwork. Dennis missed a triple anklebuster the first time he tried it, but pulled it off the second ! He pulled off tricks most mortals only dream of doing. He touched down only twice, and his routine was virtually flawless; the kid was bad ! "I only touched two times, which is great for a five-minute routine. I messed up on a triple ankle-buster but went back and pulled it off. The other time I hooked my foot in my Gyro cable, so it was beyond my control."
Eddie Fiola didn't make a lot of mistakes. He pulled the cool 720 rollout in the middle of his routine, along with a whole collection of other flatland moves. Eddie touched down about five times in all. An impressive run for the king."
R.L. Osborn rode to rap music ('She's Crafty' by the Beastie Boys) like everyone else. He didn't doubled any of his tricks, and he's been throwin' a lot of boomerang variations into his run. It looks as though he's been watching videos of Dennis. This was R.L.'s first contest riding for General; he was riding a Fred Blood model. That's it for R. L. He pulled a lot of combination tricks; he tore it up. DMC: "He used a different type of style, looked a lot like mine (laughs). I think it's going to be really close. The crowd seemed to be behind me a little more, and I think I had slightly harder difficulty, but I don't think he touched at all, so it's really going to be close."
This was Woody Itson's first contest riding for Diamond Back; he was riding a Mike Dominguez model. Woody was riding to a song called 'Control.' He tried a bar ride and didn't pull it off. He pulled off his patented Top Gun. Went from a fire hydrant into a pedal picker, onto the bars and seat, and went back into a pedal picker. A backwards pedal picker into a cherry bomb. He touched three or four times.
Pete Augustin was up next. Someone stole a Diamond Back banner during his run and they've sent a big guy after him. Everyone's was turning around to watch the big guy, instead of Pete Augustin's ride, It was looking like he was getting a standing ovation, but they were all looking backwards. Pete's teared it up anyhow, doin' a lot of up-rockin', good 360 on the frame, and now goes into a side glide. A bunch of cool tricks from 'Disgustin' Augustin.' Why they call him that is anyone's guess.
Martin Aparijo was next. He didn't have much time to prepare for this contest, since he just got back from France where he and Michael Dominguez did a show in front of 10,000 people at Bercy stadium. He didn't hit any of his new tricks for that reason; he just hasn't had much time to practice. Even so, Martin's routine was one of the best out there.



wikipedia.org, november 2011:

In November, 1986, Kevin Jones entered the AFA Veladrome Finals as an expert. He turned heads with some new innovative tricks like the "Hang glider Boomerang", the "Chicken Hook Switch", and the "Insanity Roll".


Kevin Jones:

My first good trick was called an uptight wheelie. They call it a crank-a-roni now. I did it for the first time at the '86 Velodrome.



Pro flatland: 1.Dennis McCoy 2.R.L. Osborn 3.Woody Itson 4.Rick Allison 5.Martin Aparijo 6.Eddie Fiola 6.Rich Sigur 8.Robert Peterson 9.Maurice Meyer 10.Pete Augustin 10.Dave Nourie 12.Dave Vanderspek 13.Fred Blood

16 and over expert flatland: 1.Reynaldo Santillan 2.Karl Rothe 3.Larry Manayan 4.Rick Moliterno 5.Mike Loveridge 5.Dominic Giampaolo 7.Robert Castillo 8.Adam Jung 8.Kenneth Evans 11.Sean Wilkerson 11.Chris Day 11.Kevin Jones 14.Dizz Hicks 14.Dino DeLuca

14-15 expert flatland: 1.Joseph Gruttola 2.Aaron Dull 3.Brian Belcher 4.Scotty Freeman 5.F. Parks Carter 6.Terry Cleaton 6.Trevor Hernandez 6.Jesse Golon 9.Bill Swoope 9.Gregg Rogers 11.Ruben Castillo

13 and under expert flatland: 1.Chris Meyers 2.Bill Gaw rych 3.Bruce Hammock 4.Eddie Montelongo 5.Luke Dellavalle

16 and over intermediate flatland: 1.Mario Aguirre 2.Ron McCoy 3.Ron Camero 4.Chris Obermeyer 5.Justin Alvey

14-15 intermediate flatland: 1.John Donald 2.Stefan Gamble 3.James Cappock 4.Jeff Baker 4.David Pak 6.Greg Stefanik

16 and over novice flatland: 1.Mark Eaton 2.Rob Thring 3.Ron Kennedy 3.Rob Flores 4.Tom Ladish 4.Brian Beers 4.Leeza Jensen

14-15 novice flatland: 1.Derek Schott 2.Sam Pederson 3.Matthew Jones 4.Chauncey Espino 5.Jeff Rugg 5.Steve Daly

13 and under novice flatland: 1.Eric Evans 2.Mike Kowal 3.Christian Koch 4.R.Anthony Dittman 5.Tim Cotter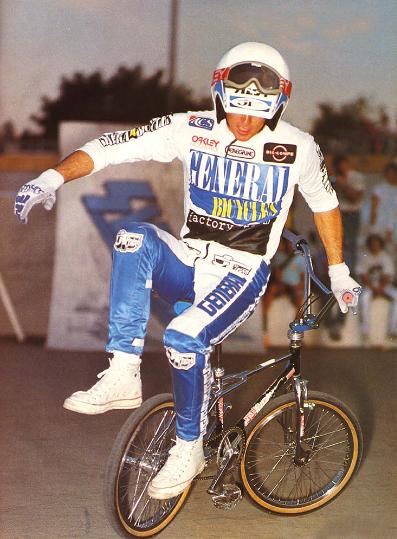 R.L. Osborn.
In the 13 expert class, California resident Robbie Van Patton ripped the socks off his class. The 14-15 expert ramp was a killer class. Kuwahara-mounted Tim Rogers wasted the comp. Skyway's token Midwesterner, Matt Hoffman of Oklahoma, also dusted. They scored first and second. In the 16 and over expert class, Joe Johnson-the man with nothing under his name in the Haro ad had something to prove. He was riding to the same song everyone else rode to today -Run DMC's King of Rock. For his first air he blasts a one-footed invert about seven feet out. A lookback about five feet out. Going up for his third air, he chucked his bike and bailed. . He then pulled Vertical lookdown, no-hander, fakie air, massive one footed invert, and pulled off a 540 by the hair on his chinny chin chin. Bob Kohl from Chicago, Illinois, hangs out with Randy Tischmann and teared it up at the Velodrome blasting a one-footer about eight feet out, a one-footed rearwheel grabber. Bob's airs appear to be a little out of control, but once he gets them in control, he'll be a serious threat at any contest. His style bears a striking resemblance to Josh White in the early days. Dino DeLuca rides a lot at Doug Randazzo's in Camarillo, California, and every time we see him he has something new. He hit the Haro ramp, blastin' a nine-foot air. Lookback about seven feet out, impressive invert about seven, cancan X-up about six and a half, fakie air. One of Dino's Camarillo riding buds is hangin' out on the platform. Dino finished up his run with a crossbarplant off this guy's handlebars. Gnarly! Josh White was originally supposed to ride ground too, but the way we understand it he thrashed his hand in a show last week, so he was definitely not up to full potential. Josh started his routine now with a small fakie, one-footer about five feet, fakie X-up, no-footer about six feet, Jammin' salmon, about six and a half ! Good.lookin' routine by Josh White. Tony Murray went for a 360 fly-out onto the Haro ramp. He pulled a fresh cancan drop-in. Front-wheel 360 on a short ramp. Double-footed cancan! Finishing up with a 540 a little bit out! One of the last guys in this class was Dave Voelker. Dave has been doing a lot of shows with Brian Scura, and they had Brian's ramp on the scene. He was riding to vintage AC/DC tunes, and slammed his first air.. The majority of the riders were using only one ramp. Dave was using all of them, which says something for his style -each of these ramps is different. he went for the Haro ramp and blasted his fly-out seatpost grabber. Variation city, Dave was doin' it all-fakies, 540s, lookbacks...

Pro Ramp. Dennis McCoy had all kinds of new variations. Opposite one-hander one-footer, one-footed invert, fakie airbails on the fakie. Moving into the last part of his routine now, he hit the Skyway ramp and whiped off a fully extended cancan, a lookback, a no-footer. Flew out onto the top of the Haro ramp, doing frontwheel hops in a circle and dropped-in backward ! X-up one-footer fully clicked and to finish up his run; a 540 air about two feet out! That was awesome!
The crowd was going crazy for Michael Dominguez. The man did canyon 540s in practice. The first time he tried a canyon 540 was over the big canyon from the GT/Brittania ramp to the Skyway ramp. That was a distance of about six feet. When he tried it for the second time, he exploded his rear mag and had to find a new one. He started his run with a lookback about seven feet out, blasted over the big canyon about three feet out, yeah! A 540 two feet out over the little canyon, Michael is on the rampagetonight! Pops out onto the top of the Haro ramp, hits a fully extended onehander one-footer on the GT ramp. A no-footer, a 180 canyon fly-out from the Scura ramp onto the platform of the Haro ramp, alley oop over the small canyon; popped out onto the platform of the GT ramp, took a little rest. Even Dennis had said earlier that five minutes is a long time for a ramp run. He finally went toward the GT ramp for a 540 over the big canyon!
Rich Sigur painted his face to look like Indian war paint with colored zinc oxide (Zinka). He had a lot of variations and made a decent showing for Haro.
Brian Blyther run was killer. Eddie Fiola started his routine with a lookback, one-footer alley oop, 360 drop-in, 360 fly-out onto the Haro ramp, into a backwards drop-in. He finished up his run now with a canyon footplant and a 540 air.
The crowd almost forgot about the last competitor of the day Todd Anderson. Todd just switched sponsors, going from Red Line to General, so he was stoked. The first air of his run was a lookback about eight feet out! A pedal air, a standard air about nine feet, a cancan one-footer in the stratosphere, a bar spin on the short ramp, a rear-wheel 540 on the short ramp, setting up for a backward dropin and pulled it off ! Ended his routine and the contest with a one-footer about eight. He slipped his pedal when he landed. His time was run out, but he was still riding. Headin' for the Skyway ramp, he did an alley oop over the big canyon. Unbelievable! That was almost as insane as Michael's 540, maybe more.

Pro ramp: 1.Mike Dominguez 2.Brian Blyther 3.Dennis McCoy 4.Todd Anderson 5.Eddie Fiola 6.Rich Sigur 7.Hugo Gonzales

16 and over expert ramp: 1.Josh White 2.Dino DeLuca 3.Dave Voelker 4.Tony Murray 5.Mitch Collins 5.Joe Johnson 7.Monte Hill 8.Bob Kohl 8.Rick Moliterno 8.Gary Pollack 8.Steve Broderson 12.Robet Karnow

14-15 expert ramp: 1.Tim Rogers 2.Matt Hoffman 3.Brian Belcher 4.Gabe Marroquin 5.Gregg Rogers 6.Mel Godder 7.Bill Swope 8.Jesse Golon

13 and under expert ramp: 1.Robbie Van Patten 2.Eben Krackau 3.Danny Lupold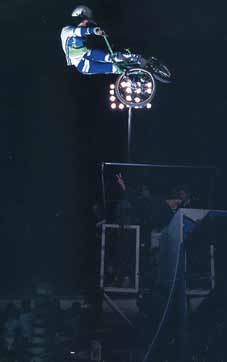 Dennis McCoy.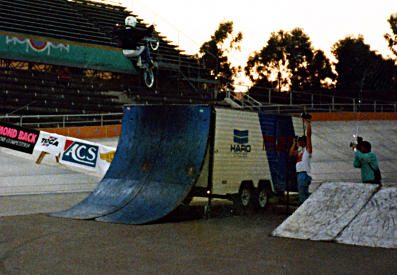 Fred Ansfield, decemeber 2010:

My claim is that I invented the no-handed fakie sometime in 1986 and I performed/revealed the trick publicly during my first place winning run (16 & over intermediate ramp) at the AFA Finals contest in November 1986.




Vince Torres, july 2007:

My big crash at an AFA contest back in 1986. I was out cold until the ambulance arrived on the scene.