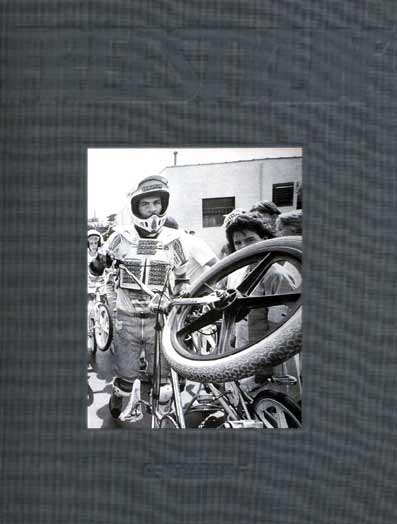 Freestylin' 2008 (1) (read online - download)
This book was created by Andy Jenkins, Mark Lewman and Spike Jonze through Nike as a retrospect on Freestyle and Freestylin' (the magazine).

15-year-old Mathew Hoffman on the cover. Photo by Windy Osborn.
2-3. Content.
4-7. Kashiwa, tales from Torrance: intro by Mark Lewman.
8-9. Never do anything for money, do it because you love to do it.
10-13. Bob Haro.
14-21. RL Osborn.
22-27. Ron Wilkerson.
28-37. Mat Hoffman.
38-43. Chris Moeller.
44-49. Kevin Jones.
50-53. Woody Itson.
54-59. Eddie Fiola.
60-62. Craig Grasso.
63-65. Pete Augustin.
66-67. Eddie Roman.
68-71. Dave Voelker.
72-79. Brian Blyther.
80-83. Mike Dominguez.
84-87. Josh White.
88-89. Dizz Hicks.
90-91. Ceppie Maes.
92-95. Dennis McCoy.
96-99. Joe Johnson.
100-101. Maurice Meyer.
102-103. Craig Campbell.
104-109. Fringe revolution: confessions of a jam circle junkie by Greg Higgins.
110-113. Secret handshakes: behind the velvet ropes of Club Homeboy.
114-122: Zines.
123-133. Wood is good: the physics of plywood.
134-142. Get in the van.
143-148. Freestylin cover gallery.
149-150. Last shot.
151-152. Ad collage.
153. Credits.



Woody Itson, www.vintagebmx.com, july 2008:

The reading inside this book is better than anything I read before in any of the magazine versions. I think Lew and the guys did an amazing job with it. It's one of those deals where you will want to read every page and the pictures are really cool. It's wild to think this is a 20 year perspective on what happened so long ago.



Mark Losey, www.vitalbmx.com, june 2008:

Trying to explain the power of BMX to someone who has never ridden is not an easy task. To truly understand it you have to live, breathe, and sweat BMX, and no form of media has ever captured the true feel better than Freestylin' magazine. From 1984-1989, the "sport" of freestyle emerged on to the scene, and Freestylin' covered it like no other. Incredible new tricks, bikes, and riders graced the pages of each issue, but it wasn't what was printed in the magazine that really mattered, it was how it felt. This monthly gift in my mailbox understood why I did what I did, and it paved the roadway for where I was headed. This may sound corny to someone who did not grow up with permanently bloody shins, but for those who lived it, Freestylin' was our bible. When the magazine was later turned into Go, The Rider's Manual, a window had closed on something truly special, never to be captured again. For those 53 issues, Mark Lewman, Andy Jenkins, Spike Jonze, Bob Osborn, Windy Osborn, and the rest of the staff showed the BMX lifestyle in a way that was fresh, felt like your friend, and left you dying for more.
On June 28, 2008, the ultimate Freestylin' reunion went down at Brooklyn Projects in West Hollywood, CA. Nike's John Martin, the same person who helped facilitate the Lightning Bolts show in Beijing, China, was the catalyst behind the event, and the shop was packed with legends like Eddie Fiola, Mike Dominguez, Todd Anderson, Woody Itson, Mat Hoffman, Mark Lewman, Spike Jonze, and more. While everyone was there to celebrate BMX history, there was another agenda on everyone's mind: a 154-page Freestylin' retrospective book complete with vintage photos and new interviews with the guys who made freestyle BMX what it is. At the end of the night, a U-haul truck backed into the parking lot and Brooklyn Projects' Dominic DeLuca handed out boxes containing the prized masterpiece.
Only 2,500 of the Freestylin' books are in existence, but Mark Lewman said there are plans to get the entire content, plus more that wouldn't fit, online for everyone to see. If you lived BMX freestyle in the 80's you owe it to yourself to do whatever it takes to get a copy of this thing. I don't care how ridiculous the prices wind up on eBay, believe me, it's worth every penny. This may seem overly supportive, but the truth of the matter is that Freestylin' magazine got me hooked on the media side of BMX, and luckily it's been my job for the past 16 years. To Andy, Lew, and Spike, all I can say is thanks for the stoke. I have no idea where I would be today if it weren't for Freestylin', but I'm sure I would not be having as much fun.