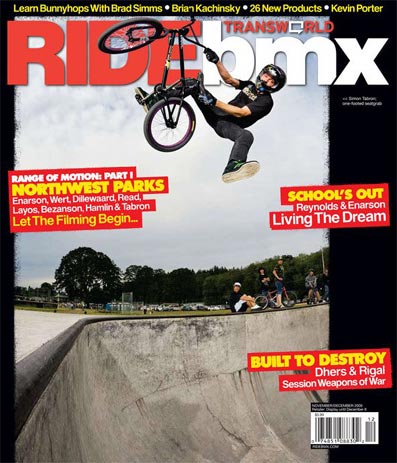 issue 160 - november december 2009

(1)




Fat Tony, www.ridebmx.com, september 2009:

On The Cover: Simon Tabron unleashed his vert steeze on Oregon's steep and deep cement and tweaked out a one-footed seatgrab at the Battleground park during our first "Range Of Motion" road trip. Photo: Keith Mulligan.

Departments

First Words: Editor In Chief Keith Mulligan introduces our newest film "Range Of Motion" some thirty years after BMX videos made their debut in the mid '80s. It's Transworld's 19th video, and even though it's not done yet, we expect it to be one of the best.
Start: Nathan Williams takes two tricks that the inventors never thought would go together and blends them seamlessly on the streets of Nashville, shirring the melting pot and paving a way for more progression in BMX.
Up Front: Sponsor Block, Fine Print, and Injured List fill you in on news that you may have already read online. So why do we print it? History, man…this issue will be around a lot longer than that news blurb on the right hand column of ridebmx.com.
Pro Q&A - Brian Kachinsky: You asked him, he answered. BK is no doubt one of the nicest, most humble riders out there so you can bet the responses to your questions are good ones.
Products: We feature everything from frames to rims to kneepads this month from companies like KHE, Fit, Primo, Fly, and more.
Soft Goods: Whether you need a new T-shirt, hoodie, jeans, backpack, or shoes, we have you covered. Check out this season's latest apparel then get on out and get you some.
Diversions: Unless you have more than 400 in your collection, Shad Johnson probably has more bike videos than you. And that's precisely why we interviewed him this month. We also did a quick review on Movement's "Inside These Tapes."
How-To - Bunnyhops With Brad Simms: It's the most basic trick, but if you are looking to get a little more pop, why not learn from the best?
Focus: Six pages of nothing but photos. Morgan Wade, Brandon Dosch, Nigel Sylvester, and more…
Bio - Tom Dillon: Tom hails from upstate New York, and according to Tony Hamlin, he is a crazy dude and a damn good bike rider.
Letters: Compliments…Loyal readers…? Maybe we should we bring back McGoo to answer letters. Is Fudger being too nice to these people, or what?
Finish - Kevin Porter: Fresh off of opening his new coffee shop in Chicago, Kevin Porter finishes off a handful of sentences to close out another issue of your favorite magazine. Hey, that's us!

Features -

Range Of Motion - Part One Of The Trifecta: In addition to the eight drawings of the guys on the first road trip for Ride's newest film "Range Of Motion," we also break down the concept of the video, tell stories of the guys on the trip, and of course, show you some awesome photos of what went down in the Northwest.
School's Out - Dennis Enarson And Garret Reynolds Make It Through School…Finally: Even after missing more school than most would be allowed, these two guys stuck it out and graduated high school while living the busy life as a traveling pro rider.
A Helluva Blast - Riding Relics Of War: Fuel TV's "Built To Shred" has produced a few cool articles for us in the past, and here's another. This time Daniel Dhers and Christian Rigal got to session some army tanks, guns, and vehicles, which, as you can imagine, made for some pretty rad photos.